Double Hammocks-King-Size Hammock Fun
Double Hammocks, as you can probably guess by its name, allow you to share the unique resting sensation provided by a hammock with another person. Available in both outdoor and indoor double hammock versions, it's the perfect choice for large families (and couples) not willing to buy two separate hammocks.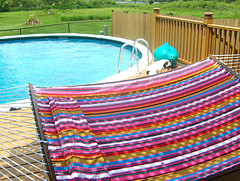 Having a Double Hammock Can Be a Great Space Saver for Relaxation
Though double hammocks are larger than regular ones, they still require far less space than you'd need for multiple single-sized hammocks. Besides, its larger size allows for extra comfort even if you end up using it alone – though it might be a little trickier to get in or out.
But, as long as you don't rush it, you shouldn't have a problem climbing into it. If you're not sure about what style to get, I'd recommend you to start looking the Brazilian hammocks (and move onto the Mayan and Aztec styles, if you want to.)
Double Hammocks
---
Popular Types of Double Hammocks
Double Hammocks with Stand: Allows you to create a comfortable setting easily by setting up your hammock and stand. Enjoy the freedom that the stand provides and allow you to set up your hammock with no tools needed. You don't have to worry about having 2 trees to set up in between and you can pick your perfect spot no matter where it is and not worry about having to hook up or mount your hammock. Can be made with 100% cotton or a blended cotton and nylon combination for extra strength and outdoor resistant durability.
Quilted Fabric Double Hammock: Add an extra level of comfort with a beautiful colored fabric and pillow combination. Fabrics are typically treated with UV resistant dyes that help protect the hammock material from the harsh sun. 450 pound capacity can hold up to two adults easily. Pillows are usually attached with buttons and easily removed for cleaning. Hardwood spreader bars keep the hammock open. The wood is treated with the beautiful dark mahogany varnish finish but can be stained in a lighter wood. Combination of a hammock stand accessory is a great combination of choice.
Double Rope Cotton Hammocks: These handcrafted works of interwoven art are combined with beautiful wooden spread bars and a combination of metal suspension rings that allow you to safely hold up 450 pounds (typically two adults). Bed sizes can range up to 84in x 60in. Easily mounted between two trees with some no damaging hammock straps or you can combined it with a hammock stand that you can set up just about anywhere.
Benefits of Double Hammocks:
Adds extra space for two people
Allow someone to spread out and relax
Can hold more weight than a single hammock
Mayan and Brazilian hammock style choices
---
Double Hammocks Allow You to Share the Comfortable Luxury Experience
I think I'll never buy a small hammock again – at least, not for home use: small portable hammocks are still quite useful for camping and going to the beach. If you plan to set it permanently at home, a large double hammock is a much safer bet, allowing you to share some unique pleasant moments with friends and family.
Head to your nearest retailer (and I don't mean physically – you can do it faster online) and start browsing for the best model. You should find an unbeatable deal in no time.
---