Brown Jordan Outdoor Furniture | Patio/Garden Outdoor Furniture Craftsmanship
Brown Jordan outdoor furniture offers some of the very best in outdoor furniture. Some people utilize their outdoor furniture for many different reasons. Some may choose to use their patio furniture as a display for their yard, while others will utilize the furniture for the purpose that was intended.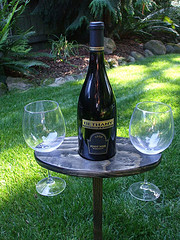 Brown Jordan Outdoor Furniture Will Create Your Patio Oasis
No matter what purpose you have for purchasing Brown Jordan outdoor furniture, you are sure to get the very best that there is to offer. Though this furniture is of the highest quality possible, you will want to keep it looking that way. In this article we will discuss ways to keep up with the care of your outdoor furniture.
Outdoor Wicker Furniture
There are many different types of Brown Jordan outdoor furniture that is available on the market today. There are styles created from wood to metal and the cushions are made from fabric. With the different materials that are used, there are also different methods of cleaning the furniture. As with any piece of outdoor furniture, there is a certain amount of regular maintenance that needs to be done.
Top selected Brown Jordan Outdoor Furniture pieces
Brown Jordan fusion Outdoor Furniture: The fusion collection gives you a new look of modern blends with cultural elements whilst using European materials. This is a step forward with contemporary design and gives your outdoor furniture a new attitude with old international appeal.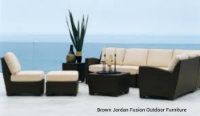 The design encompasses a uniform and textural pattern with the combination of leaves through the entire piece aching it a very solid structure. Their beautiful accents of molded pedestal feet resemble the look of the designer shoes heel or platform. These designs both encompass your outdoor seating area with a couch and chair with ottoman with an accent of a table. You can also have an outdoor dining set that will encompass this beautiful unique/modern design.
---
Brown Jordan Parkway Curvilinear Outdoor Furniture: The Parkway Curvilinear is a beautiful seating option if you are looking for the modular type of outdoor furniture. This set will allow you to rearrange and position to form a wonderful circle or a different design variety of sinuous shapes.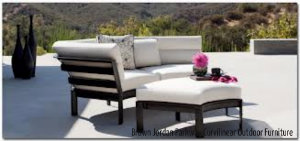 The cushions on this are designed so that you do not need snap tabs. This is accomplished by an elusive design with a rod insert in the outdoor cushion giving it a beautiful appearance with re-find lines. The Parkway Curvilinear combination system of a loveseat with a left or right arm facing accompanied with an armless chair, and a 60 degree ottoman.
---
Brown Jordan Pasitano Outdoor Furniture collection: This is a beautiful collection that can give you a beautiful distinctive tapered struts, with a combination of a wonderful design of a slatted back that are brought forth around your side with curvy arms that give you style sense of the more traditional style of outdoor patio furniture that will leave you with an impression of class and elegance style.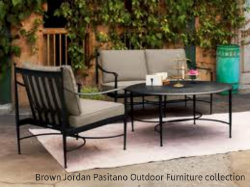 Designed from equity cast aluminum the craftsmanship combined state-of-the-art finishing techniques and made from old aluminum that is hand poured into molds. Cast aluminum outdoor furniture has a very good benefit of having minimal maintenance while letting you enjoy it for years to come.
---
Cleaning and protecting your Brown Jordan Outdoor Furniture
This is simply using a mild detergent mixed with water. Wash the furniture with this combination and then rinse with clear water and remember to thoroughly dry the furniture. For furniture with metal frames you want to go further and use a clear type of automobile wax. You just apply a thin layer onto the metal frame to help protect from the harmful elements of salty air and ultra violet exposure.
If your Brown Jordan outdoor furniture is composed of a stainless steel material, simply using the water and detergent mixture should suffice as long as the furniture is dried thoroughly. If desired, you may use a stainless steel cleaner on the furniture just remember to use one that has a mild ammonia base.
 Enduring the harsh elements of the sun, soil and moisture for many years is the design of the fabric that is used in this outdoor furniture. With this in mind we want to keep it clean by using the detergent and water mixture, rinsing with clean water and allowing to dry thoroughly. When drying, you want to stand the pillow or cushion up so that it may air dry all the way through.
 Protecting Your Brown Jordan Outdoor Furniture Investment
Taking care of your "Brown Jordan outdoor furniture" will ensure that it lasts for several lifetimes. When you have something that is of high quality it is always best to keep it looking that way. By following these steps you can do just that.
---
Wicker Outdoor Furniture-The natural exotic touch for your patio furniture
Wicker outdoor furniture is certainly capable of adding that extra exotic touch to your garden and backyard. If you love spending most of your time outdoors, ensuring you are comfortable is the least you can do. For that, there are lots of different outdoor furniture styles for you to choose from, but wicker outdoor furniture is still the most popular choice.
Modern Outdoor Furniture-Contemporary Patio Furniture Creates a New Living Experience
Modern outdoor furniture can completely change the way your house looks.Though traditional and classic outdoor furniture always looks better no matter what house style you have, the truth is that is has become a bit tiresome. By choosing an original, more modern outdoor furniture style you'll be turning your outdoor space into a unique place .