Garden Sundials-Decorative, Unique Outdoor Garden Accents
Garden Sundials can be one of your most beautiful centerpiece for your backyard. By integrating a sundial into your backyard decor you are drawing in not only a beautiful conversational piece but showing a time from a simpler age when life was not as hectic. A lot of these artistic time clocks come with sweet mottoes (enjoy life and grow old with me) engraved on the face of the clock giving it a more personable touch.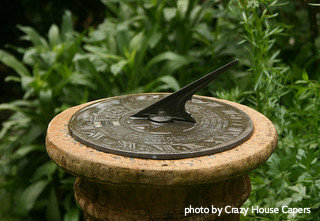 Savor the Moment of Time Is What Sundials Bring
The sundial can be recorded back to about 2000 BC, at the time this was the only way that you would be able to keep track of time as they did not have the digital technology as we do today. It gives you a feeling and an impression of time slowing down with a beautiful artistic antique appeal that can add that little touch of character accent to your yard.
Today's outdoor sundials work no differently and are as accurate as they ever were back when they were created. It operates and keeps time with the means of marking 12 divisions of the day by using the placement of the Sun as it moves through the sky throughout the day. Sundials have the overwhelming ability to take us to a place in our mind of a simpler time and remind us that our time is very precious and to savor all the moments that life gifts us.
Garden Sundials
---
Types of Sundials You Can Choose from
Very Popular Horizontal Sundials: This is the typical sundial pedestal design feature that you will find in backyard gardens around the world and is simply designed to work with the gnomon that will provide a shadow from the sun and in turn give you the time.
Vertical Sundials: This design is made for mounting on the wall in your backyard garden. You can find them on walls of churches and other public buildings to ancient tourist's attractions. The face of the clock should be facing due south. If they are mounted so that they are not facing south they are described as declining dials.
Equatorial Sundials: These will look like a different art piece, some may have the appearance of a ball or something that may look like it is out of a space Museum. They are designed to have the dial plate so that it is fixed and is level with the plane of the equator.
In today's backyard ideas most gardeners look at the sundial as more of a decorative ornament more than actually a functional timepiece. You can find a lot of these selections from antique stone, metal through online stores but you should first look at some flea markets to help you.
---
Sundial Design Possibilities for Your Yard
This type of outdoor ornament provides you with a limitless possibilities of how you could possibly place a sundial in a garden. Consider the potential artistic design benefits that you can achieve before you put it anywhere in your yard.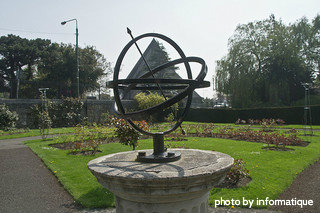 You may first want to try it in a variety of different places, blended in with your water garden, alongside of a pathway or placed right in the middle of your garden area with a wrought iron garden bench. If you want to make it functional take into consideration to choose a spot that will get sunlight for most of the day, otherwise you will find it more of a decorative element.
---
How to set up a Sundial to Function
Vertical Sundial Placement:
Placing a vertical sundial on the side of a wall to make a beautiful garden accent to a patio/deck or blended further into your design in your backyard. If you want the clock to function you must place it on the wall that faces due south. If you're creating a focal point on the walls you may want to add vines around the clock to help you break up the monotony plane that you will get if it is by itself.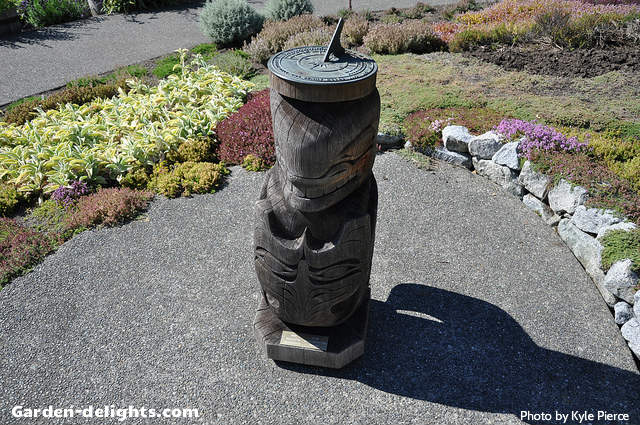 Horizontal Sundial Placement:
If you are installing a horizontal style sundial on a stone pillar or on flat hard surface in your backyard you want to make sure that the clock itself is pointing true North. The centerpiece of your sundial will either have a straightedge or a thin rod that is located from the center or at the tip of the gnomon.
This piece of the clock should be pointed at the proper time line with the rotational axis of the earth. Keep in mind that a suns time compared to your clock time can be different. It may be faster or slower depending on the time of year that you are comparing it. From the middle of April to the middle of June and the beginning of September to the end of the year in December you will find that the sundial clock will be a little bit faster.
---
Add a sundial on a pedestal to your garden
If you have a garden area where mostly your vegetation is low growing then you will be able to create a very beautiful horizontal design effect with the use of a sundial on a column pedestal. With the use of a plinth with your sundial you will be able to add height to your overall design which will bring out a focal point in your yard that can be a much unexpected interest point in your yard. If you have a long pathway you may want to place it at the end making it stand out and draw the person's eye towards the feature.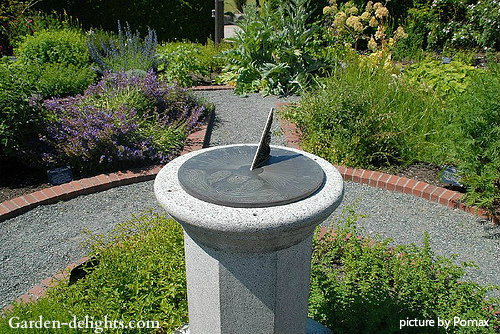 Many sundials will either come with or you can match up some beautiful stone, cement pedestals. If you have a do it yourself (DIY) attitude and would like to put a little bit of your own creativity into it you could build your own pedestal with the use of bricks, or a beautiful piece of solid cedar with a heavy base.
 Landscaping ties can be used to place the sundial on top, make sure you have a proper base structure or dig a hole and add cement like you would if you were building a fence post. If you have plastic containers with the shapes that you would like to implement into your design you could make a mold out of cement and paint the columns afterwards.
Tall garden ornaments such as sundials, three-tier water fountains to some beautiful accent garden Sculptures/Statues are typically used to create a traditional focal point and to provide the overall design with a symmetrical feel as you would find in formal gardens, or a well-designed formal herb garden. What is great about this special backyard feature is that it is just at home in a modern style backyard, cottage style country garden surrounding with the blend of flowers and other vegetation that you have in your backyard
---
Add Some Humor to Your Backyard Landscape
I always try to put a little bit of humor in subtle areas in my backyard. It not only lets me personalize little spots in the backyard but it allows me to have fun with my childlike enthusiasm with adding some fun sculptures to my yard. By selecting a few garden animal sculptures that are strategically placed in your yard you can bring your yard to life through cement, fiberglass, and plastic statues.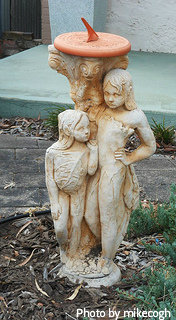 Landscape Sundials
 By adding a small cement squirrel, dog, cat you will be able to create a small little area of a hidden jungle. This is easily accomplished by placing your small statues inside and around your shrubbery, gives you the impression of little creatures living in your backyard.
 Sundials can also have the company of a small animal sculpture that can be placed in the garden with it. With some thought and planning you will be able to lift your spirits and create an area that will tickle your funny bone and everyone who visits your backyard.
---
Garden Lanterns-Decorative, Unique/Outdoor Lighting
One of the easiest and simplest ways to illuminate your backyard is with garden lanterns. Whether you choose solar power, low-voltage or votive lanterns you will be able to bring your backyard decor to life with decorative lighting. If you are looking for a quick and easy solution for lighting up your backyard and patio lanterns, garden lanterns, pathway lighting is your best lighting tool.
Garden Bridges-Decorative,Unique Garden Landscape Accents
Adding a water feature into your backyard has the ability to convert your landscape into a beautiful piece of artwork. Starting with a clean palette you can create the theme and overall feel that you would like to have. Water can help you create the ultimate outdoor oasis in another dimension for your backyard living.
Modern Outdoor Furniture-Fresh New Look to Your Outdoor Living Area
Providing new modern outdoor/patio furniture you will have the ability to completely change the way your backyard living area looks. By choosing classical, natural materials to metal/aluminum you will be able to update your patio accents and provide a fresh new look and appeal for your extended living area.