Patio Hammocks-Deck,Balcony/Outdoor backyard Hammocks
As soon as someone mentions the word hammocks a sensation of relaxation comes over you. Patio Hammocks are the most relaxing and comfortable piece of outdoor furniture that you can own. People who purchase patio hammocks are guaranteed hours of relaxation, in their own backyard.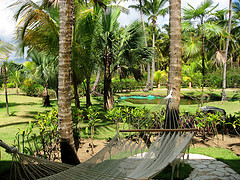 Patio Hammocks Offer You the Best Way to Relax from a Hectic Day
 A Patio Hammock is perfect for someone who needs to relax. We lead busy, hectic lives with work, raising families, community activities, charity work, our hobbies and so much more. Usually every minute of the day is reserved. With a patio hammock you get the relaxation and the rest you deserve.
There are several different types of outdoor patio hammocks that you can choose from. Each of these types of hammocks comes in different sizes and shapes.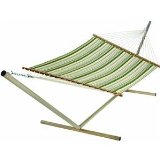 Such as:
Deck Hammocks
Balcony Hammocks
Backyard Hammocks
Garden Hammocks
Patio Hammocks
---
Here is a list of the three main types of hammocks:
An In-Depth Look into Rope Hammocks
A polypropylene or cotton rope hammock is the more traditional, classic looking patio hammock. A rope hammock is considered to be more durable than the other two types of hammocks available.
The rope hammock
Lasts for a long time and takes up a minimal amount of space. Actually the only space that is required is the space that is between the rope threads. Now, with a rope hammock you will not sink in as far. Still though, with a rope hammock you will be able to lounge and relax in a quiet, tucked away spot for hours at a time.
The Fabric Hammock
Fabric patio hammocks have a very long, ancient history. The fabric hammock originated thousands of years ago. This type of patio hammock is hand woven in different countries around the globe.
There are two styles of fabric hammocks. The most type is a hammock that features spreader bars. A hammock with spreader bars does not conform to your body quite the same way. Most people prefer a fabric hammock that does not have spreader bars. This type of traditional hammock is designed to conform to anyone's body. The newer fabric hammocks are made of synthetic materials that whisk moisture or sweat from the body.Outdoor hammocks, outdoor deck hammocks,White rope hammock on patio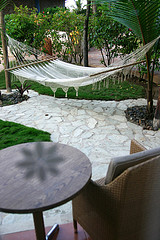 The String Hammock
Another type of patio hammocks is the string hammock. The string hammock dates back to over one thousand years ago. This hammock is referred to most often as a Mayan hammock.
These types of patio hammocks are woven, in such a way that the fibers are made to conform and cradle any body type. The string hammock is believed to be the most comfortable type of patio hammock in the world. This hammock provides the user with a terrific combination of ventilation and comfort. There are some string hammocks that are still made by artisans living in remote Mayan villages.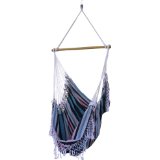 There Is a Wide Array of Patio/Deck Hammocks That You Can Choose from
There is a wide-array of patio hammocks to choose from. Each type of hammock is designed for comfort and relaxation. A patio hammock is a terrific addition to a patio, deck or for a more traditional look, in between two trees. Rediscover your backyard with the luxury of a hammock.
Outdoor Patio Hammocks
"Patio hammocks" are the ultimate way to find both comfort and relaxation on a warm spring or summer's eve. People, around the world, have fallen in love with the hammock. Take a break from you busy lifestyle and relax in a comfortable hammock, taking in the beauty and serenity of the great outdoors. We here at Garden-Delights.com want to help you with all the information and resources to find the perfect hammock that suits your needs.
---
Fabric Hammocks-The Natural Choice for Your Hammocks Comfort
Nothing beats Fabric Hammocks; even in this age of advanced synthetic materials and compounds.Why should you care? Well, if you take your resting place seriously – as you do, otherwise you won't be considering an fabric hammock in the first place.
Portable Hammocks-Compact Sleeping Comfort in a Small Package
Portable Hammocks is the the perfect hammock for outdoor comfort – and best of all, it can help improve your comfort.But the fact remains: you can't even dare comparing it to any other item. I can assure you you'll wake up as relaxed as if you had been sleeping in your own bed.