Wood Bird Houses-Decorative Wooden Houses for the Garden
When thinking of Bird Houses for your garden or grounds, Wood Bird Houses are probably one of the best things to purchase. It is a more natural feature in your garden, and they do fit in well with the landscape. Wooden bird houses are very durable and have good insulating qualities.
Ready-Made/Birdhouse Kits Provide a Creative Solution
There are many outlets where you can buy finished bird houses. Or you can just go and buy the wood yourself and create and build it yourself bird house for your yard.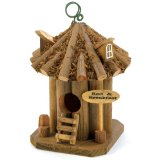 It is better to assess which types of birds come into your garden then you can provide the correct home for them, it will not be hard for the birds to settle and nest in your yard, they do like to feel safe and comfortable. There is always plenty of literature on the subject of the different types of species and their habitats; it is just a matter of looking it up.
When building your birdhouse remember the wood should be at least a quarter of an inch thick, (this will protect the birds from the heat or the cold). The idea of natural bird houses is to make them so they blend in with their surroundings and there are several Types of wood for bird houses that are available for you to do this, from cedar to redwood, pine or even plywood (Choose a high-grade wood) they all look natural in this type of environment.
Wood Bird Houses
---
Buying your first birdhouse/Where to start
Depending on the size of backyard that you have something I like to do and I think is a great experiment is to try a different variety of sizes in birdhouses, you should try varying with different sizes for entrance holes and for the overall shape and design of the house can make a big difference as a lot of birds can be very finicky on where they set up their nesting box.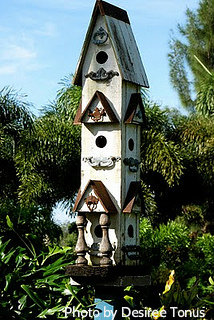 If you are going to purchase a good preconstructed birdhouse I would recommend that you relax out in your backyard and start your bird watching by identifying some of the bird species that are inhabiting your garden. This will help you in deciding what kind of house design and possible wood types that will best attract them and will also provide you with tips if you want to buy a finished birdhouse.
If you want a do it yourself project you can create a customize birdhouse with personal specifications that you want to incorporate. Remember adding a small decorative birdhouse or maybe two as I like to have lots of friendly feathered friends around allows the birds to have their own place where they can nest and perch and feel welcome especially during the winter months when they do not have as much of a choice for natural shelters.
---
Simple Tips to Attract Backyard Birds:
Provide Food Supply: First and foremost you have to make sure that you provide good quality birdseed which may consist of sunflower seeds, millet, corn or a variety of other mixes depending on your bird species.
Provide Fresh Water: Having a birdbath or fountain, pond provides a good source of water for birds. Try to provide moving water which helps keep it naturally clean and no fungus is able to grow on the water surface.
Installing a Birdhouse: Providing proper shelter will encourage birds to take up residency in your backyard. Make sure you are a responsible landlord to your feathered friends by properly installing the right birdhouse for the right bird, this means the right dimensions of birdhouse including the floor space and the entrance hole.
---
Quick Tips for Building a Wooden Birdhouse:
Choosing wood for your birdhouse: You will find many different types of wood that are available to build your wooden birdhouse. First thing is you should make sure that it is an untreated wood, as the chemicals will harm the birds. Maple is a top choice for making your wooden birdhouses because of the properties of being naturally dense, beautiful and ages well with weather and time. Pine birdhouses are also common as they are lightweight and cheap. On the downside, they are less durable than the other types of wood. Other common wood species are mahogany, cedar and cypress.
Choose a finish for your bird house: If you are not going to leave the wood there for it to age in its natural finish, then you will have to apply a paint to protect the wood. By using a latex water-based paint instead of the lead-based you will make it safer for the birds when they're using their new home.
Ventilation for your birdhouse: Ventilation will help give adequate airflow for the interior of the birdhouse. Just below the roof line you can add holes for the air to come through and with the overhang of the roof this will protect it from water getting in. Also, you do want to drain holes in the bottom of the house to help provide with any drainage that is needed.
The importance of the birdhouse roof: The roof should be designed so that it extends over top of the entrance of the house and decides to help protect with the sun and precipitation that will happen during the season.
Maintenance of your birdhouse: the most important thing to consider is the access to the interior of the birdhouse so that you keep the inside cleaned periodically. If the birdhouse that you have chosen only has the hole in the front, then you will have to construct a alternate entrance for cleaning.
---
 Wood Bird Houses/Shelters Are Constructed like Small Houses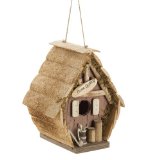 They should be constructed like a small house, have walls and slanting roof to allow rainwater to fall away, and a circular hole to allow the birds entry, the hole should only be large enough for the specific species you are interested in. Again different size holes bring different types of birds so when making your wood bird houses keep this in mind.
Your wooden bird houses should also have ventilation and drainage holes, without these the bird house will be like an oven and would also get damp and so invite those unwanted parasites.
Easy access to the interior of the birdhouse is essential for cleaning
You also need to remember you require easy access so you can open the wooden bird houses either by taking the roof off, or removing one of the sides. This is for your convenience to make it easier for you to clean and keep an eye on the birds.
 If you are using nails to construct your wooden bird houses remember to try and get them rust resistant, this will make the house more secure and a tighter fitting finish. If nails get rusty the birdhouse will deteriorate quickly. You can also glue the joints together first before nailing to help keep the house rigid.
---
Painting your birdhouse should be with a water-based latex paint
If you want to paint the outside of your wooden bird houses you must get the correct water based latex paint. This can help to camouflage the nest and also prevent the wood rotting.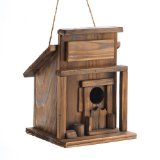 Never use lead based paint it contains a toxin and the birds may peck at this and could poison them.
 Another idea for coating and protecting your wooden bird houses is by using linseed oil, this is a safe product and does not endanger the birds. The only other thing to remember is not to coat the inside of the bird house with any stains or preservatives, this can give off fumes and so be very harmful to the birds, just leave the inside natural.
Decorative Wood Bird Feeders
Backyard Birdhouses Give You a Front Row Seat to Enjoy Nature inaccessible to natural predators It does sound like quite a lot of work, but I think you will get a lot of self-satisfaction by building your own natural shelter, and relax and enjoy your local bird life. You get a front row seat to watch the birds in their natural environment, with a nice glass of wine after a stressful day, what better way to unwind. We here at Garden-Delight.com want to help you with information and resources so you can find the right build it yourself birdhouse or ready-made kits for your yard.
---
House Wren Bird Houses-Start with a Good Birdhouse Plan
If you are into wren bird houses but dont have the time or expertise to design it, theres a little known trick you can use to aid you. With a set of freely available design plans, you can rest assured your wren bird house will be the perfect accommodation for wrens.House wrens will usually accept birdhouses that are 5 to 10 feet above the ground or close to the ground with shrubbery for coverage.
White Birdhouses-Add a Unique Visual Eyepiece to Your Backyard
White Birdhouses is the color that goes well with nearly all existing house styles and colors.After looking at high end luxury models, white bird houses might seem a bit dull and plain. But you have to keep in mind that birds are not that picky when it comes to a bird house style. They just need a place to nest, and even the cheapest most simple bird house will do just fine.