Rope Hammocks-Comfortable,Durable Outdoor Hammocks
A hammock is a sheet that can be hung between trees or poles, which is used for the purposes of rest and relaxation or sleeping. The most popular styles are rope hammocks. They are chosen by numerous people for an afternoon nap on a summer's day in the garden, or simply wherever a person decides to take a quick breather.Rope hammocks are certainly that little bit of luxury that we all deserve and love.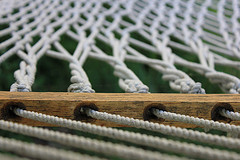 Rope Hammocks Are the Most Popular Choice
The most popular kind of rope hammocks are made of either cotton or synthetic ropes. There are then of course, those that are made of fabric. A polyester rope hammock in actual fact lasts a great deal longer than a cotton hammock when using it outdoors. This is due to the fact that the artificial fibers in a polyester hammock have a much stronger resistance to the natural elements.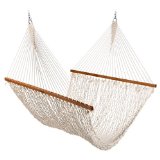 Add Comfort with a Rope Hammock Blanket/Protector
Rope hammocks are extremely comfortable. However it is important to remember that they do leave an indentation on the skin, when lying on them. It may be worth thinking about spreading a blanket or some sort of fabric onto the hammock before lying on it, to avoid the indentations.
Rope Hammocks
---
It is relatively simple to clean most hammocks. All that is needed is a simple cleaning solution and water. It is imperative that no harsh cleaners are used, as these may damage the hammocks fabric.
When entering the idea of purchasing a rope hammock, then purchase the largest one that you can afford, at the same time checking the upper allowance of weight. Select a durable and comfortable rope hammock, which will give people the experience of ultimate comfort and long lasting durability.
One of the largest advantages to this type of hammock is that they breathe, which allows the user to receive the most benefit from breezes on those hot summer days when lying on the hammock in the garden.
---
Types of Popular Rope Hammocks
Polyester Rope Hammock: Polyester fabric hammocks are both durable and UV resistance and usually designed very strong that can hold up to 450 pounds typically their hand-woven with a ring on either end for mounting to either a separate hammock stand or with the proper hardware to a tree or pole. Unlike other fabrics the polyester is very resistant to mold or mildew.
Double Rope Cotton Hammock: This is a great way to give you that extra double space you need when you are relaxing. This will also accommodate two adults as it measures 84" x 16". The continuity used in the hammock provides a supersoft comfort. It's recommended that you use a blanket over top of this as the open rope style of the interweaving can leave marks on your body.
Hanging Rope Hammock Chair/swing: The hanging rope chair is a great way to save on space and provide you a great relaxing place for reading or just for socializing on your deck/patio. The woven top material is designed for you to hang (with the proper hammock accessories) in a tree or in a separate bought hammock stand.
Rope Hammock for Camping/Hiking: The lightweight materials and easy compact design of the rope hammock allow you to take it on any camping and hiking adventure. Can be easily stowed away in your backpack and with the proper hammock attachments can be set up in under 5 min.
---
Rope Hammocks For Affordable Backyard Relaxation
Rope hammocks are generally the cheapest of all and can be purchased for less than $100. If you wish to purchase a hammock for the garden area but you do not possess any trees or poles in your garden to hang it on, then never fear. Hammocks are also available with stands.
Benefits of Rope Hammocks:
Rope hammocks can stretch and conform to your body shape
Fabric choices of cotton, polyester for comfort and durability
Can be covered with hammock quilt for extra comfort
Hammock hanging accessories provide easy portability
Compact hammock and can be taken anywhere
 If you decide upon purchasing a hammock and stand, then it is important to ensure that the stand is of a solid frame, and again check the weight capacity of the stand. Hammocks and stand sets can be purchased for $200 to $250. They are safe and comfortable and the stands are available in different styles.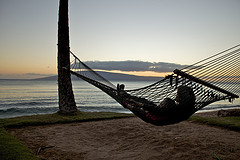 ---
Buying tips for rope hammocks
Check what kind of material you require for your hammocks rope.
Select the hammock that is made from polyester, as it is mildew resistant and durable in all types of weather.
Check the hammocks dimensions.
In order to comfortably fit two adults then it is better to purchase a 54-inch wide by 84 inch long hammock. Or if you want the hammock to be suitable for the entire family, then it is advised to purchase a 60-inch wide rope hammock.
For a single seating hammock, it is advised to purchase one that is at least 45 inches wide and between 76 and 84 inches long.
Check on the weight that the hammock can hold.
Cotton Rope Hammocks
Hammocks are also fantastic for indoor use for the purposes of rocking a baby to sleep, for an afternoon nap, or for relaxing and reading a book.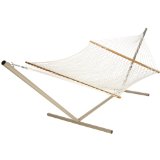 Rope Hammocks Should Be Stored inside for Protection during the Winter Months
If you only intend of using your "rope hammock" outdoors throughout the summer season, then it is advised to store it indoors for the remainder of the year to help to protect it from the winter months. We here at Garden-delights.com want to help you with information and resources so that you can find the right Hammock for your personal needs.
---
Cotton Hammocks-Natural Soothing Comfort for Your Body
Cotton Hammocks are considered to be the most comfortable hammocks available.Unlike other net hammocks that can leave your body imprinted with its rope pattern, cotton hammocks has a much tighter weave and adjusts to your body.
Beach Hammocks-The Portable Hammock for Just about Everywhere
Beach Hammocks are an absolute must for everyone enjoying the sea, sand and sun. Even if you love the sand, youll certainly understand why its a lot better to rest hovering it in a beach hammock.Once you get to experience the beach hammock swinging lullaby, you'll hardly ever want to go back.