Martha Stewart Cleaning Tips-How to care for your Outdoor Patio Furniture
Cleaning your Martha Stewart outdoor furniture is an important part of keeping the classic pieces looking new and complimentary to your outdoor living area. Various types of materials are used to create these astounding pieces that are sold in a variety of home improvement stores across the nation such as Kmart.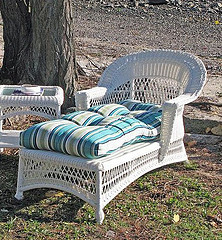 How to Clean Your Outdoor Furniture Properly
 Known for her keen knack to entice the consumer that places their home and comfort as a high priority, Martha Stewart delivers the "best of the best" when it comes to outdoor living pieces. In this guide, I will cover how to clean various components of your Martha Stewart outdoor furniture. These include glass, wood, and aluminum.
When cleaning the glass on this particular brand of outdoor furniture, it is important to ensure that you apply little to no pressure on the actual glass. Naturally, any amount of force could actually lead to breakage. You should simply take a soft cloth that does not contain any type of substance that can shred, or leave behind small pieces of material on the glass, and emerge it in hot water and wipe the surface of the glass.
If you prefer, you may also use household cleaners that are designated to clean glass. However, seeing that various pieces of Martha Stewart outdoor furniture use different types of glass, it is important to read any and all cleaning instructions included with the furniture.
When cleaning the wood that is used on this type of furniture, you should know that some pieces are stained and some pieces are not. Your cleaning measures should be determined by this.
Outdoor Furniture Sets
---
 Cleaning different patio furniture materials requires different techniques
Cleaning Aluminum Outdoor Furniture: Right from the factory the manufacture protects your aluminum furniture with applying a clear or painted finish that helps to prevent corrosion that will cause small little pits on the surface of your furniture. You can help to prolong the life of the protective coating by cleaning (always stay away from alkaline products such as ammonia, this is one of the main components for window cleaners) with applying the treatment of car wax. If it is painted re-coat scratched areas with some good external metal paint. If your aluminum furniture has a powder coat (this is an application of spraying an electric charged powder onto the surface and then it is baked) then you will need some touch up paint that is made for this purpose that you should be able to get from the manufacture.
Cleaning Cast Iron and Steel: more maintenance is required with this material. Regular attention must be made; when you find a scratch or nick (replace with proper metal paint) otherwise rust and impurities will eat through your metal. If you find that the paint is peeling or that you find the typical rust reddish stains, first thing to do is to sand down that area to bare metal then prime and re-coat with some good rust resistant metal paint. Following up with some extra protection with the use of car wax, spray wax will also work.
Cleaning Outdoor Furniture Cushions: the majority of the cushions that you will come across are acrylic or polyester coated vinyl fabric. The acrylics such as the Sunbrella have a protective coating that will give you a stain resistant and moisture repellent finish. One thing be cautious of is that detergents will remove this coating (clean with a mild soap and water). If you find that it is stained or has mildew or even if they are is no more water beating on the surface, combined half a cup non-chlorine bleach with 5 gallons of water, then why a new coating of outdoor fabric finish. Other cushions that are made from polyester vinyl fabrics can be cleaned with just a soft brush for removing dust that washed with soap and water. If cushions become wet from rain stand them on end so that they can drive quickly.
Cleaning Resin Outdoor Furniture: last the furniture is naturally porous and will take stains on very easily. The best way to help prevent this from happening is by find a good coat of car wax. You find that you have a stain, use a mild detergent or even dish soap and give it a good scrub. If this still does not work you some fresh clean water with 10% of either bleach or vinegar. When finished protect the surface by applying a new coat of car wax.
Cleaning Teak Outdoor Furniture: never apply oil to teak wood, as this will attract dust and also encourages mildew growth. Because this is a very natural rot resistant wood you would only need to periodically clean by using a soft brush to remove any dust particles that have accumulated(brush in the direction of the grain) if you want to retain the beautiful golden new look that wash with soap and water towel dry and then let dry completely. Then apply a teak sealer with a UV Sun Blocker protection.
Cleaning Outdoor Umbrellas: Umbrellas are usually made from acrylic, polyester vinyl fabric or cotton canvas. Cleaning procedure is the same as the outdoor furniture cushion cleaning instructions found above. If you would like to help prevent the buildup of mildew that make sure that your umbrella is completely dry when you take it down for storage.
Cleaning Wicker Outdoor Furniture: for both the traditional and your woven from resin coated Wicker the main thing that you have to deal with is the textured surface. The best way to remove the dust is to vacuum our use a soft bristle brush. If this does not work then you can use soap and water and scrub clean with a good rinse. If you find that your Wicker cracks, this means your fibers are probably dry. To combat this have an application of boiled linseed oil applied and white dry. If you're reeds become loose that you can repair the traditional Wicker by using a damp towel (usually an hour) to soften up the strands so they will become easy enough to reweave.
As you can tell, it is not at all challenging to clean your Martha Stewart outdoor furniture. While there are a few steps involved, they do not take too long and are relatively easy!
---
Tips on Choosing Your Outdoor Furniture Cushions
Choosing cushions for outdoor furniture can be a challenging task simply because there are so many considerations to be made. In order to compliment the outdoor pieces that you have, it is vital that you know what you are looking for prior to going on and choosing the cushions. If you are about ready to go about choosing cushions for outdoor furniture, you are sure to benefit from the information contained here.
Outdoor Furniture Cushions,Furniture Pillows,Covers Comfort&Protection
Having outdoor furniture cushions adds a great look to your outdoor patio, porch or deck. Cushions are another feature when it comes to outdoor seating. Outdoor furniture cushions can be a wonderful accessory to any outdoor seating. When you are buying new outdoor furniture cushions are the most important thing.