Garden Arbors-Decorative, Unique/Lawn Structures
Garden arbors allow you to embellish and have fun with your landscaping design. Providing a backyard ornament that will help you define your garden decor and also provide a softening effect allowing you to take away from the edge of the entrance or exit of the yard. Flow and harmony with the touch of mystery provide key factors when you are going to use outdoor garden arbors in your design.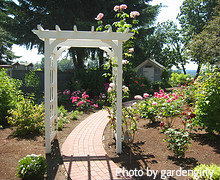 Garden Arbors Help with Transition When Garden Planning
 It should be placed so that it encompasses the natural transition between two areas of your backyard. Positioning should be a very thought out process as the arbor can become a focal point or significant transitional garden accent that sets the stage to another area in your garden, like creating an illusion to where it is leading too.
Arbors provide you a unique design element of height. Because they are typically designed as a tall garden structure they will provide some exciting drama because of the vertical lines that they create in your garden. This is especially true if most of your other garden features have a strong horizontal designed to them.
Garden Arbors
---
Upright supports and trellis finishes provide you an opportunity for vertical gardening, growing a variety of different vines that climb. The more colorful flowers and vegetation that grows the better as it creates a shady and small private retreat that blends well between light and shadow.
---
Planting vertical vine Climbers for arbors and trellises
Most of your climbing plants will be purchased in container grown pots. Although they can be planted at just about any time of the year it is mostly recommended that springtime is the best.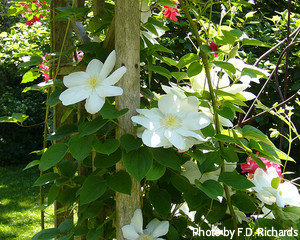 The benefit of spring is that the soil is typically more moist and is starting to warm up as the daylight starts to get longer and the sun is warming up the ground more. This is the best way to establish a good and strong routing and to provide a long growing period for your garden arbor.
Garden plants and soil types to choose from
Climbers for Acid Soil Conditions: Chilean Bellflower, Coral Plant, Dusky Coral Pea, Flame Nasturtium, Harold's Trumpet.
Climbers for Alkaline Soil Conditions: American bittersweet, blue passion flower, Chocolate Vine, Confederate jasmine.
Climbers for Clay Soil Conditions: Boston ivy, Clematis, Dutchman's pipe, Everlasting pea, Trumpet vine, Golden hop.
Climbers for Sandy Soil Conditions: Coral plant, Dusky coral pea, Flame nasturtium, giant granadilla, Paradise flower
---
Scale of Arbors Is Directly Related to the Garden Size
Larger Garden Design:
Having a custom entrance is as easy as adding a garden arbor with a gate. A custom-designed or a decorative arbor kit can help you plan and create a unique garden entrance for your landscape. A gabled arbor that encompasses hardwood with large posts and beams will provide many benefits in a large and well-designed landscape. If you put a lot of time and design into a multilevel landscaping project that includes water features, garden statues then you want to provide a decorative entrance into your paradise.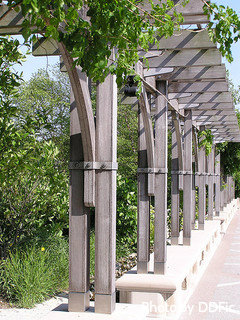 Smaller Garden Design:
If you are working with a smaller garden area then you want to make sure that you have the proper scale of garden arbor in contrast to your outdoor area. Instead of the heavier wood you may want to use metal or a finer cut lumber that gives you an overall thinner look to your arbor allowing it to blend well with the smaller yard area that you have to work with. If you are opting for a lighter arbor design you have to take in account that if you are going to use plants/vines that the structure can hold the overall weight of how much foliage will cover the structure itself.
---
Benefits of having a garden arbor in your backyard decor
Provides a focal point or transition for your garden design
Gives you a place for vertical gardening
Decorative and unique entrance to your yard
Can provide a sheltered spot for a garden bench
Garden arbors with benches provide decorative seating
An affordable garden accent with high visual benefits
---
Popular Garden Arbors You Can Choose from
Garden Arbors with Planters: Having another venue for adding more beautiful flowers to your garden is perfect. Not only is it a beautiful way to enhance the entrance to your garden or backyard gate it provides a great opportunity to add charm with climbing vines and potting plants. Exterior planters are built on either side of the arbor allowing you to add decorative flowering treatments to an already character piece in your garden.
Garden Arbors with Benches: Stepping away from the mundane look, garden arbors with built in seating can provide you a fine detailed garden feature that adds an exquisite decor element to the garden. These units can be used to blend right into the landscape. Whether it's along a passageway or by the garden it will provide you a quaint little seating area for you to sit back and enjoy your garden scenery. If you grow vines up the side trellises you will benefit from the shade and cooling effects that it has to offer especially during hotter times of the day.
Pergola Garden Arbors: Arbors with a pergola flat roof style adds a natural complement to a plain looking gate. The pergola design on the top form a more decorative and overall complete entryway into the section of landscape. Naturally providing visual weight into the design because of the heavier wooden look it still encompasses a simple opening for a gate or passage in the yard. Pergola tops are a great way to complement the overall lines in the gate, it also provides you a unique opportunity to grow flowering vines and provide tremendous decorative visual power and fragrant air.
Miniature Fairy Garden Arbors: Miniature gardening has become very popular. Providing highly detailed mini garden sanctuaries where your imagination is your only limit. A miniature arbor trellis can create a small and wonderful welcoming mood to the entrance of your mini-scape. Miniature garden arbors work well with small stone pathways or a small gravel walkway that leads into a mystical garden in your cottages or mini-scapes.
Decorative Arbors
---
Popular Material choices for garden arbors
Wooden Garden Arbors: Wood arbors have the natural capability of creating a rustic landscape accent or a modern clean designed feature for your yard. There are three main types of wood that are used in making arbors for the garden, each one has its own pros and cons, Cedar wood, Redwood, pressure-treated pine. When using a wood structure for your backyard you will need to protect it from the environment, from a choice of a variety of different finishes.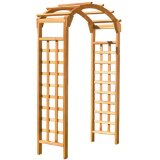 Finishing choices for wooden arbors:
Cedar with transparent stain
Redwood with clear finish
Pressure-treated pine with paint
Redwood with solid body stain
 Depending on the underlining wood that you are working with you can either paint or stain for protection, however staining with a clear protected coating can bring out the beautiful grain pattern and the brilliant wood color itself. If you're going to use paint make sure you use proper wood primer prior to any application of the topcoat.
---
Metal Garden Arbors: Steel, Wrought Iron are popular choices for a decorative garden arbor. Metal arbors can add an unusual yet eloquent feature to your garden gate. Oval archways provide a very distinctive look on a pathway or the entrance to your garden. Wrought Iron arbors provide a interesting contrast with the use of the thin black lines that are naturally distinctive of the wrought iron style, it has the ability to help highlight features (fountains on a pathway, sundial in the garden) that it is placed by it in your landscape.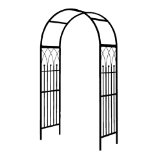 Upkeep of the steel garden arbors is just a case of having a regular maintenance. Even though wrought iron has the beautiful appearance after natural aging in the environment you may want to do small touchups from rust removal to cleaning.
Steps for Metal Arbor Rust Refinishing
Clean with soap and water and dry well.
Use fine grit metal sandpaper to stand rust surface and smooth out paint edge.
Spray paint etching primer, let dry and spray with black wrought iron paint or.
Spray paint with one shot wrought iron paint made for bare metal adhesion.
---
Vinyl Garden Arbors: Maintenance-free archway arbors provide you a complete PVC vinyl kit that is ready to assemble and can be easily placed into your landscape. The plastic arbors provide you the benefit of not having to stain the finished like the wood or any painting that may occur with the metal finish. This is an easy installation for the beginning of the walkway or the entrance of your garden.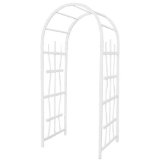 These are a popular choice for arbors because of the detail that can be had by the molded plastic and they do not have to be painted or stained, they also are manufactured to not split, crack or warp. Plastic is injected with UV stabilizers protecting the unit from ultraviolet rays that could dull and fade the overall finish.
Cleaning your vinyl Garden Arbor
Rinse with the garden hose(to remove loose dirt off surface)
Wash with soapy warm water (dishwashing liquid works fine)
Use sponge or rag for wiping dirt and dust away
Rinse with clean water from garden hose
Dry with towel or let air dry
---
Simple Arbors Can Provide a Dramatic Visual Effect
Arbors can be very simple and you do not have to go to great extremes or buy overly priced garden structures to have a truly unique and memorable structure for your garden. Even with the use of a very simple and basic arbor trellis you will be able to provide a stunning visual effect with the use of the right flowering vine of choice.
Garden Arbors
The benefit of using a simple design arbor is that it is easily portable allowing you to move it where you want. This is a very handy feature if you would like to change around your landscape design every year or even within the season. Change can be fun and fresh, it also gives you other possibilities you may not have thought of in your backyard design.
---
Decorative Outdoor Lighting-Visual Lighting Effects for Your Landscape
Garden lanterns can provide many different levels of style, design for your backyard lighting. Solar, votive candle to low-voltage lighting. Outdoor decorative lanterns have the special ability of creating a garden theme for any occasion as a variety of them can be portable throughout your yard. Tabletop lighting for your patio to hanging lights on wrought iron poles to illuminating water features in your yard.
Outdoor Sundials-Unique Visual Garden Sculpture
Outdoor garden sundials provide a unique visual ornament for your backyard. Whether you want to mount one vertically on a wall or horizontally on a stone pedestal in your garden or at the end of a path, sundials can provide you focal point for your garden or help pull together a theme that you've created for your backyard decor.
Rain Chains-Unique Ornamental Accent for Your Eavestrough
Rain chains provide you a unique and decorative garden ornament that is both functional as well as a beautiful water feature. Rain chains encompass the element of water (feng shui) and add music that is generated from a rainfall. Rain chains can provide watering for plants as well as collection of rain for the rain barrel.