Garden Pond Directory-Reviews,Comparisons,Tips
Having a beautiful backyard pond is one of the best ways to blend nature into your extended living area. Garden ponds, waterfalls and stream cascades provide you with a stirring sense of motion from the sound of the water to the wildlife that you will attract to your pond oasis. Depending on the size of area you have to work with you will have to decide on the dimensions of the pond that you want to integrate into your backyard decor.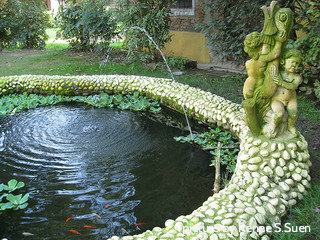 Planning a new pond feature is both fun and educational
 You could have a small courtyard garden with an in ground smaller size pond or an above ground container pond with a small trickling water feature. This will encompass a small area into a relaxing inviting private cove.
While you will find that most ponds are built into the backyard for a little more privacy you can even plan a small pond feature in your front yard providing you with a unique garden accent that your neighbors will all be talking about.
With today's equipment such as your rigid, flexible pond liners and a variety of sizes of pumps you will be able to build a pond near your patio allowing you to enjoy the beauty while you have guests over or dining alfresco during a warm summer evening. You also have the option of placing the pond alongside or near a pathway with a bridge over the walkway.
Backyard Pond Kits
---
Our Garden Pond directory will help guide you through Articles and Information/Resources on outdoor ponds
How to Build a Backyard Pond-Plan, Design/Build
Adding a water feature accent to your backyard garden decor adds another level of interest to your overall outdoor living area. Water will provide you with a sense of tranquility, peace giving you an overall calming/relaxing feeling. (Feng shui for the water element) will surround your garden area with positive energy and flow.
Flexible Pond Liners-an Easy/DIY Solution for Pond Building
By choosing a flexible pond liner you will have many advantages for building your pond. Because you are talking about a full sheet of heavy duty plastic you will be able to incorporate any design shape and size of pond for your backyard. By properly digging and measuring your outline of your pond you will be able to easily install this beautiful outdoor water feature.
Preformed/Rigid Pond Liners-Provide You a Kit Solution to Pond Building
The preformed backyard pond liner is typically used as an all-in-one Kit solution for your backyard water feature. You can buy the unit separately and supply your own pump and other accessory/accents that you want to incorporate in your design. This is a fairly easy installation, by properly digging out and measuring the dimensions of your rigid liner you will be able to lower the shell into your dugout pond area and start adding your cosmetic finishing pieces.
Properly Dig Your Pond-a Good Step-By-Step Tips Solution
Digging your pond is one of the biggest labor aspects of installing a pond in your backyard. When you start this process take proper measurements of the width and the depth that you want to accomplish and decide whether you want to do this yourself or hire a landscape contractor to do the labor work of digging it out. This is the foundation of your pond so doing it right here will save you headaches down the road.
Water Garden Pumps-Most Important Piece of Equipment for Your Pond
When you are planning your outdoor water feature you have to make sure that you choose the right submersible pump for the size, design of the pond you are planning. Take into account what kind of water features you are going to incorporate into the design (water sprays, waterfalls, water fountains). You also want to find the right Pump/Filter if you are going to have fish in your pond.
Pond Maintenance for the Backyard-Provide a Balanced Pond Ecosystem
Take the responsibility and have a proper maintenance schedule for cleaning your pond. By using a few simple pond maintenance tips you will be able to provide a low maintenance backyard garden water feature for your yard. No matter what the size of container you're working with whether it is a aboveground water plant container or a in ground small to large pond, your main goal is to try to keep a well-balanced ecosystem.
Spring Care for Your Pond-Backyard Pond/Essential Cleaning
Springtime is a very important starting point for your pond. This is the first stages of revitalizing your pond's life and bringing everything back to life that you had last season. You want to establish a good setting for your plants and your fish life so that you can have a well-balanced ecosystem and provide a good growing season for your pond plants.
Decorative Garden Bridges-Unique/Stylish Garden Accents
If you have a water feature in your backyard or a dry stream or a bog garden you may want to incorporate a beautiful garden bridge. These bridges can be either decorative and be miniature or they can be functional for people to walk over providing you with an extension into your garden walkway. Garden Bridges is a secret weapon for adding another dimension to your backyard living area.
---