Moving with Outdoor Bar Furniture
Moving with outdoor bar furniture can be quite the task! While you may be excited about the new move, figuring out how to pack all those outdoor patio furniture pieces can prove to be extremely challenging! You want to ensure that the pieces are moved with care and that they are properly protected until you arrive at your new home.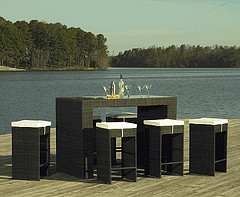 In this mini-guide, I will offer you sound advice that can be beneficial when it comes to moving with outdoor bar furniture. Once you get all settled, you will be able to enjoy recreation in your outdoor living environment. This is why it is important to take care while moving – so that your furniture arrives safely and looks great!
 Cleaning Your Outdoor Bar Furniture before You Move
When moving your outdoor bar furniture, it is important to ensure that you clean the surface of the piece completely. Typically, this type of furniture attracts a lot of dirt, grime, dust, and other types of debris. Since you will be making a fresh new start it is important that your pieces have a fresh cleaning!
Once you have cleaned the furniture, it is important that you allow it to dry prior to packing it in the moving van. The last thing that you want is to put it in the van wet and expelling moisture on the floor, and in the air. This is especially true if you have wooden pieces that can be easily damaged.
Outdoor Furniture Sets
---
Preparing Your Patio bar Furniture for Moving
If you are moving pieces that actually have drawers and other types of organizational areas, you can simply cover these sections by using plastic wrap that is considered to be adhesive with no additional requirements.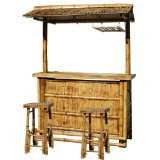 It has been found that this type of tape will not damage the furniture pieces. It is important that you avoid the temptation to use tapes and similar products on these types of surfaces. If you do, you may discover when you take it off that it has damaged the appearance of the outdoor bar furniture.
Moving the outdoor patio furniture that you plan to take your new should arrive in just as good condition as it was when you packed it. There are several different things that can be done in order to ensure that this is a very real possibility. Just take the advice here regarding patio furniture covers and more, and you will find that there is nothing to moving with outdoor bar furniture. Once you arrive at your destination, simply set up and enjoy!
---
Tropical Outdoor Furniture Will Bring a Sense of the Tropics to Your Patio
Tropical outdoor furniture is a great way to bring a sense of the Caribbean or other tropical areas into your yard. Using this style of furniture can make any area of your yard into the tropical paradise that everybody loves to be a part of. Whether it is an area out in the sun surrounded by palm trees or a spot next to the pool, you will achieve amazing results.
Plastic Outdoor Furniture-Long Lasting and Affordable Outdoor Furniture Sets
An affordable all weather solution you dont have to worry about (Plastic outdoor furniture) is your best pick. Though some people look down at plastic outdoor furniture sets, theres no denying they do offer a lot of advantages, particularly when you consider its low cos
Outdoor Patio Furniture Sets-Deck,Patio,Garden Furniture
Nothing says getting ready for spring and summer like your outdoor patio furniture sets. You want to be sure that you have got a great way to relax outside during the warmer months, and there is no better way to do that then to find the outdoor patio furniture sets that look great.