Mayan Hammocks-Handmade Artisan Crafted Works of Art
Mayan Hammocks are rumored to be the most comfortable hammock worldwide. If you love relaxing in the beautiful great outdoors, then a comfortable, handmade Mayan hammock is the ideal way to lounge. So, what makes a Mayan hammock so comfortable? The designers of the hammock created a new hanging style that has a low center of gravity. A lower center of gravity creates a stable, more relaxing experience.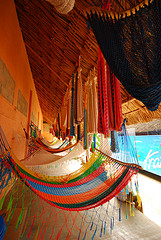 This style of hammock is made from thin fibers that provide the highest level of both comfort and durability. This handcrafted hammock is inviting, welcoming you to nestle in for a warm summer's nap or a romantic evening for two.
The Deluxe Mayan Hammock
One of the most popular types of Mayan hammocks is the "Deluxe" model. This type of hammock is made from a natural color that is reminiscent of the white sandy beaches found in luscious South America. The Deluxe Mayan hammock is made from 100 percent cotton and features a unique, tight weaving pattern. Each Deluxe hammock is handmade by a talented artisan located in the gorgeous Yucatan Peninsula.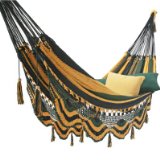 The Deluxe Hammock is so popular because it is designed to comfortably mold to any type of body shape. This hammock is one of the most comfortable hammocks to relax in. The hammock features decorative hand-stitched trim that adds to the authenticity of the hammock. In order to hang the hammock, you will need special hanging hardware and a stand.
Mayan Hammocks
---
The Deluxe Mayan Hammock Blue and Blue
Another popular artisan Hammock is the "Deluxe Blue and Blue" model. This gorgeous hammock features an eye-pleasing blue and blue pattern. The blue stripe pattern is reminiscent of the blue tones found in the sky of a luxurious tropical island. The Deluxe Blue and Blue Mayan hammock is unique and handcrafted from artisans, located in a tiny village. This type of hammock is designed to mold to any type of body or shape.
Benefits of Mayan Hammocks:
Adds vibrant colors to your backyard patio or garden
Handmade hammock quality stitched workmanship
Unique hammock patterns and designs
Soft cotton hammocks tightly interwoven for comfort
Creating a hammock cocoon for natural comfort
---
The Special Features of the Mayan Hammock
There are no two Mayan hammocks that are exactly alike. Since each hammock is handmade, it has its own unique, original characteristics. The technology that is used to create a artisan hammock has been handed down from ancient Mayan weavers. The Mayan artisans are apprenticed as children and learn the craft of hammock weaving as they mature.
The artisans are praised for their skill and their attention to detail that goes into each custom-made hammock. This is what makes these hammocks the most beautiful and the most comfortable hammock in the world.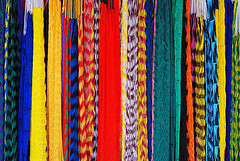 Special Features for Mayan Hammocks:
Handmade
Lightweight
Made of 100% Cotton Rope
Conform to Any Body Type
Extremely Durable
---
Types of Mayan Hammocks That Are Popular
Matrimonial Hammocks Size: These hammocks are a beautifully artisan-crafted hammock that is made to provide you the ultimate comfort by wrapping your full body. These larger hammocks provide you the space and strength that can hold up to two people, typically up to 550 pounds is safely supported if mounted properly.
Mayan Mexican Double Hammocks: Superbly handmade and crafted hammocks. With the use of 100% cotton for the initial bed that contacts the skin to provide you a very comfortable place for relaxation. Attached to the ends are nylon strings that provide you the strength and durability for holding the hammock in place. This is a very portable hammock that is great for all indoors and outdoor activities including camping, hiking or just relaxing in your backyard.
Multicolored Family Mayan Hammock: If you are looking for a large hammock that can hold a whole family and provide vivid colors for your backyard then the family extra-large Mayan hammock is a great choice. Made with 80% cotton and 20% nylon it provides extra strength and durability but still allowed to breathe naturally. Along with comfort, it can carry up to 660 pounds.
Single Mayan Hammocks: If you are looking for a great place to relax and only need a single bed then the single Mayan hammock is a perfect choice. Width is typically 3'3" that provides you the wrapping that hammocks are known for in a cocoon shape. Hand-woven hammocks are made with 80% cotton and 20% nylon and will ensure that this hammock will last you for many years to come and provide you with the most comfortable indoor or outdoor furniture accessory.
---
Mayan hammocks provide luxury and color relaxation
The hammock is a treasure that is both beautiful to hang and comfortable to relax in. You will be amazed at how comfortable the Hammock is. It is for all of these reasons that the hammock is highly coveted around the globe.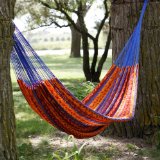 Hanging hammock hardware kits provide you an easy solution for installation. The hammock should be hung between two trees because they do not fit in regular or large stands. A hammock requires a space of 13 to 16 feet.
Mayan Hammocks
A hammock brings luxury and comfort to any outdoor setting. When you purchase a "Mayan hammock", you are purchasing the most unique and comfortable Hammock in the world. We here at Garden-Delights.com to help you with all your information and resources to find that perfect hammock for your special retreat.
---
Fabric Hammocks-The Natural Choice for Your Hammocks Comfort
Nothing beats Fabric Hammocks; even in this age of advanced synthetic materials and compounds.Why should you care? Well, if you take your resting place seriously – as you do, otherwise you won't be considering an fabric hammock in the first place.
Cotton Hammocks
Cotton Hammocks are considered to be the most comfortable hammocks available.Unlike other net hammocks that can leave your body imprinted with its rope pattern, cotton hammocks has a much tighter weave and adjusts to your body.