Wall Water Fountains-Feature Wall-Mounted Water Fountain for Your Home
If you are looking at adding a unique centerpiece to your home that will add a touch of class and elegance, then wall water fountains can deliver just that. Energy and refreshment are experienced when wall water fountains are placed in your home, whether they are in the form of a vigorous waterfall, a tinkling woodland brook or the ebb and flow of the tide lapping on the beach.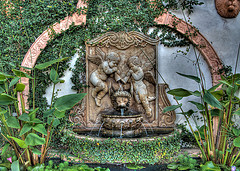 Wall Water Fountains Provide You with Essential Stress Relief, Relaxation Benefits
 Indoor wall water fountains are what your homes most essential piece of furniture. It is been no one that water fountains can actually help relaxation and make you feel peaceful. Research has shown that negative ions (tiny charged particles created by flowing water) will actually help improve your energy levels and cognitive ability.
Wall water fountains are also a beautiful piece of unique artwork. With the flowing water it changes constantly not only in appearance but also beautiful running water music. Traditional art that you hang on the wall or statues are very beautiful but they are stagnant and do not change. After a while you may not be drawn to that piece of art as much. Water fountains can also be excellent for just about every space in your home not just your typical round or tabletop you can also find some beautiful vertical fountains or even a beautiful horizontal water fountains.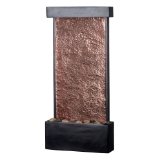 Water Fountain Are Designed Be an Ever-Changing Living Piece of Art
If it is a wall fountain that you are using in your space in the living room the entrance way to your home or even at the office you will encompass an ever-changing piece of art every time you are entering the room. Because of the sound and the movement your eyes will always be captured to look at the fountain more often than a typical work of art, this is why it is especially worth your investment.
Wall Water Fountains
---
Achieve Balance with Positive Ch'i in Your Home Water Fountain
Feng Shui is a practice that helps with your balance of energy levels in your life. By introducing new elements at different styles and techniques of relaxation your home you will feel that your life is more balanced and peaceful.Feng Shui is brought together by using six principal elements: metal, wood, fire, wind, earth and water. Because of this indoor fountains help play a significant role in the achievement of balance in your home, backyard, patio, office environment.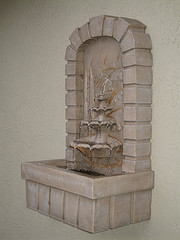 The six elements of Feng Shui that fountains provide:
Metal: By encompassing fountains that may include copper or stainless steel metals is a beautiful way to highlight the metal element.
Wood: The wood element draws you more to the Earth natural aspects. Any would objects that you had in your home such as your furniture, the wood trim in your home or even your hardwood floors will all complement the wood element. Having Bamboo water fountain would complement the wood element.
Fire: lights are a great way to add the fire element to your living area. Many indoor fountains have the accessories of lighting features that will give you natural, warm assets and below that will help to accentuate the fountain and will highlight the patterns of Feng Shui perimeters.
Wind: because of the flow of fountains the water will actually start to move the air around it filling it with negative ions. Negative ions increase the quality of air and will contribute to better physical and spiritual health.
Earth: indoor wall fountains are manufactured from variety materials. A lot of them can be materials that are found in nature. By choosing stone or Indian slate you will be able to encompass not only the earth and also add beauty with color as the stone work comes in blends of black, green or you may be able to find one that has multicolored rajah.
Water: flowing water has always brought well-being to man. Instead of stagnant water in your room the flowing water with help increase positive ch'i. The indoor and outdoor water fountain is are your perfect solution that allows you to encompass and introduce this special element to your decor scheme whether it's inside your home or in your garden or beautiful backyard oasis.
---
Many Advantages Are Obtained with a Water Fountain in Your Environment
There are numerous benefits to possessing a wall water fountain.They are not only used for decorative purposes, but also for:
Stress Relief and Meditation
Interior Décor
Natural Humidity
Masking Unpleasant Sounds
All of these benefits will be received when you make the decision to add wall-mounted water fountains to your home, office, yard or garden.
Stress Relief and Meditation
It has been proven that the sound of running water can help a person to relax and eliminate stress, which we accumulate within our daily lives. The sound is highly soothing which can help us to achieve a feeling of inner peace and tranquility. If you are searching for a wall-mounted water fountain for this reason, then select one with a soft sound, as a loud splash of the water will not achieve this feeling.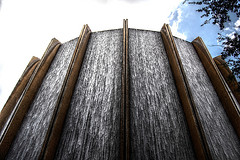 Interior Decor
Wall water fountains are a great idea for using up the space on an empty wall. Maybe you are in possession of enough framed art and other hanging decorations that you wish to have something completely different. Of course, a wall-mounted water fountain will also draw your guests to the beauty of your home.
Natural Humidity
Moisture can be added to a room from a fountain. This is particularly helpful when in a dry climate and through the winter months. You can enjoy the relaxing sounds of a fountain rather than the drumming sound of a humidifier. One extra advantage is that humidifiers can contribute to the growth of mold and mildew, whereas wall-mounted water fountains do not do this. Plants that very often become dried out due to heat or air conditioning units will also be revitalized with wall water fountains.
Masking Unpleasant Sounds
Wall water fountains can also help to mask the sound of traffic, televisions, noisy neighbors etc. Fountains are also very useful in bedrooms in order to help you sleep.
Wall Water Fountains
 Of course, wall-mounted water fountains can be placed in the garden also. Imagine sitting in the garden on a summer's day after a hard day at work, and relaxing with a glass of wine and your favorite book. It is a sure way to assist you in unwinding after your trials and tribulations at the office.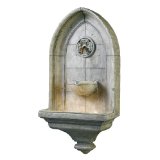 Wall-Mounted Water Fountains Are Easy to Install and Maintain
Wall-mounted water fountains are extremely easy to maintain. There is no need for special plumbing, which is always a bonus. A piped water supply is not required as water is pumped from a small reservoir in the fountain and re-circulated by a main power pond pump in order to create the flow that is required.
The pumps power cable can be routed either across the face of the wall, or a hole can be drilled through the wall for the cable to be routed out of sight. When purchasing a "wall water fountain" a majority of them come already supplied with the pond pump, so all that you need to do is place it on the wall and enjoy. We here at Garden-Delights.com want to help you with resources and information so you can find the best water fountain for your home.
---
Stone Indoor Water Fountains-Add a Natural Artistic Water Feature for the Home
Stone Indoor Water Fountains can do wonders for your house decor.These beautiful water features come in so many different designs shapes sizes and different colors of stone, metal and fiberglass resin. Selecting a fountain that will fit in your environment can be a very exciting adventure.
Interior Water Fountains-Soothing Sounds of Water Therapy in the Home
Interior water fountains have the benefit of bringing you a soothing and relaxing atmosphere for your home or office.Tabletop fountains have a great benefit of being diverse and everything that they can incorporate by combining different features, textures that may include Slate, bamboo, glass.