Outdoor Cafe Furniture-Stylish Outdoor Alfresco Dining Experience
There are lots of different options for Outdoor Café Furniture. From economic plastic and resin tables and chairs to more elaborate (and expensive) metal and glass furniture, it all depends on the style and effect you want/need to achieve. The good thing about it is that, no matter what you're looking for, you're likely to find outdoor bistro furniture on the internet.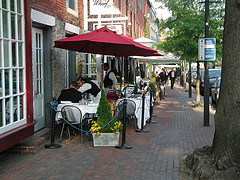 Outdoor Café/Restaurant Furniture Can Add a Beautiful Unique Look Style to Your Patio
For a long time, people relied on custom built outdoor café furniture to achieve their own unique look and style. However, a lot has passed since those days, and today it's far easier to scroll through hundreds of different styles on a computer screen and choose the furniture suitable for your deck/patio and garden.
 Though you can still order some custom made outdoor restaurant furniture, my guess is you'll find a nice looking already made furniture right there ready for the picking – and you'll save a lot of money too.
What Makes a Bistro Patio Furniture Set?
The essence of a bistro furniture is that they consist of very small tables (also known as and Opera table ) with usually 2 to 3 chairs that make up the set. The tables construction is usually made up of steel that has been painted with a powder coating for whether protection, other pieces that are made of resin are specifically made for the outdoor purpose.
Outdoor Cafe Furniture
---
 They are a beautiful piece for any small patio or deck's or even along walkways. The table has a large enough size that can hold drinks (coffees, teas, wine) and maybe a small plate of food. In general the tables not large enough to have a full meal they are made more for the snacking and conversational sitting areas.
---
Things to Consider When You Are Purchasing Your Outdoor Café Furniture:
Consider your climate/weather conditions: Is your weather hot or is it drier or you deal with high humidity rain. If you have the hotter dry climate air you'll find that some woods can be damaged by splintering and cracking, Wicker does not do very well being exposed to moisture. Wind conditions affect aluminum furniture as they are light and can be blown away.
Know how much area you have: Take a good look at the space that you have and the shape that you are dealing with. If you have a wide Terrace then you will have more area for your furniture but if you are dealing with a narrow balcony you will have to decide where your furniture will be placed. This will also determine the size of your outdoor furniture.
Where will your bistro furniture be placed: Being small a bistro patio set gives you many options of where to place your furniture? This is a great way to have a very private area set up for a small conversation area. Usually this type of furniture is not placed on soft ground or grass as moisture may damage the bottom of the material. If you are exposed to the sun more you may consider an umbrella that can match your set.
Consider what storage you have for your furniture: At the end of the season you want to make sure that you can provide storage for your outdoor furniture. You'll find that sometimes furniture covers and plastic enclosures may not provide enough protection for your metal tables and chairs. If you do not have a storage area you may want to consider a material that you can leave out during the winter months.
Consider how much you want to spend: starting with the budget relieves a lot of stress from going overboard on your purchase. This will also allow you to buy the best furniture that you can afford; this does not mean cheap furniture as you can find good quality furniture at a reasonable price.
---
Bistro Patio Sets Give You the Beauty and Feel of Outdoor Cafés
Some people think outdoor cafes are only suitable for countries with nice weather, but considering you can now efficiently use outdoor heaters, even the coldest of days can turn into an enjoyable day/night outdoors, sipping a cup of hot coffee or tea, alone or with friends.
Outdoor Bistro Furniture
Traditional or high-tech styled, you can rest assure that you'll have plenty of people ready to visit your "outdoor cafe furniture". If you're lucky enough to set it up in a good place, you'll even do fine with cheap plastic outdoor furniture.
---
Metal Outdoor Furniture-Aluminum Outdoor Furniture,Decks,Patios,Gardens
Metal outdoor furniture is much different now than it ever has been. In the past, it was susceptible to rust, and therefore not used very much outdoors. However, with new technologies and new coatings for metal outdoor furniture, it has become a very popular way to make a modern new atmosphere for your outdoor areas.
Outdoor Garden Furniture-Creating Your Own Backyard Oasis
There is no better way to enjoy the great outdoors but with outdoor garden furniture and outdoor lawn furniture. Being able to sit outside and read a book, talk to friends, or simply just enjoy the feeling of the sun on your face, is one of the things that makes outdoor garden furniture so popular.