Outdoor Wood furniture-The Natural Outdoor Furniture Set to Satisfy Anyone
Outdoor Wood furniture might require a bit more care than, say, plastic and metal patio tables and chairs; but no one can deny that there's no match when it comes to the effect wood furniture has on your garden or backyard. If you're not willing to compromise, then you need some quality outdoor wood furniture than can withstand the harsh outdoor conditions: rain, sun, extreme cold, blazing hot, moisture, etc.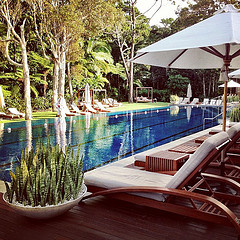 There Are Different Types of Wood You Can Choose for Your Outdoor Furniture Sets
Though some people think of wood as "wood", there are different kinds of wood – some being more appropriate for outdoor use than others. For instance, teak has some unique and interesting properties when it comes to outdoor Wood furniture: it is quite resistant to water and dries up quickly – that's why you often see it used in boat decks. Though you'll still need to do some maintenance treatment every now and then, this is the type of patio furniture you won't need to worry much about.
Outdoor Wood furniture can be made from either softwood or a hardwood. If you're looking for a hardwood then you will look at products that are made from broad-leafed trees and if you are looking at a softwood type of wood then they will be derived from trees that bear needles such as pine. One tip to make your wooden outdoor furniture last a lot longer and give it more years of life is to now and then move it from your grass area up onto a patio or deck where it can properly dry.
Wood Outdoor Furniture
---
The Different Wood Furniture Types Your Outdoor Furniture Can Be Made of
Wooden teak outdoor furniture:
Teak is one of the most pricier of the wood types you can choose from it is also the most durable in withstanding outdoor elements. It is an ideal choice for your outdoor patio/deck and garden furniture as it has very high resistance to decay and rot. Naturally it is also resistant to termites and other insect pests. If you love the beautiful gold look of your teak furniture then all you have to do is brush it clean with a soft bristle brush in the direction of the grain and apply teak oil.
This will perpetrate the wood and help it keep its brilliant bright gold color; yearly maintenance of this application will need to be done in order to keep this appearance. If you like to leave the wood age naturally then you will see that it goes to a dull grayish color when it is left outside untreated. There's no need to panic this is natural and is a very beautiful and unique look to the furniture. This does not hurt the wood as it is a natural process.
---
Redwood wooden outdoor furniture:
Redwood is also a very beautiful outdoor furniture choice. It is made of softwood that encompasses a straight line grain that has a beautiful subtle light wheat color. It is a very durable outside would backing give you many years of pleasure (up to 25 years) if you have a maintenance schedule of applying a stain, sealant and wood preserver. Just like the teak wood is also a natural resistant material against rot and termites. Because this is a very softwood there are many different designs and intricate styles that you can make from this beautiful Redwood (cheaper than the hardwoods such as mahogany and teak).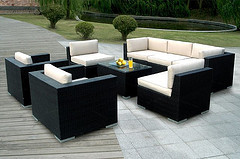 ---
Jarrah wood outdoor furniture:
Jarrah is a very beautiful exotic outdoor furniture wood. This type of wood has a very fine grain type of structure that it compasses of you to hold reddish-brown hardwood. Because of the warm tones that this wood encompasses it is perfect for crafting wooden picnic tables and outdoor garden benches. As with the other woods it has a natural protectant and is rot resistant, termite resistant and has a natural ability of being resistant to decay. Jarrah is the type of wood that you cannot bend and it will not work even if it's under the extreme elements of humidity or high levels of moisture. For cleaning just use mild detergent with a soft brush and rinse with water.
---
White Cedar outdoor furniture:
This is a softwood that has very high strength and has a beautiful ash white to a somewhat light gold color. It is very resistant to decay, insects and is a light weight wood. White Cedar is a relatively soft wood which also makes it just like the (Jarrah outdoor furniture) very easy to craft into intricate designs and different styles patterns. The White Cedar Garden furniture will age with beauty as it will turn to a beautiful grayish white tinge. If you want to keep it looking the day you bought it then you can apply a sealant protection that will seal the wood and retain its beautiful original color.
---
Tips for caring for your wood outdoor furniture
Protect your outdoor wood furniture from sun damage: UV rays can add damage to the wood by bleaching it; to help prevent this make sure your wooden furniture is kept out of the direct sunlight.
Store your wood furniture during the winter: Snow and cold temperatures along with bright sun during the winter can damage your wood, story and the radical or shed (for protection from the elements).
Waterproof covers for your wooden furniture: Wood is a natural material and will absorbable moisture at different levels if the water penetrates it can break down the wood grain (causing cracks and other damaging effects).
Applying a protective coating to your furniture: To help retain moisture and keep the wood from splitting or cracking because of lack of moisture apply a natural oil, such as teak oil(which will help condition your wood and give longer life).
Washing your wood outdoor tables and chairs: The air has a lot of dirt, pollen that can add damaging effects to your wooden furniture (particles get trapped inside the grains) so wash with light bristle brush and make sure you completely dry the furniture and not allow water spots to dry.
Wooden Patio Furniture
Outdoor Wood Patio Furniture Is the Best Way to Naturally Add Beauty to Your Backyard
It's amazing how a simple set of "outdoor wood patio furniture" can completely transform your backyard. Even though some people may be happy with a cheap plastic set, the superior style and presence of a quality outdoor wood patio set is sure to do much more for your house style. All you should worry about is finding the perfect set for your house, and then take some time to look around the internet to find the best possible deal for it.
---
Wicker Outdoor Furniture-Natural exotic touch for your patio furniture
Wicker outdoor furniture is certainly capable of adding that extra exotic touch to your garden and backyard. If you love spending most of your time outdoors, ensuring you are comfortable is the least you can do. For that, there are lots of different outdoor furniture styles for you to choose from, but wicker outdoor furniture is still the most popular choice.
Rustic Outdoor Furniture-Country Garden Style for Outdoor Furniture
Rustic outdoor furniture is just one of those things that make perfect sense. If you own a cabin or rustic home, is there a better way to spend quality time with family and friends than being outside, comfortably sitting on a nice set of rustic furniture?This is the place where simple exterior wood furniture is all it takes to enhance your home.
Patio/Outdoor Furniture Sets Tips&Accessories Features
Taking care of your outdoor furniture is a great way to protect your investment. By following tips for the proper cleaning procedures and how you can protect certain types of materials.tips and feature outdoor/Patio information on Outdoor furniture sets, Outdoor wicker furniture, Outdoor garden furniture, Metal outdoor furniture, Outdoor furniture cushions, cleaning Patio furniture