Hanging Hammocks-Hammock Comfort wherever you want
Hanging hammocks have altered in a very small way since its modest beginnings over 1000 years ago by the Mayan Indians of Central America. Hammocks are readily available today in different varieties and colors, but one thing remains, and that is that they are perfect for snoozing by the pool, resting under a shady tree in the garden, or taking an afternoon nap. There certainly is no better way to unwind and relax than lounging in hanging hammocks.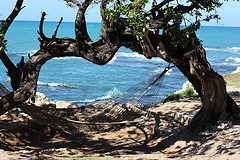 You Can Find Many Different Hanging Hammocks Fabric Designs
A hammock is a great addition to any home furnishings. Hanging hammocks are readily available in many designs, all offering the same feeling of weightlessness as you are laying in your hammock hanging effortlessly in the air. One of the most popular designs is the woven rope style hanging hammock with spreader bars. This design allows the flow of air around the body, allowing you to keep cool as you relax in comfort.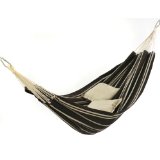 Hanging Hammocks Are Incredibly Soft and Comfortable Way to Relax
This hammock which is made of a cotton material is another brand which is all the rage. It provides the user with an astoundingly soft comfortable place for relaxation, particularly in cooler climates. This particular type of hanging hammock is fantastic for young children, as it does not contain any holes or openings whereby children can become entangled.
Hanging Hammocks
---
If you are considering making a purchase of a hammock for the purposes of using it by the pool or the ocean, then they can be found in a weather resistant material which will assist in maintaining their form and function for a very long period of time ahead in a harsh environment.
Hanging Hammock Accessories:
Hammock stands (self-contained treeless hammock hanging)
Tree hugger strapped set (environmentally friendly tree hanging nylon straps)
Hammock chair suspension kit (provides a balance spring and swivel action)
Hammock posts (spikes for in the ground on either end of hammock)
Wooden hammock stands (wood arc hammock stand )
Hanging hammocks are available in a variety of different colors, including solid, pastel, and anything in between. There are even Mexican, Nicaraguan and Brazilian designs available. These will add a cultural touch to your hammock.
---
How Do You Hang a Hammock Safely?
How Much Area/Space Do You Need for the Hammock? It is recommended that the best distance that you need for hanging your hammock is 10 to 15 feet. If you find that you need less space you will find it necessary to raise the location of the hooks or recommended nylon strap hanging accessories. If the area you want to mount your hammock is more than the recommended distance by the manufacture you can look at some hanging hammock accessories. Hammock stands are a good option if you do not have trees to mount to. Check the manufacturer's product label when you are choosing your hammock for proper distance that is recommended.
What Are Hammock Weight Capacities/Limits? Every hammock has different weight capabilities and you should check with the manufacturer's label for the recommended maximum weight and how it should be mounted. Most hammocks can support multiple people keeping the maximum weight under 300 pounds. Single hammocks will hold less weight but only has a capacity for one person.
How to Not Damage Your Trees When Hanging Hammock? You want to try not to damage the tree for just hanging your hammock. There are many hanging hammock accessories that allow you to strap around trees and provide you a safe mounting structure for your hammock. This also saves the tree from any damage when you are installing your hammock.
How do you mount hanging hammock chairs? Hammock chairs can be mounted with a spring and swivel hammock accessory that can be mounted to a tree branch, overhang from a roof or you may look into a wooden curved mounting base that is made for hammock chairs.
---
 Hanging Hammocks Come in a Double Width for Two People
Hanging hammocks are not only available for the purposes of a single person, but they are also designed for two people to use them. They are ideal for a snooze together in the back garden on a breezy day. However, it is imperative before you make the purchase of a double hanging hammock, that you check that the support system is of a suitable strength to accept the weight of the two people who wish to use it.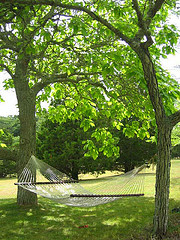 It is possible to hang almost all hammocks from trees, hooks in the ceiling, decks, and from stands that can be purchased exclusively for this purpose. The required equipment for putting the hammock in place will be included with almost every hammock. However, it may be sometimes required to purchase the hanging chains, hooks etc. Always check as to what is included with your hanging hammock before you make the purchase.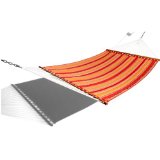 Hammock Chairs Are Great Idea for Confined Areas Such As a Patio
If you own an apartment whereby you have inadequate space available for a hanging hammock, then it may be worth considering making a purchase of a hammock chair. These are also available in the styles and colors that all the hammocks are available in. Hammock chairs allow precisely the same level of relaxation without the need of a hanging device, or the available space to hang it in.
Hanging Hammocks
When purchasing a "hanging hammock" for your personal use, I am certain that you will agree that it is one of the best purchases you will have made for a long time. We here at Garden-Delights.com.com want to help you with all your information and resources to find the perfect hammock for you.
---
Backpacking Hammocks-Lightweight Trekking Gear for the Outdoor Enthusiast
Backpacking Hammocks are perfect for minimalist backpackers. If you like to travel light with just the bare essential survival gear, this backpacking hammock can take a load off your shoulders.Also, no need to carry a sleeping mat and sleeping bag, your covered hammock is more than capable of providing a comfortable night's sleep.
Rope Hammocks- Cotton Rope Hammocks/Nylon,Polyester
The most popular styles are rope hammocks. Rope hammocks are certainly that little bit of luxury that we all deserve and love.The most popular kind of rope hammocks are made of either cotton or synthetic ropes. There are then of course, those that are made of fabric. A polyester rope hammock in actual fact lasts a great deal longer than a cotton hammock.