Purple Martin Bird Houses-Safe, Unique, Decorative Housing
Purple Martin birdhouses are very distinctively seen across the country. Known for their big community birdhouses because they like to live in groups and are very sociable. The purple Martin is known as one of the largest swallows that are in North America, skillfully aerobatic with one of the most graceful flight patterns that you could imagine. In late January of every year you can scout for purple Martins as they start their migration. This is a Good time for you to prepare for the families that will return year after year.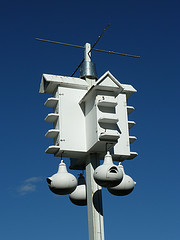 The male has a beautiful blue-black shiny appearance that is unmistakable and very beautiful. The female has a combination of black and blue on the upper half of the body with a dull and more of drab Gray on the underside of the belly.
Although the male is very distinctive from the female they will typically resemble very closely to the female purple Martin until they are more mature which makes it a lot harder for you to identify. It takes two years for a male purple Martin to mature and show their beautiful silky blue-black colors, it also is the time for full breeding and mate choosing time.
---
Birdhouse Choices Are Typically Two Styles/Designs
Purple Martin birdhouses typically come in two styles of choice for the birds that they prefer. Single structures that have multiple compartments within side that provides for multiple families. Your other nesting option is to have individual houses that are arranged close together.
Purple Martin Birdhouses
---
The purple Martin is a very social bird and will tend to prefer living in colonies of dozens if not hundreds of mated pairs. If you provide tiers of living compartments you will discover that they are very popular in choice and will house many pairs of birds. They will tend to return year after year allowing yourself to be the landlord of a very busy bird hotel.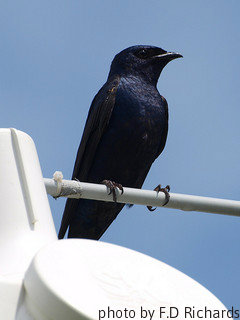 One of the most popular choices for individual birdhouses are hollowed out gourds that are either made and created with a wooden structure allowing for multi compartment housing or molded plastic gourds allowing for a comfortable and secure nesting box. The overall favored choice for a purple Martin rustic birdhouse is white.
---
Dimensions and placement for purple Martin birdhouses:
The Entrance Hole for the Birdhouse: The hole in the entrance should be 1- 3/4 inch and 2 -1/4 inch. You will find that overall the most popular entrance holes are 2-7/8in.
Entrance Hole Height: The hole to the entrance of the birdhouse should be 1 inch above the floor. Interior floor space for the birdhouse: you should have a minimum space in the interior of 6 x 6in.
Birdhouse Interior Height: Height of the inner part of the house should be in a range of 5 to 7 inches. This will give enough space and ventilation for the birds. 8 inches is suggested if you are going to use gourd birdhouses, because of the unusual and unique shape of the upper part of the house.
Placement of Birdhouse: The best place for stationing your purple martin birdhouse is typically within around 100 feet of human habitation and freshwater situated on tall poles that are usually the highest standing object in the immediate area. The birdhouse height should be approximately 10 to 20 feet high and provide a baffle on the pole that will help protect against predators such as(cats, squirrels).
Birdhouse Porches: These are not necessary to have but if you are going to have one. They should be 4 inches wide to allow the birds to walk safely. If you are having a custom birdhouse handmade for this purpose make sure that you have the proper holes sizes and dimensions so that you will not only have a beautiful decorative house but one that is very functional.
Birdhouse Cleaning/Maintenance: Make sure the birdhouse design has nest compartments that allow you to open allowing you for cleaning and regular maintenance, this will also allow you to monitor and track the birds that are inhabiting.
---
Purple Martin Characteristics That Makes Them Different
Purple Martins are one of the best notorious hunters as they can fly gracefully and very quick allowing them to eat on the go. They will hunt and collect their food (flying insects) while they are in-flight. They are a very on the go type of a bird and are known to even skim the surface of water while they are flying to take a drink of the water.
Purple Martins at a glance:
Total Weight: 1.5 to 2 ounces.
Breeding/Courting: April through to August.
Construction of Nests: Typically the construction of the blue Martin nest is a combination of small twigs, grasses, pine needles mixed together with mud and leaves. Choices can consist of buildings and trees on the inside cavities up high allowing for safety of the nest, also this is a good design plan if you are going to install a uniquely designed birdhouse.
Adult Wingspan:Typically the wingspan of an adult purple Martin is 15-16 inches.
---
What Makes a Purple Martin Birdhouse Recognizable?
Purple Martin birdhouses and nesting boxes come in a wide variety of different models and styles from being very decorative to the highly recognizable custom-made designs, suitable for both experts and beginners. A basic house can consist of an affordable plastic house to a higher-end durable aluminum or wooden bird houses. Providing necessary water and bird feeders will make your yard a sanctuary that you will have families for many years.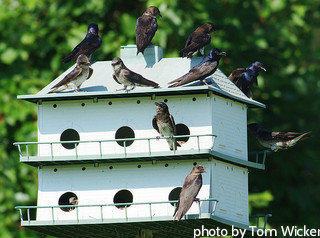 Purple Martin Houses
If you are considering looking at a high-end birdhouse to house a purple Martin and the families rest assured that these houses are designed to have over 20 bird rooms in one single house or closely constructed multiple housing like you would find at a five-star luxury hotel or bird condo. All of us here at Garden-Delights.com would like to help you with all your information and resources for finding the best birdhouse and tips on attracting birds to your yard.
---
Custom Made Bird Houses-Creating a One-Of-A-Kind Birdhouse
Planning a Custom Made Bird House, there are no limits to what you can achieve: if you can imagine it, it can certainly be done.Your luxury custom-made birdhouse will look just superb in your garden. These handmade birdhouses are the best way to provide shelter for several different species of birds.
Birdhouses and Feeders Will Attract Beautiful Chirping Wildlife to Your Backyard
What is more peaceful than setting up bird houses and feeders for you to enjoy watching after a stressful day at work. There are several different species of birds that need different types of bird houses and feeders.People of all ages make bird watching a lifetime hobby, and they are a source of delight to watch. Birds are so beautiful in color and flight they can take your breath away.