Solar Water Fountains |Renewable Energy for Running Your Water Fountain
Solar Water Fountains are the perfect example of how old and new technologies can be brought together to improve our lives. Just like the Sun is responsible for evaporating water, raising it to the skies, where it will condense and come down again as rain, a solar water fountain uses light to pump water without adding to your electricity bill. Think of it as a tiny ecosystem inside your home.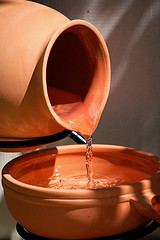 Solar Water Fountains Are Energy-Efficient and Environmentally Friendly
Solar pumps are widely used in gardens and yards across the country. If you like water fountains you'll probably worry about your impact on the planet – and wasting energy just to keep your fountain running 24/7 isn't a "nice" thing to do.
So, why not make it environmentally friendly by using solar power? Even if you plan to use it indoors, most solar water fountain pumps for fountains come with extension cords that allow you to place the solar panel near a window or any other place with better solar exposure during the day.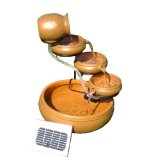 A Solar Powered Birdbath Is a Great Addition to Any Backyard
 If you're an outdoor enthusiast and want to create an environment that encompasses all of nature's best in your backyard landscape design then a solar powered birdbath is a great way to invite your feathered friends to the backyard. These fountains require no additional plumbing or electrical wiring as they are a all enclosed unit that can be placed anywhere as long as it has Sun.
Solar Water Fountains
---
With the constant movement of water you will attract beautiful colored birds to the rush clean water for bathing and drinking, not only that you will create a beautiful sounding water feature that is sure to stand as a beautiful art piece in your backyard
Solar Water Fountains Are an Art Water Feature That Is Made for Your Backyard Oasis
Solar fountains come in a variety of different finishes from stone, fiberglass resin with ultraviolet inhibitor, cement, and metal and are perfect for your patio or garden. They function well as a piece of garden art that can attract several different types of wildlife to your backyard. The solar battery works when the sun is on the solar panel, most have a rechargeable battery that is looted so that when the sun is not out or on cloudy days your fountain still operates.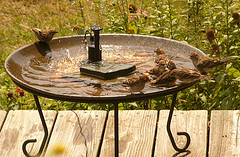 Some come with a rope control that will allow you to adjust water height, the lights be turned on and off. These of installation is just place the solar fountain in an open sunny spot and then relax and enjoy a comforting sight and sound of your new water feature.
Solar Fountain Tips and Features
Outdoor Water Fountains without the Cord Mess: Solar panels do not need electrical cords which makes it convenient to put anywhere in your yard and easy to move for readjusting your landscaping decor.
Solar powered outdoor fountains are great for bird watchers: With a beautiful solar powered fountain in your yard you can attract many birds to your garden this is a great way to invite nature your into life.
Have a pond? Use solar powered floating fountains: This is a great way to not disturb any natural echo system in your pond because you do not have to touch the pond in any dramatic way but all you have to do is place the pump into the water and let it float.
Small spaces will also encompass a solar water fountain: Space is not a problem as there are many different sizes and shapes of fountains that you can choose from whether you have to put it on a small balcony or deck or just want to have it in a small space in your backyard.
Solar lights will light up your fountain: Solar fountain lights are a great water fountain accessory that you can add to your fountain adding a new dimension of light to your nighttime solar garden.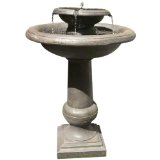 Use the Suns Power to Operate Your Outdoor Garden Water Fountains
Solar Garden Fountains
Slowly, but surely, we are walking our way into friendlier power sources. It would be great to be able to use the Sun's power to fix all our energy problems, but it seems that will take some more time to achieve. Meanwhile, you can do your part, ensuring your always running water fountain is not consuming electricity from non-renewable sources: replace your existing pump for a new a solar powered water fountain.
---
Garden Water Fountains-Adding Water Activity to Your Backyard Decor
Adding man-made ornaments such as Garden Water Fountains into the backyard, can in actual fact convert your garden into a work of art.If you are looking to create the ultimate outdoor oasis and are wondering what kind of decor that you can add to your garden or patio, you should consider adding a few outdoor fountains.
Fairy Water Fountains-Imagination and Fantasy Lurking in Your Backyard
It's amazing to see how fairy water fountains just magically keep popping up in our garden.No matter which house style you have, you will be able to integrate these fairy water fountains into it without a problem. Just like a regular garden gnome looks great on any green lawn, the fairy theme fountains look fabulous no matter where you put it.