Caring for Red Cedar Outdoor Furniture will prolong the life of your wood patio furniture set
If you have Red Cedar Outdoor Furniture, it is important that you know and completely understand how to appropriately care for it. The idea behind the care of this type of furniture is to allow it to age in a graceful manner without jeopardizing the appearance of the color and shine that red cedar brings.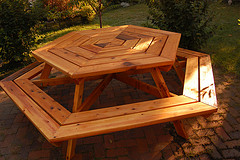 Cleaning and Basic Maintenance Will Extend Your Outdoor Furniture Life
 This particular type of wood is considered to be "soft", so it is important to understand that cleaning and basic maintenance should be done with care. Here, I will identify how you can go about the process of caring for red cedar outdoor furniture that you integrate into your outdoor living adventures.
The first thing to understand is that heavy scrubbing and/or washing is not appropriate for this particular type of outdoor wood furniture. If you want the pieces to age in a graceful, productive way, you should wash with a soap that does not contain harsh chemicals and do so with a soft sponge. This will help to eliminate the debris that may accumulate on the piece while outdoors without jeopardizing the rich color of the wood, or the wood itself.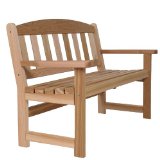 Watch for moisture around metal (can accumulate rust and rust stains)
When cleaning around screws and bolts that are holding the piece together, it is important to ensure that you dry around the area once complete. If you fail to do this, it is quite likely that you will end up contributing to the accumulation of rust and even rust stains.
Wooden Outdoor Furniture
---
As the "red cedar outdoor furniture" increases in age, it is important to know that the grain will begin to rise. While many individuals enjoy the appearance of raised grain, you may not. If this is the case, you should ensure to protect the piece with a sealant that is designed for wood. This sealant will provide optimal protection for your wooden furniture piece.
It will protect against dirt, dust, and other types of debris and it will also work to create a moisture barrier on the red cedar. In addition to this, this sealant will work to ensure that the harmful rays of the sun do not inflict damage upon the beautiful wood that the furniture is composed of.
---
Prolong the Life of Your Outdoor Cedar Furniture
If you would like to protect your furniture and keep it looking new as it did when you purchased it instead of the natural aging process that will happen with your red Cedar furniture, There are few products that you should know of to help you with this.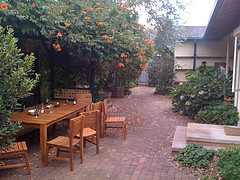 Wood sealers: When you apply wood sealers you are protecting your furniture by blocking the pores of the word and keeping the dirt and the moisture from penetrating into the wood causing cracks and splits. If you'd like to keep the colors warm (natural color a Cedar) then you should use a sealer that has an ultraviolet inhibitor. If you do not use this type of protection with your wood sealer your furniture will naturally turn to a silver gray through the natural aging process but you will benefit from not having a raised wood grain. Wood sealer should be part of your yearly maintenance schedule for protecting your outdoor furniture investment.
Staining Red Cedar Furniture: If you're going to stain your WRC furniture then you should realize that if you do stain, it is considered to be permanent. There are many different stain colors available that you can have with or without UV inhibitors. If you'd like to keep the natural beautiful warm shades of your red Cedar furniture you can apply 2 protective coats of clear stain with the UV inhibitors.
Using Teak or Linseed Oil: This application is not recommended at all for cedar outdoor furniture. The problem with using the oil on your furniture is that it will attract dust particles that will stick to the furniture and be very hard to get rid of. Another consideration is that your WRC furniture is not protected from changing to that beautiful natural state of its silver gray color, the only thing that oil will do is just slow down the natural aging of the wood and repel water.
Giving Protection with Preservative Treated: If you're going to use any part of your red cedar furniture in the ground, such as fence posts, arbor posts, pergola posts then you will need to you have your furniture preservative treated.
Painting Your Red Cedar Garden Furniture: It is recommended that you do not paint your WRC furniture because the adhesion will not be proper allowing the paint to eventually blister and peel, moisture can also be trapped in the wood under the paint. If you would like to change your color of your red Cedar Garden, patio outdoor furniture for backyard design purposes than it is recommended that you choose a color of stain for the application
---
A lot of naturally built-in benefits such as being light weight and dimensionally stable that will stay straight when it is in the outdoor elements. Red Cedar Garden furniture is naturally resistant to starting to crack and check as other outdoor wooden pieces may have.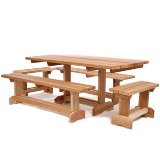 Beneficial characteristics of Western Red Cedar Garden furniture
Outdoor Western red Cedar retells the heat and will stay cool even on the hottest days
Red Cedar has a built-in natural resistant to bacterial and fungal growth; it also resists attacks from insects that can damage your furniture.
Western red Cedar has natural oils that contain natural preservatives which help the wood resists rot and decay, is a great choice for humid climates and popular material for saunas and hot tubs.
Having a distinctive cedar aroma (thujaplicins) that we humans find pleasurable but moths, insects and wood pest hate (this makes it one of the best choices for Eastern Aromatic red Cedar outdoor storage chests, indoor closet liners and blanket storage chests.
Wood Patio Furniture
Several individuals who have had wood outdoor furniture have experimented with oils and even paints to enhance the overall appearance of the wood. It is important that you avoid taking these measures as it could have a detrimental effect on the piece.
It is actually really simple to care for this type of furniture. Simply adhere to the steps mentioned here, and you are sure to enjoy the beauty and luxury of your red cedar outdoor furniture for several years to come!
---
Martha Stewart Cleaning tips on how to care for your Outdoor Patio Furniture
Cleaning your Martha Stewart outdoor furniture is an important part of keeping the classic pieces looking new and complimentary to your outdoor living area. Various types of materials are used to create these astounding pieces that are sold in a variety of home improvement stores across the nation such as Kmart. In this guide, I will cover how to clean various components of your Martha Stewart outdoor furniture. These include glass, wood, and aluminum.
Patio/Outdoor Furniture Sets Tips&Accessories Features
Taking care of your outdoor furniture is a great way to protect your investment. By following tips for the proper cleaning procedures and how you can protect certain types of materials.tips and feature outdoor/Patio information on Outdoor furniture sets, Outdoor wicker furniture, Outdoor garden furniture, Metal outdoor furniture, Outdoor furniture cushions, cleaning Patio furniture