Cute Bird Houses, Feeders-Funny, Decorative, Crafty
Birdhouses do not have to look ugly-in fact cute birdhouses are becoming one of the most popular best-selling birdhouse items everywhere. Life is too short to be living with dull face, and the best way to put a smile on your face and your feathered friends face is to provide your back yard decor with a funny birdhouse. Don't be worried about scaring away all species of birds as I'm pretty sure the birds you attracting your backyard will have a better sense of humor than most people.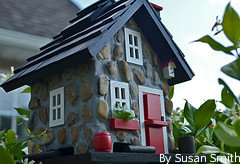 Cute Birdhouses Come in a Variety of Themes and Styles
As long as you can provide a nest box that they feel protected inside, they will not care how cute the birdhouse is because it's the functionality that they are looking for in the house. Cute birdhouses come in a wide variety of imaginable themes and styles, from miniature Victorian houses to psychedelic birdhouse models only the bravest birds may venture into. However if you consider the affordable price on these homes you may want to put up multiple birdhouses to bring in a variety of different species of birds into the yard.
If you are a creative person or just love to do arts and craft this is one of the best opportunities to do some custom birdhouse work. You can add your own personal tastes and favorite colors to your house. If you buy a plain looking wooden birdhouse, you will be able to easily change it into a very colorful and really cool birdhouse with just a little bit of creativity with some paint and some other art supplies from your local hobby/art supplier.
Decorative Birdhouses
---
You will be very surprised in how quickly you will be able to achieve a simple (but very creative) paint job for your birdhouse. Applying a few little extra fine details (shutters, small decorative signs) is also a great way to complement it even further. No one will be able to tell how the birdhouse first looked when you purchased it
---
Tips for Creative Painting for the Birdhouse
Painting the birdhouse has a few steps that should be taken. You must thoroughly sand the surface of the birdhouse removing any burs or splinters from the wood, this is up to you how detailed you want to become. Start with a good sealer for the exterior of the birdhouse typically what you want to use is a good water-based outdoor primer (Kils primers) to give the wood a good protective coating, it also helps for the paint to have something to stick to as you cannot paint directly on the wood without proper adhesion.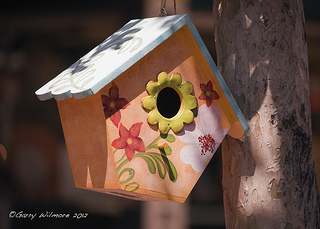 Next you should apply a good exterior grade of latex water-based paint (colors are your creative choice). You can use a brush method for applying your topcoat to your birdhouse allowing sufficient time between coats if you have to do any decorative masking for second colors. If you have access to an airbrush you will able to do a lot more creative detail work on your birdhouse.
 You may even want to consider making this a decorative indoor birdhouse to keep on a mantle or hang from the ceiling. Try not to get any paint on the interior of the birdhouse if you do wipe the area clean as you do not want to contaminate the inside of the nesting box area.
---
Cute Birdfeeders Are an Attention Grabber
Cute birdfeeders are not only functional but are favorite choice for attracting birds to your backyard. If you want to you can match the birdhouse to the birdfeeder that maybe hanging in the tree. Typically the platform type of feeder or small house is the most popular choice for backyard feeders.
Easy access for filling is typically used with the removal of the roof and filling the container and just hanging it back up on the tree. You can use water-based stains (for a rustic birdhouse look) and paints on the outside area of the house. Remember not to put any kind of chemicals or even water-based paint materials anywhere the food might be touching.
---
Getting the Most out of Your Backyard Birding
Be Creative and Try Something New: As you become more involved with your backyard decor you will discover new and fun ways to bring your backyard to life. Cute birdhouses are a wonderful decorative choice that will add a little bit at craftiness to your garden. There are many other sources of excellent ideas that you will find at your local library or typically I will go to my local specialty bird store as I find these bird lovers are very knowledgeable in helping me in my bird attracting quest. Adding a new water feature not only allows me the flowing of water sound but it drives the birds crazy as they cannot stay away from my outdoor fountain which means more activity for my backyard.
Use Binoculars for Your Backyard: This is a great way to get a close-up of all the birds that are starting to be attracted to your backyard. It's a fun and wonderful time and maybe you just want to go get a book and start identifying the birds that are coming. This also gives you a lot of information on what food choices and other cute birdhouses/birdfeeders you may want to add to your yard.
Get Your Camera Ready: Having a digital camera always ready for your backyard means that you will not miss out on any of the action when the birds come to the birdfeeder or the birdbath. Trust me some of these birds are pretty quick and even though you get to see the funny things that they do you may want to try to record some of this to show your friends and family all the entertainment that you have in your backyard.
---
Birds Make Your Backyard Extraordinary
Even though some birds spend a lot of time out of sight and may be out of reach is still fun and exciting to see them swoop in for that breadcrumb as they dart back to a safe and concealing shrub that you have in your yard. Even having this happen throughout the day (usually there is a lot more activity than this) is nothing more than extraordinary that will bring your ordinary landscape in your backyard to life.
Cute Bird Houses
Your backyard or garden does not have to be enormous but you have to be a good landlord and take care of your tenants. All of us at Garden-Delights want to help you with all the information and resources that you will need to create a beautiful backyard garden decor.
---
Bluebird Houses| Bluebird Nest Box For Protection and Safety of Bluebirds
Bluebird Houses are probably the most common bird houses in the country. Helping and protecting the bluebirds should be everyone's priority.Bluebird houses can be mounted on fence posts, utility poles or trees (trees are less desirable as climbing predators have access). Another good area is to consider mounting them on poles that you can place in your yard.
Bird Houses Directory| Reviews, Comparisons, Information on Birdhouses
Find information and resources that you can use to help you find the right birdhouse so you can attract the right species of birds to your backyard.short articles on- bird houses, creative bird houses, bird houses and feeders, bird seed houses, wren bird houses, blue bird houses, white bird houses, patriotic bird houses, decorative garden bird houses, purple Martin bird houses.
Home Made Bird Houses-The fun of crafting your birdhouse
If you have even the slightest do-it-yourself spirit in you, you are more than capable of doing a much better job yourself and make a Home Made Bird House.Building a homemade bird house is not rocket science. With some careful planning and preparation even young children could do it.