Homemade Bird Houses, Feeders- Build Birdhouses, Unique, Decorative
Homemade birdhouses are quite common. Instead of spending a lot of money on that expensive birdhouse or buying a cheap looking house that will not even last you a year you have another option. If you even have the slightest do-it-yourself spirit in you, you are more than capable of creating a handcrafted birdhouse you will make on your own. Yes, I'm not joking about it: you are more than capable of designing and planning your own birdhouse design the exact way you want to build it.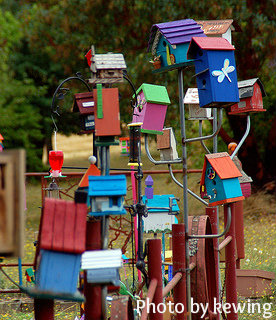 Homemade Birdhouses Are Easy Craft Projects
Building a homemade bird house is not that difficult of a job. With some careful planning and preparation even kids can make it craft project that can be fun. You can either buy raw material or do your own cuts of wood that you make by following a birdhouse plan.
You can buy a ready-made birdhouse kit that you can put together and paint yourself if you want everything precut for you and the overall design this is a very inexpensive way of building a birdhouse.
 If you need help in the planning department you can find many different house drawings that allow you to build your house and do any modifications to make it more personal(if needed) or you can use it exactly how the design calls for.
Birdhouse Kits
---
Birdhouses are a natural component for your garden decor. They are small little structures that offer visiting bird's additional room to hide, rest or even become a nesting box for a particular bird that the birdhouse was designed for. If you have a well built and constructed birdhouse and feeder you will give the birds more reasons to take up their nesting and living quarters allowing you to observe their patterns and natural rituals.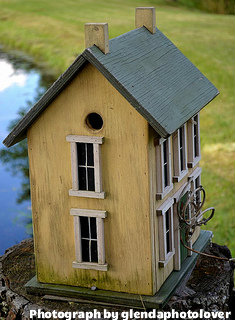 A simple but very effective way that you will be able to attract birds to your garden is to provide them with one or two small birdhouses in your backyard area. The birdhouse not only provides the nesting but gives them a place to perch while they are visiting your backyard. This is a great advantage as you will be providing a natural wooden shelter in the wintertime (this is the most crucial time of the year for food, water and shelter).
---
What Kind of Birds Visit Your Backyard?
Depending on how much room you have in your backyard you should try to experiment with the variety of birdhouse sizes by incorporating different entrance sizes and shapes of the houses allowing you to attract a variety of different species of birds. Your homemade birdhouse design should use the specifications sizes for the type of bird species that you want to attract to them.
---
North American Backyard Birds You Might Attract:
House Finch
Blue Jays
Northern Cardinal
Tufted titmouse
American goldfinch
Purple Martins
---
What to Look for When Designing Your Birdhouse?
When you're designing your birdhouse try to resist the temptation in the design to include a ledge or perch that sticks out from the entrance of the hole. This might have some nice decorative aesthetic looks to it and it's not in any way a hindrance to the birds but it does provide easy access to predators that may want to get into the birdhouse such as squirrels. Small and basic houses can easily be constructed at home with very minimal supplies and skills.
Build your own homemade birdhouse instructions:
Materials/Choosing the Wood: When you are choosing the wood for your birdhouse you want to buy some natural cedar boards or a high-grade exterior plywood that is a 5/8 inch thick material. Make sure that the wood is untreated and you do not want to have pressure-treated wood as there is chemicals that could harm the birds when they are nesting in the house. Using some rough-hewn pieces in the construction will provide traction for the birds.
Birdhouse Roof Design: When you're doing the design for the roof of your birdhouse make sure that you allow for a one or 2 inch overhang on the sides of the house allowing it to have a natural rain runoff so as to keep the house as dry as possible.
Use Hinges and Screws: The overall birdhouse should be put together with screws for strength and overall durability you should also incorporate hinges into the design allowing you for easy disassembly (usually one side of the birdhouse polls open) so that you can have seasonal cleaning/maintenance and easy access to the interior of the birdhouse.
Ventilating the Birdhouse: Make sure that you provide several holes at the top and at the bottom of the birdhouse providing for ventilation and any kind of water drainage. This helps keep the interior part of the birdhouse as dry as possible in wet weather.
Birdhouse Entrance: When you are putting the main entrance on the birdhouse make sure that it is at the top of the house providing ample room for the bird for getting in and out of the birdhouse. You should also check on the species of bird that you are particularly building the house for so that you can drill the proper hole size for the entrance.
Painting the Birdhouse: If you have used cedar you can leave the wood untreated as it is a natural wood that stands up well to the weather. If you use a high-grade plywood you will want to paint the outside of the house to protect the wood. This is also the best chance you have to create a cute decorative birdhouse that you can put your signature on by choosing the color and all the design work that you want. When you're choosing the paint for this project you should only select non-toxic paint(typically a water base laytex) and provide natural colors such as dark greens, browns if you want to provide a more natural look and allow for a bit of camouflage for the birdhouse. Never paint the inside of the house as this could be toxic for the birds, if you do get paint on the inside wipe it clean as soon as possible and let dry for an extended period before you put the house into operation.
Installing the Birdhouse: Different bird species are for different places of where they would like their birdhouse, some birds can become very territorial. Try to install the houses as far apart as you can in secluded locations but in areas where you can still visually see the houses so you can enjoy all the activities that are going on.
---
Basic Materials around the House to Build a Birdhouse
Scrap wood from other projects around the house.
Plastic milk cartons and pop bottles.
Gourds are great to use if they are dried and cured.
Any scrap metal but you may have in the shed.
Old license plate are great for custom birdhouses.
Old cork boards.
---
You Have Total Creative Control over Your Homemade Birdfeeder
The important thing is, you have full control over what design, style of birdhouse that you're about to build. If you do not like something about any particular birdhouse, you can easily change it. If you want to add an extra entrance, no problem. If you want to shorten it a bit to fit into a particular place in your backyard, that is easy to design.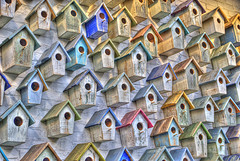 Birdhouse Craft Kits
Of course, the reason that you're building your own handcrafted bird house is so you can add your own special touch, something that is personalized to show that your birdhouse is unique, unusual and is unlike any other one built.
 Just don't be surprised if you end up thinking constantly about how you would improve it if/when you're going to build your next house. All of us here at Garden-Delights want to provide you with all the information and resources you need to plan, design and create your own unique homemade birdhouse.
---
House Wren Bird Houses-Providing the right dimensions, style of bird house
If you are into wren bird houses but dont have the time or expertise to design it, theres a little known trick you can use to aid you. With a set of freely available design plans, you can rest assured your wren bird house will be the perfect accommodation for wrens.House wrens will usually accept birdhouses that are 5 to 10 feet above the ground or close to the ground with shrubbery for coverage.
Bluebird Houses| Bluebird Nest Box For Protection and Safety of Bluebirds
Bluebird Houses are probably the most common bird houses in the country. Helping and protecting the bluebirds should be everyone's priority.Bluebird houses can be mounted on fence posts, utility poles or trees (trees are less desirable as climbing predators have access). Another good area is to consider mounting them on poles that you can place in your yard.