Outdoor Garden Furniture-Creating Your Own unique Backyard Oasis
After being cooped up in the house all winter – whether your winters are very cold or simply just uncomfortable, being outside is one of the best things that you can do for yourself. There is no better way to enjoy the great outdoors but with outdoor garden furniture and outdoor lawn furniture.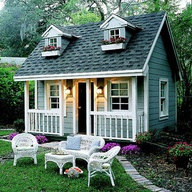 Outdoor Garden Furniture gives you Many Benefits to Enjoy Your Patio/Deck and Garden
Being able to sit outside and read a book, talk to friends, or simply just enjoy the feeling of the sun on your face, is one of the things that make outdoor garden furniture so popular. When you are choosing your furniture for the outdoors, there are several things to think about.
First of all, when you choose outdoor garden furniture, you want to think about the way that the furniture will look among your plants and garden. Be sure that the furniture isn't something that can damage anything that you've got planted, and also be sure to remember that you are going to want to sit and look at your garden, probably at the end of a long and hard day, so be sure that you are placing the outdoor garden furniture in a place where you can see everything that's going on in your garden.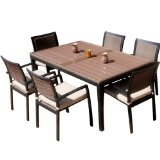 Weather-proofed Garden Furniture is a Good Idea for Furniture Durability
Remember, you'll be watering your garden often, so also take care to buy furniture that won't' be damaged either by you watering your garden, or by the rain that's bound to come in the spring and summer.
Outdoor Garden Furniture
---
Outdoor garden furniture adds an extra touch of class and luxury to your backyard. There's nothing better than sitting on your patio or in your garden area enjoying a coffee or a delicious breakfast or dinner with family and friends. When you combine that with the right pieces of outdoor furniture you will increase the enjoyment of the experience even more. When you are looking for new outdoor patio furniture there are a few questions that you should keep in mind.
Eight tips to help you purchase the best outdoor garden furniture:
When do you use your patio/deck (what times of the day and how often)
The types/styles of furniture do you need (patio furniture set, chairs, and loungers)
How much sun exposure does your patio/garden receive (look at the UV resistant material)
What materials would give you the best combination of both durability and style
How much maintenance will you need to do to keep your patio furniture's appearance beautiful
Who will be using your patio furniture (family, friends, and social gatherings)
Look at adding an umbrella to your plans (gives you protection from both the sun and from rain)
Look at metal pieces that are designed to be rust resistant (powder coated cast aluminum, all weather wicker furniture)
---
When you are looking at outdoor lawn furniture, you also want to keep those things in mind. Be sure that the furniture looks great on your lawn so that you can enjoy your time in the great outdoors – whether you are enjoying your mornings, afternoons, or evenings.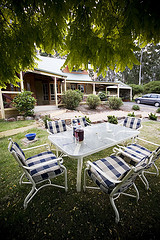 Find Patio Furniture That Will Look Great in your yard
Remember that often people like to sunbathe on their lawns, so if this is something that you are interested in, be sure you buy furniture that you can use for this purpose.
Also, keep in mind that both outdoor garden furniture and outdoor lawn furniture are meant to look great against the backdrop of your home or your lawn. Therefore, try to choose colors that complement the backdrop.
 However, you will also want to choose colors that are neutral, because you might be changing the look of your house, or the types of flowers that you are planting in your garden from year to year, and you want to be sure that the furniture matches no matter what you do.
---
Types of patio furniture materials you can choose
Aluminum outdoor patio furniture: The benefits of this type of material are that it will not rust or fade especially if you have a powder coated finish that the manufacture supplied. It's lighter with a lower maintenance than it steel counterpart. Cleaning is easy with soap and water and rinse with a garden hose. You can finish with a coat of car wax which will help give you a repellant water treatment protection for the furniture.
Wicker outdoor patio furniture: This is a natural material that is a woven synthetic or would which is lightweight but naturally durable. A lot of these furniture pieces take up a lot of space as this is the way they are designed. They're a beautiful and come in a variety of styles from just chairs to full out patio furniture sets with tables and end tables. For protection of your investment consider choosing a weather resistant wicker (all weather wicker furniture) which can be cleaned and washed off with mild soap if needed. You can also apply paste wax for a more repellent water resistant protection.
Wooden outdoor patio furniture: The wooden outdoor furniture has a great advantage as it does not hold the sun's heat like your other materials would (metals and plastics). You should always store indoors during the winter for protection. If it is Cedar or teak you may keep it outside but it will naturally fade and age a lot faster. It can be washed with soapy water and rinsed with water. Do not put it on the grass directly as it absorbs moisture and can rock. For protection you can either paint or seal the finished to help protect it from water.
Plastic outdoor patio furniture: This is usually the cheapest outdoor furniture you can add and is made typically from recycled materials. Outdoor chairs are designed to be stacked for storage. It's not as long-lasting compared to the other patio sets and needs to be stored inside to help but I'm fading and pitting.
Outdoor furniture sets
Try To Choose Whether Resistant Furniture to Help Protect your Invest
Lastly, your outdoor garden furniture and your outdoor lawn furniture should be durable. They should hold up to summer storms, rain, and children playing on them. You want to buy pieces that you can keep in the great outdoors for years to come.Garden Delights wants to help you with information and resources so that you can find the perfect outdoor furniture set for your home.
---
Outdoor Cafe Furniture-The Stylish Outdoor Alfresco Dining Experience
There are lots of different options for outdoor cafe furniture. From economic plastic and resin tables and chairs to more elaborate (and expensive) metal and glass furniture, it all depends on the style and effect you want/need to achieve.For a long time, people relied on custom built outdoor cafe furniture to achieve their own unique look and style. However, a lot has passed since those days.
Rustic Outdoor Furniture-Country Garden Style for Outdoor Furniture
Rustic outdoor furniture is just one of those things that make perfect sense. If you own a cabin or rustic home, is there a better way to spend quality time with family and friends than being outside, comfortably sitting on a nice set of rustic furniture?This is the place where simple exterior wood furniture is all it takes to enhance your home.
Teak Outdoor Garden Furniture-The best choice for Outdoor Wood Furniture
The quality behind teak outdoor garden furniture is one of the many reasons why individuals seek out this type of furniture for their outdoor living areas. The means in which this type of furniture is constructed allows homeowners to experience comfort in knowing that the wood can actually stand up to severe environmental conditions.