Rustic Outdoor Furniture| Country Garden Style for Outdoor Furniture
Rustic Outdoor Furniture is just one of those things that make perfect sense. If you own a cabin or rustic home, is there a better way to spend quality time with family and friends than being outside, comfortably sitting on a nice set of rustic furniture? In fact, I can't remember seeing any of my friends' rustic houses without rustic outdoor furniture; it just wouldn't look right.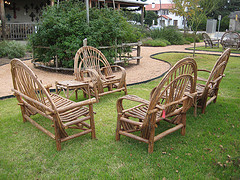 Rustic Outdoor Furniture Keeps Your Outdoor Furniture Planning Closer to Nature
 Rustic garden furniture is one of the best ways give your patio/deck and garden area a beautiful sense of country feeling. By keeping it rustic you can stay closer to the natural beauty of nature. You can incorporate such materials as rough shrewn timber or even natural sticks and combining it with different painting effects allowing you to create a decorative feature that will draw people to the seating area.
Rustic Outdoor Furniture
---
There Are Several Types of Garden Furniture You Can Choose for Your Garden
Adirondack garden furniture pieces: typically this is a very simple furniture style. You can find pieces that are range from your basic straight backbench to fall out comfortable loungers combined with wooden patio tables. These types of projects are usually made from your standard, milled lumber which can be stained or painted to your liking. These are usually project chairs that you can buy kits, nowadays you can find high-quality plastic Adirondack outdoor chairs that will last for many years and withstand harsh weather.
Twigg appearance outdoor furniture: This can sometimes be deceptive on what you think twigs would mean. This type of furniture can have a very wild appearance all kinds of shapes and links that you can just put together from a random pile of twigs. The Twig furniture is main manufacturers have taken a different look and encompass the natural shape and style of small branches and combine them with patio furniture tables, end tables and even some benches.
Split log outdoor furniture: as it is said this furniture is made from split logs. Having a classic garden seat that is made from a split log and one that is both well-made and will encompass both the rustic charm of the twig style furniture to the practical design of Adirondack outdoor furniture. Split log outdoor furniture pieces are usually very heavy, but they do benefit stand up well to most weather conditions.
Folding patio furniture is great for storage: If you're looking for patio furniture that is easy to store away in the winter months you cannot beat having fold up outdoor furniture. This type of furniture comes in a very wide variety of styles and designs which include the Adirondack and the recycled plastics furniture. This type of folding furniture can also be manufactured with lightweight metal and woven plastic strips in combination with some beautiful pattern covered canvas, other fabric materials can also be used.
Wicker outdoor garden furniture sets: One of the most versatile materials for outdoor patio/deck and garden furniture is Wicker. This type of furniture is made by using weaving materials combined usually with strong metal/aluminum or wood frame structures. This type of material can be made into a variety of different furniture pieces that will create comfortable seats and backs as well as beautiful tables and loungers, outdoor storage units are also a favorite.
Iron/metal outdoor garden furniture: This is a great way to expand your outdoor living area out to your garden oasis. Cast-iron outdoor furniture is one of the beautiful rustic ways that you can add to your garden area. You can add a beautiful bench as a wonderful conversation piece to your decor. Because this is metal work you will also find that it's a great opportunity to find very creative unique designs and decorations that allow you to give it a beautiful aesthetic feel.
Rustic teak outdoor furniture: rustic teak furniture is a great way to add a beautiful look your outdoor area, the rustic touch of wood will give a brand-new new look to your patio/deck and garden area. Because it is a natural form of outdoor furniture the effects of the climate do have visible changes to the wood. Manufacturers have now added more protection to them by adding waterproofing application codes that will help age your wood gracefully under the sun. Teak furniture will bring you serenity and relaxation your outdoor garden oasis.
---
Exterior Wood Furniture Is the Best Way to Enhance Your Outdoor Living Area
This is the place where simple exterior wood furniture is all it takes to enhance your home just that little bit extra and make it the perfect living place. So, all you need now is to find the best rustic outdoor furniture for your outdoor needs; and where are you going to find it? That's easy as well: on the internet, where else? Before you know it, you'll be browsing dozens of different online catalogs and checking out all the existing outdoor furniture available in rustic style.
Wood Outdoor Furniture
You won't believe the amazing deals you can find on "rustic outdoor furniture" using online search tools. It's not unheard of to find the exact same furniture you saw at a regular store at nearly half the price.
Best of all, when you're searching online you're not wasting time or money driving back and forth across different stores wasting gas. Buying online is the fastest way to get your backyard prepped and ready for quality time outdoors – after all, that's what matters the most, right?
---
Outdoor Wood furniture-Natural Outdoor Furniture to Satisfy Anyone
Outdoor Wood furniture might require a bit more care than, say, plastic and metal patio tables and chairs; but no one can deny that there's no match when it comes to the effect wood furniture has on your garden or backyard.Its amazing how a simple set of outdoor wood patio furniture can completely transform your backyard.
Teak Outdoor Garden Furniture-The best choice for Outdoor Wood Furniture
The quality behind teak outdoor garden furniture is one of the many reasons why individuals seek out this type of furniture for their outdoor living areas. The means in which this type of furniture is constructed allows homeowners to experience comfort in knowing that the wood can actually stand up to severe environmental conditions.