Concrete Water Fountains-New Concrete Garden Water Feature for Your Backyard
Concrete Water Fountains are becoming increasingly popular in the past decades. While traditional fountain designs were almost always based in stone, there's no such thing as a static design – particularly not when new materials pop up every day. Today, you have a wide range of water fountain to choose from, whether it's made of metal, stone, fiberglass, or even a concrete water fountain.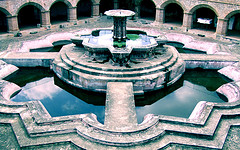 Concrete Water Fountains Are Maintenance-Free Modern Water Features
While concrete isn't the raw material of choice for most artists, it is widely used in contemporary water fountains. If you love the clean straight look of modern lines, you'll certainly appreciate these concrete water fountains in your front yard. Truth be told, what they may lack in complexity they offer in extreme ruggedness and durability: when you buy a concrete fountain, you can rest assured it will remain there until you move it away. You can also relax about maintenance… these fountains can be left unattended for long periods of time.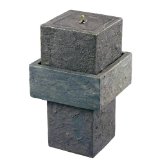 Tiered Water Fountains are one of the most popular and best no one designs and styles of your classically designed fountains. Tiered fountains create a beautiful sound from spilling over from the top to the bottom throughout the different levels of the fountain. They are not only the picture of the buttons but tiered fountains are very beautiful and aesthetically pleasing, they are also a very versatile addition to your garden and landscape design.
Concrete Water Fountains
---
Concrete Water Fountains Are A Beautiful Living Art Focal Point for Your Yard
They are a beautiful living art focal point that will add flair to every corner of your yard. These fountains come in a variety of different materials from cast stone concrete are beautiful bronze, A tiered fountain may be the perfect fountain that you may not have thought fit perfectly in your yard. Because they come in such a wide variety and designs (Triple Tazza Tiered Water Fountain, Deruta 2-Tiered Garden Fountain, Rosa 2-Tier Outdoor Concrete Fountain) and different sizes to fit any size of yard
Installing a Precast Concrete Water Feature/DIY Is Not That Difficult
When you're installing a water fountain you're trying to achieve the perfect water flow with the less amount of splash that you can. This is the best way to get the precise beautiful sound of trickling water evenly around the whole fountain. This is achieved by strategically placing wobble wedges underneath the fountain to shim up the fountain so that it is precisely level allowing water to flow perfectly.
Installing a concrete water fountain step-by-step:
Choose the location for your water feature.
If needed install a foundation (under 30 pounds can be put right on the ground over 30 should have a foundation of cinderblocks, flagstone or poured concrete).
Add a GFI electrical power line (dig a trench following building codes and use proper metal electrical tubing for installation).
Getting access to water(dig a trench or the water line, make sure you dig low enough to be below the frost line 6 to 8 inches minimum especially if you're using during cooler months).
Installing the pump and hardware (follow manufacturer's instructions that are provided, have easy access to pump and water lines for maintenance and cleaning).
Install first-tier of tiered water fountain (use a carpenter's level across the top to make sure the founders level).
Leveling of your fountain (by using small pry bar you will be able to raise found and install wobble wedges where needed to help level the fountain).
Install the rest of the tears of the water fountain (installed water lines as manufacturer instructions suggest).
Add water and turn power on (this is the perfect time to check for any leaks and a check all your connections).
A good tip for preventing water leaks is use sealant tape on water connections.
---
Properly Sealing Your Concrete Water Fountain Will Protect Your Investment
Your garden outdoor water feature allows you to bring the atmosphere of peace and tranquility to your backyard. This is allowing you to have a relaxing view and Feng Shui sounds of both the water and the birds that will be attracted to what they consider their birdbath. In order to keep your investment in top shape and protecting them you should apply a concrete sealer (that will extend their lives and maintain the artistic beauty of the fountain).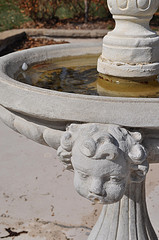 The Purpose of Sealing Your Concrete Water Fountain:
There are two main purposes for sealing your concrete water feature. The first and foremost thing that ceiling will do and that is to protect your concrete water damage. Concrete is a very naturally porous material and water tends to seep into it over time (causing erosion or cracks during the winter when the temperatures are a lot cooler).
By applying sealer to your concrete you will protect it from the sun and weather conditions and prolong it from fading or looking weathered. (Very important if you have painted or stained your concrete water feature)
---
Types of Sealers You Can Use for Your Concrete:
The easiest and fastest is the acrylic-based sealers; they are fast drying (usually less than a day) and will hold up well. Downside is they need to be reapplied every two years or so.Sealers that are consistent with a solvent-based tend to start the yellow after they dry, usually takes 2 to 3 days for curing.
Stone Water Fountains
 Because of this slight yellow your feature may take on an appearance of being an older look or they may even dull the paint or stain colors. They will last multiple years before needing to be reapplied. Both types are available and spray and paintable liquid. If you're using it as a protection coating for a fountain or pond that may have fish, choose a sealant that especially rated for the aquatic life.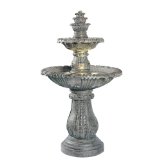 Concrete Water Fountains Are a Landscapers Design Secret Weapon
If you can't decide between a stone water fountain and a "concrete water fountain", it's time for you to use your computer creatively. With most fountains available online in manufacturer's catalogs, it's quite easy for you to use a photo editing program to copy-paste the water fountain into your front yard photo. After all, there's nothing like seeing the result with our very own eyes, right? That should be enough to help you make up your mind and select the right fountain for your home.
---
Water Fountains Directory| Reviews,Tips,Features
Tabletop water fountains, lighted water fountains, wall water fountains, bamboo water fountains garden fountains, solar water fountains, tips, benefits, reviews
Lighted Outdoor Water Fountains-Creating a Nighttime Water Show
Lighted Outdoor Water Fountains are becoming increasingly fashionable.The ambiance which is produced by lighted water fountains is like no other ever experienced. The lights that are present on a water fountain have been found, by numerous people, to make meditation much easier.