Garden Lighthouses-Decorative, Unique/Nautical Yard Accents
Garden lighthouses add a distinctive oceanfront charm to your landscape. Considered one of the most interesting garden ornaments for the nautical theme, lighthouses have the mystical ability of creating a small bit of fantasy for your landscape. Lighthouse replicas allow you to take a miniature version of the history, details and colors from many different lighthouses from around the world.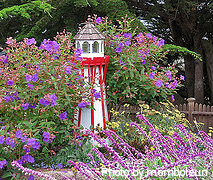 Outdoor Lighthouses Provide a Whimsical Garden Element
A well-placed nautical decor can provide you with a variety of functions for your yard. It has an uncanny ability to draw the eye to a focal point that you are trying to create it also adds a bit of a whimsical element that can be used to fill a small niche that you may have in the garden.
Placement of your lighthouse ornament is one of the key factors that let you show off your new garden accent and also to add a decorative element to an area in your yard. One of the first things that you should consider is how the scale of the lighthouse fits in with the surrounding area that you are placing it in.
Garden Lighthouses
---
 If you have a small ornament you do not want to place it in a large open space area as it will dwarf and make your garden accent look even smaller. However, if you take this decorative sculpture and place it in an area that is surrounded by foliage, flowers or a variety stones then it can turn it into a detail that you will treasure.
---
Decorating with Lighthouses in your backyard
If you are looking for a place for your large lighthouse (typically average about 3 feet) then you want to find a place of importance in your yard. Making use of a focal point at the end of a pathway or possibly in your front yard within a flower bed.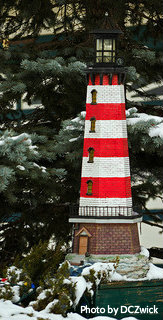 Staying within the nautical theme of the lighthouse you may want to take a variety of large seashells, Driftwood and place them around the ornament. Not only will this create a small theme around the accent but you will create an abstract sculpture attraction.
Benefits of Having a Garden Lighthouse Ornament:
Creates an instant nautical theme in the yard.
Provides a detailed whimsical garden accent.
Functional pathway lighting (solar powered or electric lighthouse beacon).
Provides a fun backyard attraction for children.
Can be used to cover up unsightly spots in your yard.
---
Types of Lawn Lighthouses You Can Choose from
Outdoor Solar Powered Lighthouse: Lighted decorative lighthouses for the yard can be made from cold cast Resin/Fiberglass or a weather resistant wooden construction and typically measure 36 inches tall. Custom-made lighthouses will allow you to have them made out of wood and to your specific requirements. Great addition to any garden or porch, the statue will provide you a lantern that will come on during the dusk hours and is typically charged throughout the day (solar powered lighting) to last up to 10 hours under a full charge. LED lights run the lighting which is well known for how well they conserve power.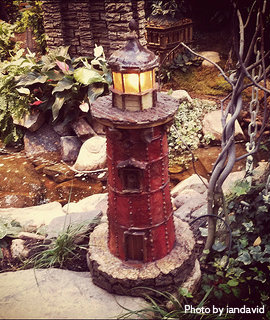 Solar Powered Bird Feeder Lighthouse: What a beautiful character style birdfeeder you could have in your yard. Not only will you be able to attract birds to your backyard (finch birds, Hummingbird feeder) but you are adding a light feature that will help illuminate your garden area as a side benefit to this type of lighthouse ornament. Designed with removable top for battery changes but most importantly to help fill up the 5 quart capacity with regular sparrow feed and black oil sunflower seeds that help attract those special birds to the yard.
Stone Garden Lighthouses: Having a real stone finish compared to the typical painted wood styles take your lighthouse to the next decorative level. This type of finish for your house is not lite (75 to 100 pounds) compared to the lighter weight of the wooden lighthouses. Very detailed with realistic windows and doors with natural earth tone colors.
Hand-Painted Amish Lighthouses: These houses are beautifully handcrafted and made with high-grade outdoor materials (check to see what manufacture uses in construction) to allow it to last for many years of outdoor use in your garden. These handcrafted lighthouses come in a variety of sizes (2in to 12in height and 8 1/2 to 40 inches bottom diameter) depending on your garden plans you will want to make sure you get the right size for your yard.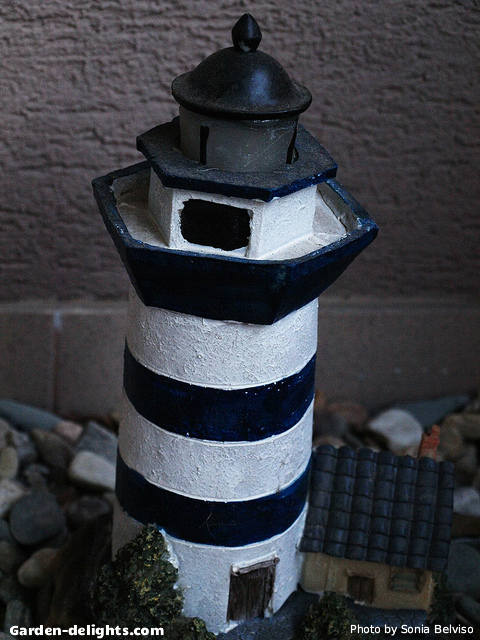 ---
Replica Lighthouses-Color Match the Real Thing
Fire Island Lighthouse Replica: White and black rings stripes starting with white on the bottom and finishing with a black top roof with Beacon.
Cape May Lighthouse Replica: Complete white outside coloring with red door and window trims with top Beacon a brown rusty red.
Oak Island Lighthouse Replica: Painted replica lighthouse starts with gray on bottom white in the middle black on top with Beacon roof in the black color.
Cape Canaveral Lighthouse Replica: Black and white rings starting with black on the bottom. Three rings of black three rings of white with a top roof Beacon all in black.
Patriotic Lighthouse Replica: Celebrating the start stripes and banners with a white and red stripe building with a blue top Beacon with stars on the roof.
St. Augustine Lighthouse Replica: White and black striped design like a barber pole swirl with a red roof Beacon.
These lighthouses are typically constructed with a hollow inside and if asked for will have a hollow bottom so that you will be able to cover up any unsightly areas in your yard. Depending on the size that you get will determine whether you can have a functional light that rotates or a light that just glows for the pathway or illuminating in your garden.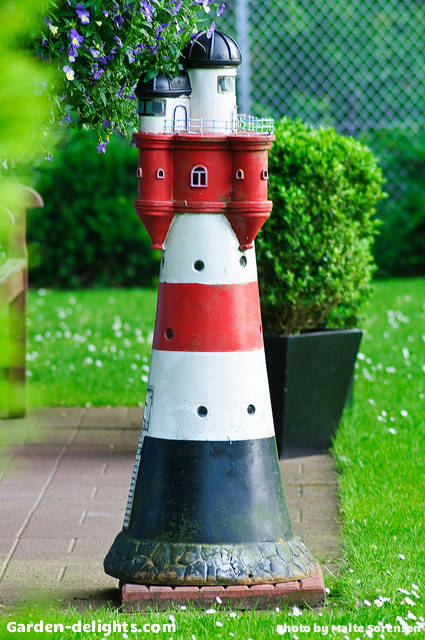 ---
Lighting Features Available for Decorative Lighthouses
Solar Powered Lighting: This is an easy and self-contained way of charging the batteries of your lighthouse they also operate the revolving lamp if equipped or provide a regular pathway lighting ambience.
Revolving Light Beacon: This lighting option for your lighthouse provides you with a 360 degree of a revolving beam of light. This provides you with a realistic, authentic lighthouse effect.
Operating Light with Light Sensor: This option is a great way for a hands off type of backyard lighting fixture for your garden. When the light outside gets dark enough usually at dusk the sensor automatically will activate the light and stay on until dawn.
Lighthouse with Flashing Light: This is another lighting option that is available when you are looking at this type of lawn ornament. The effect will give you a slow on and off flashing, check with manufacturer electrical requirements for this type of option.
---
 Lighthouses and Nautical Ornaments Showcase Creativity
Adding a decorative sculpture to your yard helps to bring a little bit of playfulness and humor into your landscape design. Whether using a small or large nautical theme ornament you can always play around with the composition and positioning until you find the right place for its positioning and location.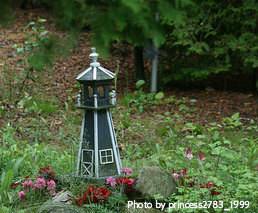 Because of the versatility that you will have you will be able to easily and quickly change the location on a whim. You may want to use a couple of lighthouses that vary in size as this can add a very unique visual interest.
Decorative Lighthouses
When combining your lighthouses with other garden interests such as the seashells and Driftwood not to mention a variety of different foliage you will allow a natural texture to form around and behind the ornaments themselves.
Lighthouses can be a very personal choice from the style, shape to the overall color scheme that makes up the whole unit. Your choice will depend on your favorite color and where you might place it in your yard. Other factors that you may consider is the lighting of the lighthouse and whether you want to use it as a functional pathway light, deck light or as a visual eye pleaser.
---
Add a Unique Lighting with Garden Lanterns
One of the most simplest and strategic ways of lighting up your garden decor is with the use of some unique lantern lighting choices. Whether you are going to use low-voltage, solar powered lanterns or votive candle light you will discover that this type of lighting is easy to work with yet affordable lighting for your backyard design.
Landscape Arbors-A Vertical Dimension in Garden Design
Garden arbors have a significant impact on your landscaping design. Creating vertical height in your overall visual appeal and allowing you to add the element of vertical gardening, this is a very affordable and unique garden ornament that can be used to highlight entrances to your backyard or an interest point along a pathway.
Backyard Garden Bridges Add an Eye-Catching Yard Accent
Garden bridges are a great way to tie themes together. Whether you want to cross a bridge over a small stream or another distinctive water feature this is your best and most decorative solution. Bridges over dry river beds or even miniature bridges over top of a flower bed is a great way to draw a focal point or make an interesting design feature for your backyard.