Ceramic Water Fountains-Decorative,Unique/Indoor,Outdoor Fountains
Ceramic water fountains have a very elegant decorative glass presence and provides a beautiful water feature for your home. Ceramic fountains are one of the most popular indoor/outdoor water accents, directly related to their beautiful handmade painted colorful theme designs.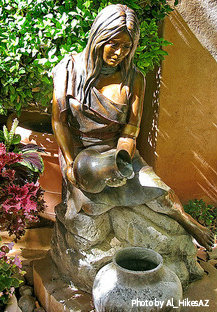 Brilliant glazes in different colors (deep blue, red, earth tones Brown, yellows) are applied to help protect ceramic, porcelain from moisture and provide color fade resistant benefits.You may be concerned that ceramic being a glass product and delicate in appearance that it would be easily breakable, but rest assured they are very durable and with proper care will last for years.
Ceramic Water Fountains Are Durable and Decorative
Ceramic water fountains are put through a manufacturing process that consists of a high heat application of baking which in turn provides you with a garden ornament that is oven hardened. Incredibly durable these fountains are able to stand up to the day-to-day uses that you will encounter. The final application of the nonporous glaze ceramic finish helps with the weatherproofing protection and color retention.
Ceramic Water Fountains
---
Handcrafted water fountains gives you the chance to have your own unique fountain choice from contemporary style to Asian influence. You have many color patterns and themes (Japanese vase, country jar, round ceramic sphere) that can be created on these beautiful pieces of ceramic water accents. The easy setup of a plug-and-play water feature allows you to enjoy your fountain right out-of-the-box and provide the relaxed and soothing sounds of water tranquility instantly.
Ceramic glass fountains provides you the opportunity to choose from an endless array of unique design applications (small tabletop, floor  model, solar power with lighting ) but still be one of the simplest choices that you can use for a water feature. The small water fountain design allows you to move it around your home allowing you to decide where it will make the biggest impact in the overall design.
---
Placement tips for your ceramic water fountains
Decide whether you want to make your fountain the focal point of your design or have it be more subtle and blend into its surroundings. Choose the right water accent for the right place meaning that make sure that your fountain will be in proper scale (size) within its surrounding decorative accents.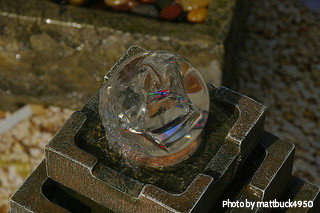 If you place a small water fountain in a large open space it will tend to dwarf the fountain making it seem smaller than it actually is and losing the special tranquil detail that you want to bring out of the fountains personality.
However, you can use the same water feature and place it in a tighter area such as between two plants for a floor model or the corner of your desktop with a smaller tabletop, this allows your fountain to become a treasured detail in its surroundings.  It can be very beneficial having a large ceramic fountain that is placed in a spot of importance. This is where you can use it as a special focal point on your patio, deck or a favorite outdoor seating area.
Benefits of ceramic water fountains:
Fountain tranquility (feng shui-energy) through water movement and sound.
Creates a simple indoor/outdoor decorative water feature.
Ceramic fountains work well as (outdoor garden fountains, wall fountains, tabletop fountains).
Ceramic water fountains are portable (allowing for multiple easy design placements).
Self-contained ceramic water fountain (add water and plug in to electrical outlet).
Feng shui water fountain placement is found to attract positive (chi) energy into your home. Water movement has the positive energy to help relieve stress and bring a sense of balance to your home. It is also known that ceramic/porcelain water fountains when placed inside or outside of your home provides it with wealth and prosperity.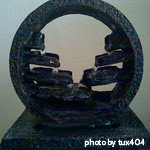 Overall the size of the fountain (large, small) does not have a big influence on the energy that it can attract. It is what the water movement creates and the sound of the gurgling water is what brings the positive (Chi) energy into your home. Your indoor fountain also provides natural humidity to the room it is placed into (great for aromatherapy techniques).
---
Popular types of ceramic water fountains
Cascade Ceramic Solar Fountains: Tiered water pouring solar powered system with each pot having a spout that extends off the side of the bowl. The beautiful metal rod is designed with a spiral and holding plates for each one of the pots. The lower basin is a larger pot that is large enough to put some decorative stones in to help keep the fountain in place. Fountain colors can vary from (blue berry/rustic blue, kiwi/rustic Brown, Green). The solar panel can be placed beside the fountain and will provide low-voltage to operate the pump with filter.
Ceramic Vase/Urn Water Fountain: Classic choice for the indoor/outdoor water feature. Reminding you of an antique vase the water is pumped through the inside middle of the vase which in turn fills a small reservoir at the top allowing it to flow over top of the sides of the vases ring surface. Other vase designs consist of small spouts that poor to another level below them. The small indoor designs provides the interior of your home with a beautiful sculptured piece of water art. It not only brings the flow of positive feng shui energy into your home, it creates a relaxing and soothing atmosphere. Outdoors the ceramic urn fountain can become a beautiful focal point for the garden, patio. They work well in a pond less water fountain design when they are placed on polished river rocks with a buried water reservoir.
Ceramic Fountain with Light:  A light feature on your ceramic fountain provides that extra twinkle decorative effect. The unique illuminated feature adds light energy that generates a relaxing effect and calming atmosphere. The combination of water flow and lighting make this fountain one of the most beautiful and decorative relaxing pieces that you could place in your home. Soft lighting creates a peaceful glow and the ceramic fountain lamp will provide that with the benefit of gurgling water.
---
Ceramic water fountains provide a beautiful and unique design element
The shape of the vase/urn fountain allows you to work with the many different design lines (horizontal, vertical) to help create a unique display. The form (shape) of the water feature provides a vertical element that is directly related to the contrast of the flat surface it is placed on. The round shape of the ceramic fountain provides a complementing design element to all the forms that it is placed into (garden, patio, on the desk).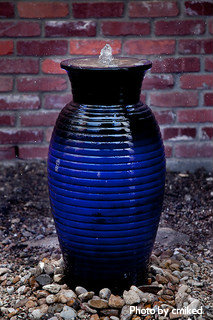 Using small ceramic water features allows you to create a special visual interest especially as a surprising decorative element that is tucked away in a corner, or in the garden nestled in a bed allowing it to break up a border that may be comprised of the same plant. This also works very well as a visual and water sound stimulant on your desk or on any tabletop in your home.
Unlike the large ceramic water fountains (which can become a focal point) the small ones need to be strategically positioned so they will bring the most bang for the buck. Consider experimenting with your modest water fountain placement and take into account that you want it viewable from many different vantage points.
Buying tips for ceramic water fountains:
Choose the water fountain design/theme that complements its surrounding elements.
Do you want solar power (battery-operated) or plug-in electric water fountain.
Start with a budget check for (discount, wholesale) water fountain sale offers.
Read customer reviews on ceramic fountains (prices, pros/cons on glass fountains).
Choose the right size fountain (large, small) for the space.
---
Ceramic water fountains are sophisticated and elegant
Ceramic fountains come in many design features and you want to make sure that you find the best one that will match your lifestyle and your unique personality. You may consider looking at making your own ceramic fountain or ordering a beautiful custom handcrafted fountain.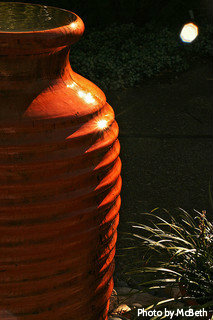 Ceramic Water Fountains
Take in account all your favorite colors and where you are planning to place the fountain, as this will help you decide what colors and theme will blend best in your surroundings.
The sound that the fountain will make is a very important feature. Think about the fountain sound that you like the best, do you like the soft gurgling sounds of water or are you happier to hear the trickling sounds of a small brook. If you are looking for a feng shui element remember as long as you have the moving water sounds you will attract positive (Chi) into your home.
---
Indoor Tabletop Water Fountains-Personal Size Home Water Feature
Tabletop water fountains have been a popular choice for many years. It provides you the opportunity to have a decorative water feature when you do not have a lot of space to work with. It provides the water movement and decorative artistic feature that you are looking for in a small/mini indoor water fountain.
Corner Water Fountains-Beautiful Backyard Water Fountain Option
Corner water fountains provide you a unique design element to help you place a water feature into corners and spaces that may not be used because of the odd shapes. Provided a decorative water feature to the corner of your patio, deck, garden and reap the benefits of having a beautiful decorative element with flowing water.