Outdoor Furniture Rugs-Protection for your patio furniture and deck
Outdoor Furniture Rugs are used just like an interior rug. If you do not want your precious wicker furniture scraping against a rocky floor, you can get an inexpensive area rug to keep it from harm's way. Keep in mind you don't need high quality outdoor furniture rugs for outdoor use – unless you really serious about it.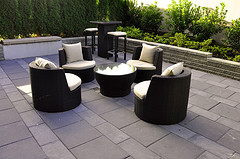 Outdoor Furniture Rugs Provide a beautiful garden decor accent
An outdoor furniture rug can protect your patio furniture from an abrasive or dirty floor. Depending on the time of year, you may want to choose your rugs carefully: for instance, on a rainy season, a fabric rug might get drenched quickly; you'll be better off using a plastic rug that will easy dry up as soon as the rain stops falling. When it comes to outdoor furniture and rugs, only you can tell exactly what model suits you best.
If you are shopping for outdoor patio rugs not just to protect your outdoor furniture but to enhance the look and feel of your patio/deck area than there are a few tips that you need to know. Outdoor  rugs not only enhance the appearance of your outdoor living area but it also gives that extra padding beneath the patio furniture it also gives you a cozy feeling when you are walking on it.
Outdoor Furniture Rugs
---
Three tips on how you can shop for outdoor rugs:
Measure and decide on what size of outdoor rug you need: Before you buy any type of rug for your porch or patio you will want to measure your patio area so that you know how much room you have to work with. This also gives you a good idea on what type of shape and size you can choose from. If you want just a small rug around the front of your door you may choose a small rectangle outdoor mat. If you are trying to protect your patio from scuffs and damage that may occur from your furniture then you may decide that you need an oval, circular patio rug that will fit beautifully underneath and around your favorite patio table and chairs.
Choose outdoor rug material that is durable: One of the first things that you do have to realize that this outdoor area rug has to hold up to the weather (elements) and still look beautiful. There are several choices you can choose from such as natural accent rugs that are made from bamboo or Sisal the downside of this material though is it can become susceptible to mold and mildew if it is exposed to snow and rain for long periods. If you live in a harsher climate you may want to consider outdoor rugs that are made of synthetic fibers such as acrylic or polypropylene. With this type of material you will find that it won't be as easily damaged from the elements. If you're in a mild climate area then you have the choice of lighter materials for your indoor/outdoor rug.
Choose Design/style that complements your home: Take a look at the interior and exterior of your home so that you can choose a rug that will suit the decor that your home already has. If you choose vibrant colors and unique patterns for your deck they may look out of place. I home that have a more traditional decor will benefit more from the natural rugs or outdoor mats that come in beige, tan brown and black. If you have more of a contemporary home then you will find that the black-and-white rugs that come in a geometric pattern will be a beautiful choice. Try to put your own personality into it and don't give up on all colors because depending on where the rug lays makes a big difference. If it is around a swimming pool you may want to indulge in a striped rug that is both colorful and round this will brighten up your outdoor area.
Patio Furniture Outdoor Rugs Are Extensions To Your Outdoor Living Area
Thousands of families spend all the time they can outdoors. I can't say I blame them: after working long hours inside a closed office space, most people would gladly spend the rest of their days outside.
Outdoor Area Rugs
So, if the weather is inviting you to spend some time outdoors, why not get a nice outdoor furniture set and a beautiful "outdoor furniture rug" and start making the most out of it? Just wait till your friends hear about it; you'll soon need to buy some extra patio chairs to accommodate all your new self-invited (and welcomed) guests – and you'll love all your time outdoors even more.
---
Outdoor Furniture Cushions,Furniture Pillows,Covers Comfort&Protection
Having outdoor furniture cushions adds a great look to your outdoor patio, porch or deck. Cushions are another feature when it comes to outdoor seating. Outdoor furniture cushions can be a wonderful accessory to any outdoor seating. When you are buying new outdoor furniture cushions are the most important thing.
Outdoor Furniture Cover|Weather-Proof Protection for Your Outdoor Furniture
Having a quality outdoor furniture cover is essential to keep your exterior furniture safe from harsh weather conditions. No matter where you live and how much good weather you may have most of the year, sooner or later weather will change.If you value your outdoor furniture and want to keep it for many years to come, a protective outdoor furniture cover is the cheapest and easiest way to do it.