Outdoor Furniture Covers-Weather-Proof Protection for Outdoor Furniture
Having a quality Outdoor Furniture Cover is essential to keep your exterior furniture safe from harsh weather conditions. No matter where you live and how much good weather you may have most of the year, sooner or later weather will change – and when it happens, it's usually for the worst. If you value your outdoor furniture and want to keep it for many years to come, a protective outdoor furniture cover is the cheapest and easiest way to do it.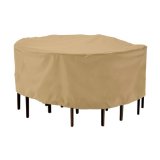 Outdoor Furniture Covers Protect Your Investment When You're Not There
Some people prefer to move all their outdoor furniture into a protected storage area, but that was several major drawbacks: first of all, you need to have the required storage space available; taking it back and forth is also tiresome and not very practical – and it doesn't allow you to enjoy a sunny off-season day.
Outdoor furniture Covers are more convenient… you can protect your entire furniture set in just a couple of minutes, just a few minutes before it starts raining. And as soon as the weather comes out again, all it takes is a couple extra minutes to revert it all back to usable state.
Outdoor Furniture Covers
---
Tips for Choosing Outdoor Furniture Covers
There are many reasons why you want outdoor furniture covers and protecting your investment is your overall consideration. There are many climate changes that you have to protect your furniture from which includes the heat during the summer months and the cold and the winter.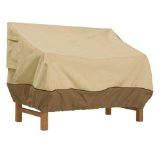 Many other conditions that are out your control would include snow, ice, hail and rain which all have dramatic implications for damaging your outdoor furniture.
During these times you may not be using your furniture but an outdoor furniture cover what help protect your investment while you are not using them. By protecting your furniture with outdoor furniture covers you will extend the life of your (metal, wood and all weather wicker outdoor furniture). A lot of furniture covers are not always made the same and you should consider the materials that the covers are made of and the size of your patio furniture pieces you're trying to protect.
---
A Few Things to Look for When Choosing Your Outdoor Furniture Covers
Choosing the proper materials/fabrics:
If you are looking to protect your furniture look for quality. Lower quality patio furniture covers will typically give you one or two seasons because of the material that they are manufactured from (plastic, cheaper vinyl).
This lower quality material will not hold up to the extremes of cold and hot temperatures and will deteriorate a lot quicker. You should look for outdoor furniture covers that are manufactured with durable waterproof and UV resistant materials.
These are designed to withstand your extreme temperatures and climate conditions without being damaged. Outdoor furniture covers should be lightweight so that you can easily store them in a patio storage container or garden shed when not in use.
Better quality covers will usually have a soft cloth material on the back which helps protect your delicate furniture pieces from being scratched or damaged, this is a perfect feature especially if you're outdoor furniture resides by any trees that may drop debris or branches.
---
Look for proper sizing/fitting of the cover:
Lower quality patio furniture covers usually come in only a few different sizes, this means that you will usually have poorly fitted outdoor covers. The higher-quality covers also come in their own standard sizes but will give you a much bigger choice of variety of shapes and different size options.
If you find that the dimensions of your furniture covers do not fit properly on your specific furniture piece because it has a custom size or shape that don't just move up to the next bigger size you may consider a custom fit outdoor furniture cover. By having the proper fit your furniture pieces will be protected properly through many seasons of use.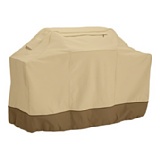 If you choose outdoor furniture covers that are too small you will find that there are pieces of the furniture that will not be covered properly and expose them to the elements. If you're covers are too large they may gather wind underneath and blow away on windy days, all sold the larger cover will have the excess material which means gathering of water.
Standing water has the ability to attract mosquitoes or other pests during the summer months. A proper fitting cover will whisk away water so that it does not stand on the furniture which can also sustain or mildew your cover.
---
Special features for outdoor furniture covers:
Most high quality outdoor furniture covers will have a few things that you may not have even thought of which may include Velcro closures, zip closures, leg ties. Some of these better protective covers will also give you storage pockets which allows you to store away your covers tidy and easily.
A beautiful finishing touch is piping along the seams; this also gives you a practical function by directing water off of the cover during rain. Some covers will come equipped with air vents would help with lowering the condensation that can build up underneath the covers which will cause water damage to your furniture pieces.
---
Planning Is the Best Way to Choose Outdoor Furniture Covers
By using a little bit of thought in the beginning you will be able to take the proper measurements and sizing of your patio furniture. This way you can also research the best material for your environment and find the right cover sizing that will fit your outdoor furniture.
Patio Furniture Covers
This will help you extend the life of your outdoor furniture investment. If you buy a good quality outdoor furniture cover now you will tend to save money down the road because you will not have to buy more furniture covers after a few years.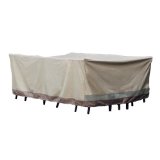 Matching Outdoor Furniture Covers Add the Finishing Touch
Considering how cheap outdoor furniture covers are, it's comes as no surprise that most people indeed use these covers to protect their outdoor furniture. If you just bought a set of brand new exterior tables and chairs, what are you waiting for? Go get yourself a matching set of protection covers before it's too late.
---
Outdoor Patio Furniture Sets-Outdoor Deck,Patio,Garden Furniture
Nothing says getting ready for spring and summer like your outdoor patio furniture sets. You want to be sure that you have got a great way to relax outside during the warmer months, and there is no better way to do that then to find the outdoor patio furniture sets that look great.
Outdoor/Patio Furniture Directory|Reviews, Comparisons,Tips
Outdoor Furniture Sets are great way to extend your living area to your outdoors.Outdoor furniture sets, Outdoor wicker furniture, Outdoor garden furniture, Metal outdoor furniture, Outdoor furniture cushions, Patio furniture, buying tips, reviews