Aluminum Wind Chimes-Decorative, Unique/Quality Chimes
Aluminum windchimes provide your garden with a unique hand tuned wind chime sound that is designed to produce beautiful melodies to brighten any indoor/outdoor space. Tuned wind chimes provide a gentle sound from a variety of different tunings (pentatonic scales, medieval modes, and modern music tunings). The musical tone for the chime is accomplished from a combination of the length of the tube and the heavy walled aluminum design of the tubes.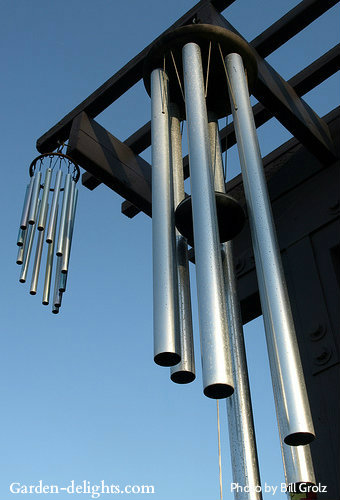 Aluminum Wind Chimes Are Tuned to a Variety of Musical Tones
Large (long) tube wind chimes typically give you a beautiful deep bass, deep sound while on the other side of the scale the (shorter) small metal chimes will encompass more of a higher pitched musical tone (soprano). Wind chimes that are manufactured with aluminum, steel will create a sharper tone for the chime. You will find other metals like brass and copper will naturally create mellow tones that are softer tones.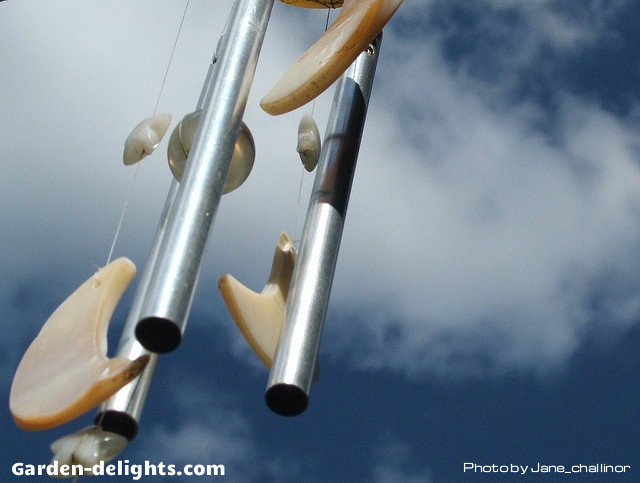 Aluminum has become one of the most popular choices and best material for wind chimes construction. Not only do they provide your backyard with a chic contemporary classy look that blends well into modern style settings it also creates gentle wind music from the well-tuned chimes.
Aluminum Wind Chimes
---
Aluminum is a natural choice for withstanding the elements that Mother Nature has to offer. If you are looking for a garden accent that can be left out all year round then the aluminum wind chimes may be one of your best choices.
---
Aluminum Wind Chimes Provide a Gentle yet Bright Tone
The wind chimes striker has a big impact on what the long tubes will sound like. Take into account the material that it is made out of and the weight/position of the striker itself. Typically on the deep tone wind chimes a heavy striker will be used to provide an overall soft and lower frequency chime. Lighter and shorter tube lengths means that you are typically looking at a higher frequency chime and a harder, lighter striker will be used.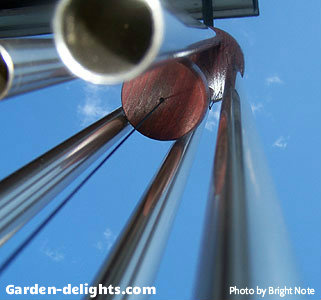 Windchimes Wooden Striker Benifits
A wood striker (Cedar, bamboo, natural pine) will provide your windchimes with a gentle yet bright tone that does not interfere or hamper any of the resonance of the other chimes once they have been activated.
Windchimes Metal Striker Benifits
A metal striker will provide you with a sharper tone and higher pitch resonance. Resin strikers have become very popular because of the overall durability and life span that they offer. Typically they are constructed by putting resin over top of a wooden striker base.
In order to get the best sounding outdoor wind chimes strikers are positioned for the sweet spot of each individual tube. No matter the size or length of the tube in order to get the accurate musical pitch from the wind chimes you want to make sure that the striker is positioned in a central or lower position of the overall length of the metal tube.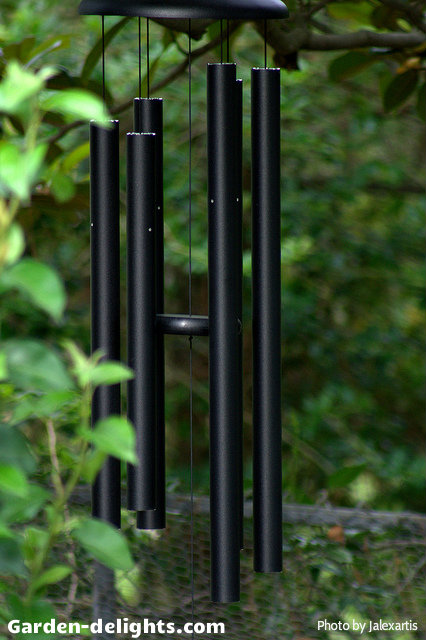 ---
Best Placement for Your Aluminum Wind Chimes
Getting the best sound from your wind chimes is easy by just following a few simple tips. One of the first things that you should take into consideration is how your wind flows through your yard. Look at the buildings and other structures that you have this would include (trees, garden arbors, fences) that may control or obstruct the wind direction.
Roof overhangs are a favorite spot for wind chimes as the wind is channeled down the building providing a gentle breeze for the chime. This also gives you a good height for large wind chimes and the best direction for wind chimes. Trees are a favored option for hanging your wind chimes as you will not only benefit from the gentle breeze but also the movement of the branch itself.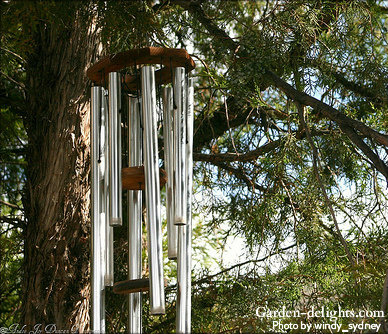 Aesthetics and functionality should work hand-in-hand for your wind chime. Aluminum chimes can blend well with other material types (stained-glass, bamboo wood, and natural pine) which provide you with more decorative opportunities for placement of your chimes.
Try to avoid any kind of decor style clashes where you are placing your wind chimes, it is better to provide harmonic flow and balance of colors and material types so you will create a calming and decorative artistic element.
Benefits of having aluminum wind chimes
Provides uplifting musical melodies to your backyard.
Naturally weather resistant (aluminum) wind chimes properties.
Metal wind chimes provides a strong feng shui element.
Can come in a variety of aluminum powder coated colors (blue, green, red, black, gray).
Musically tuned (baritone, soprano, tenor) metal wind chimes.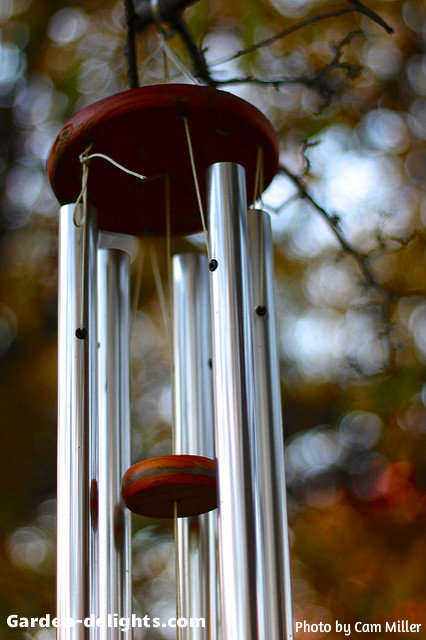 A very popular activity with wind chime lovers is making a wind chimes garden. This can be easily accomplished by placing a variety of chimes at different heights in a tree in a corner of the yard. This can also be accomplished with setting up a line of wind chimes that extends from the house (deck, porch, and patio) and as the wind flows through it will produce the flowing tones across your yard.
Aluminum wind chimes have a natural shiny reflective metal surface that allows you to utilize the sun. By placing your wind chimes where the sun has access to them you're providing a bright and reflective garden accent that not only provides an aesthetic look but a beautiful melodic tone.
---
Popular Types of Garden Aluminum Wind Chimes
Large Tube Aluminum Wind Chimes: The long metal tubes can provide a deep tone that resonates through your yard when struck (lasting over a minute). It also provides you with a large beautiful focal point for the garden. These large chimes remind you of the deep sounds of (church bells, organ chimes) and provide your garden with orchestra quality wind chimes.
Amazing Grace Wind Chimes: Beautifully designed wind chimes with six aluminum precision tuned metal tubes. Complemented with a bamboo top cap and lower wind catcher. This classic wind chime will resonate (how sweet the sound) the first few tones and play amazing Grace with a gentle breeze. Bring a blessing to your garden, backyard, patio with these pretty outdoor wind chimes.
Animal Wind Chimes: This small wind chime is a great choice for animal lovers. Aluminum tubes attached to a decorative (pine, bamboo, wooden) top. Bottom wind catcher will come in a variety of different animal silhouettes (Hummingbird, butterfly, dolphins, hippo, cow) allowing you to choose a favorite nature theme for your overall wind chimes design. The top of the wind chimes can also have a resin decorative top ornament of your favorite animal that balances out your overall theme.
---
Aluminum Wind Chimes Provide A Weather Resistant Garden Accent
Aluminum provides you a material that is naturally superior for weather resistance and durability. We are all looking for an easy garden accent that we can add to our yard that is both affordable and yet provides us with a high-quality decorative accent that we can use for our backyard.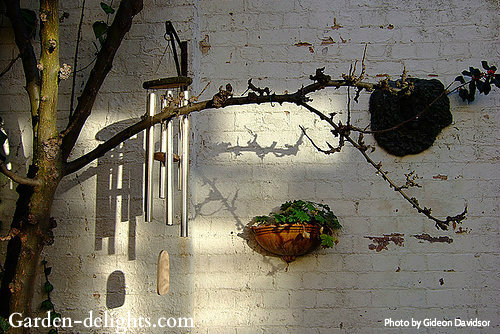 Buying aluminum wind chimes tips:
Choose the tube length and material combination that blends well.
Make sure connecting lines are strong enough (quality) for weight of wind chime tube.
Choose the tone that you would like to hear resonate (keep your neighbors in mind).
Start with budget in mind (some wind chimes can get very expensive).
Check wind chimes reviews from people who purchased the chimes.
 One of the biggest benefits of having aluminum wind chimes is that they are both lightweight and very portable. This allows you to place them in multiple areas of your backyard (especially for seasonal wind changes) garden to find that perfect spot where the breeze can gently resonate your wind tubes sounds through your yard.
Aluminum Wind Chimes
The natural swaying motion of wind chimes can provide you with a memorizing effect and help bring flowing feng shui energy to your yard. The sound and motion from your energy wind chimes will harness and attract positive (Chi) energy to your backyard. This is a very positive effect that can add the relaxing and calming effects that you are searching for.
---
Organ Wind Chimes-Natural Church Bell Gardens Wind Music
Organ wind chimes have the amazing ability of providing your backyard with those deep tone sounds to provide you with a long resonance period of melodic tones. The combination of these heavy wall metal tubes and soft wooden strikers provide an array of multiple musical notes that never seem to repeat themselves.
Corinthian wind chimes-Colorful multi-toned musical wind chimes
Corinthian wind chimes provide you a beautiful color (green, black, blue, burnt red) texture and sound that is quality from the start to the first note played. Hand tuned to keys (C, A, G, E) large wind chimes are an easy way to create a whimsical garden feature that will complement any other accent that is by.