Rain Chains-Decorative,Unique/Garden Water Art
Rain chains have the unique ability of adding a subtle visual and musical expression to your outdoor design. These special attachments replace your downspout with something a little more exciting and takes full advantage of being another water feature for the backyard. Adding a unique beauty of brass or stainless steel when the weather is beautiful is only the first impression that you may get.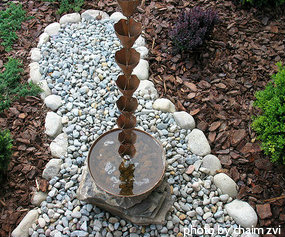 Rain Chains Provide Natural Music to Your Backyard
The rain can bring a fresh new cleansing for your backyard. Not only does it help to rejuvenate your plants and lawn it will also bring your rain chains to life. By replacing your downspout with an outdoor decorative alternative of cascading water that comes down from your eavesdrop will provide you with another dimension of music from the rain.
 The water flows over top of the rain chain and Cascades gracefully between each of the sections of cups and then finally into the bottom decorative basin that creates its own beautiful sound and adds to the beautiful sounds that the rain brings.
Rain Chains
---
Rain chains hang the full-length from the top of your eavestrough to ground level, where you can have a catch basin of a decorative element or a small rock bed of gravel allowing the water to naturally drain into the ground.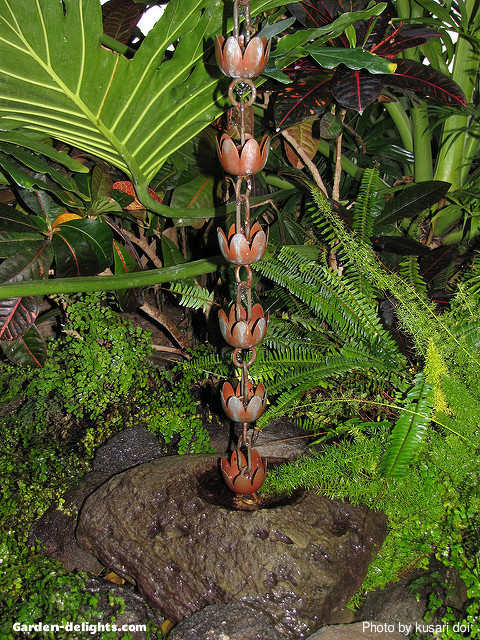 The heights of your rain chains are available anywhere from 8 feet and up. Adjustment can be made by removing links to make it a custom fit for your home. Many people have chosen use rain chains especially if they have gutters that clog frequently. This is a perfect alternative and solution for drains that always seem to clog from leaves to pine needles.
---
Popular rain chains and cup materials
Copper Rain Chains: Copper usually is left to naturally age with weathering. Copper is the most popular choice for rain chains material as it has ageless beauty and gives you years of pleasure and enjoyment.
Brass Rain Chains: Solid brass can be left uncoated and it will develop with age into a deep golden brown. A patina finish can be applied or can naturally happen to make it look like a beautiful aged piece of artwork. All rain chains can be assembled easily with a pair of pliers.
Aluminum Rain Chains: Aluminum has a natural ability to stand up against the elements and is a great choice for your rain chain. It is a lightweight material that does not age in appearance or require an additional coating for protection. The aluminum can either be left raw with a beautiful bright silver finish or powder coated to a variety of different colors (black, white, red). A decorative finish can be achieved with hand hammered impressions in the cups themselves.
Stainless Steel Rain Chains: Stainless steel can be used for heavier and larger cup styles as they can give you better durability and strength for heavy flows of water during a rain storm. They also have the uncanny ability of weathering very well, and standing up to any rust that may form.
Rain chains allow you to bring the natural element of water into your backyard garden area. In Japan rain chains have been used for hundreds of years for functional downspouts.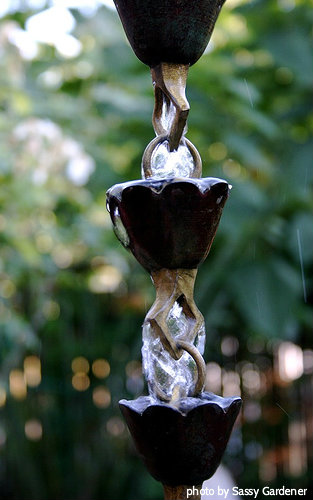 They are known as (Kusari-Doi) and can be found in many homes, temples and beautiful Japanese gardens.
Not only do they help control the rainwater they also provide the sound and flowing mystical powers of feng shui, by encompassing the (Chi) energy of water that starts the journey at the top of your eavestrough and ends on the ground where it is mounted securely with a beautiful hand hammered bowl or small gravel bed.
---
Creating a Rain Chain Waterfall Feature
These decorative downspout replacements are an easy and affordable water feature that can be subtly put into your yard yet be a very distinctive visual piece of water artwork for your yard. Water fountains can also be designed to incorporate a beautiful string of rain chain design themes. By incorporating a waterfall effect with the use of a pup and drain bucket at the bottom you can draw the water to the top of your rain funnels allowing it to flow over into the next one and then repeat the process.
 This type of system can be hung up the side of a wall giving you a tall vertical visual appearance that can be used in a small area on your patio or porch. Being a self-contained water feature they can be mobile and move where ever you would like to put it as long as you have a solid wall structure to mount the copper funnels too.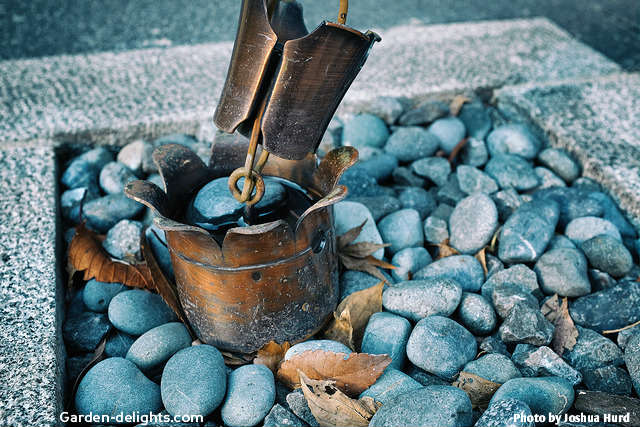 Decorative Rain chains benefits
Provides a solution for regularly clogging drains
Adds visual garden art to your backyard
Encompasses the feng shui element of water
Replaces drabby down spouts with a decorative garden ornament
---
Themed Rain Chains Create Unique Visual Appearances
Rain chains allow you to have a little bit of playfulness in your landscape design. With the use of a small garden accent you can play around with the different shapes and themes that you can choose from(butterfly, Honeybee, pineapple, acorn cups) in order to add different shapes in your visual appearance.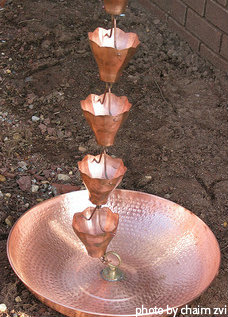 Decorative Rain Chains
Round and oval shapes have a tremendous impact as being a sculpture form in your landscape, is also one of the simplest effects that you can have.
 With the use of your different shapes of chains (Zen loops, oval loops, stainless chain-link) and rain chain cup choices you will be able to combine several visual dynamics allowing your rain chain to be a more intriguing piece of water art. The size of your rain cups (large, extra-large or medium cup styles) also makes a difference in adding visual interest and the ability to control moderate to heavy water flow conditions.
---
Japanese Garden Fountains-Bamboo Outdoor Japanese-Style Water Features
Japanese water fountains provide you with a beautiful wooden outdoor garden fountain. Encompassing the water element of feng shui and providing your backyard with the relaxing energy of (Chi). Whether it's a simple bamboo waterspout or a full bamboo fountain kit you will be able to add a visual Oriental theme to your garden.
Wind Spinners-Colorful Animals, Vehicles, 3-D Metal Wind Art
Wind spinners add a beautiful decorative element to your lawn. They have the uncanny ability to add personality and color to anywhere you place it in your yard. Because they are lightweight and simple, they are very portable and can be moved around your yard with ease. Freshen up your yard with beautiful vibrant colors and wind spinner themes is a great way to keep your yard from becoming stale.