Decorative Bird houses-Unique, Fancy Bird Home For Your Yard
Decorative Birdhouses are one of the best ways that you can enjoy wild birds and attract a living environment into your backyard decor. The benefit of this is you get to also enjoy not only new feathered friends but a beautiful artistic designed birdhouse that will not only create interest in your yard but also provide a living environment for a variety of bird species for feeding and housing.
Some of these beautiful fancy birdhouses are creative enough that you may even want to just have it as a decorative decor piece inside your home.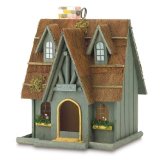 The first thing you do is have to research the species of birds that typically visit your yard and decide what kind of birds you want to attract to have stay in your garden. Depending on the area you have around your home you will find some birds like an open grass space; while others typically prefer a shady spot for their nesting area.
Best Location for Your Birdhouse to Be Placed
Location, location, location! Depending on the species of birds that you have coming to your yard will make a big difference of where you are going to place your new outdoor birdhouse. If you have a fence it can be mounted on top of the post or you can provide a pole mounted birdhouse (properly secured for safety) allowing you to put it just about anywhere in your backyard allowing you to complement areas in your yard.
Decorative Birdhouses
---
The best benefit of having a backyard birdhouse is that you will be able to enjoy the spring and summer mornings and being able to listen to the inviting chirps and songs from the birds. Birdhouses give the benefit of shelter and protection for the birds while still providing you a beautiful appeal for your backyard garden decor.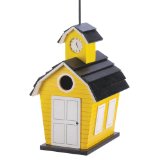 Being a landlord to the birds in your backyard typically is a little bit of work for the cleaning and upkeep of the food and providing a healthy environment for the bird. This would require you to make an investment of both time, money and the energy to make everything work properly. The benefits are more than you could ever imagine once you have set up a regular feeding and housing sanctuary for the birds.
You will find that a unique and special connection will start to develop between nesting birds and yourself (the most exciting part of birding). The biggest benefit of all is we get to help sustain the birding population that is thriving in your area. By having a Decorative/Fancy Birdhouse you will provide the protection for the birds from predators and protection against extreme weather and food shortages.
---
Tips on Choosing a Decorative Birdhouse
Best Wood for Birdhouses: The best wood for outside birdhouses is that of Cedar, Redwood, spruce and pine because they are all quality woods that hold up against whether and provide a natural repellent for some bugs.
Birdhouse Ventilation: Make sure you have adequate ventilation in any birdhouse/shelter that you choose. This can be done by drilling small holes just below the roof line allowing it to air out. This also helps for drying out a damp birdhouse.
Birdhouse Drainage: The best way to accomplish this is to drill small holes in the bottom of the birdhouse that will allow it to drain and keep the moisture and mold at bay.
Birdhouse Protection: Protection for birds against predators is to place the birdhouse at at least 5 feet above the ground allowing for safety from cats and dogs and other small animals that may try to get at the birds home.
Birdhouse Maintenance: Keeping the birdhouse clean is a lot easier if it has proper access to the interior. Choose a birdhouse that gives you this easy interior access so that you can clean it periodically before and after the season.
---
The upkeep of your birdhouse is to keep it clean
Safety and maintenance, yes this also means fancy types of birdhouses do require some chores! When you are choosing a pretty little artistic house, you want to pay attention to the features that are incorporated to help make cleaning out old nesting materials easier.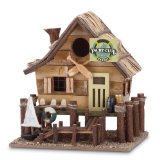 Check to make sure that there is no lead-based paint or any other chemicals on the inside of the house. Keep in mind that decorative birdhouses are often painted with bright colors, this is where you should check to make sure it is a healthy environment for your birds.
Keep in mind that as pretty as these colorful wooden birdhouses are you will find that some birds will just avoid the bright colors because it allows them to be a target for predators. You want to look for colors like tan, gray or a dull green that can help bland and camouflage the nesting for the birds.
 You may not think that it is bright and colorful for your backyard decor, but it will be definitely safer for your tiny tenants. You will find that other little accessories that add a decorative feature may include white railings, little window shutters or a variety of other cute details that can help dress up these safer colors too.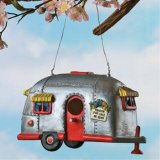 Attracting Birds to Your Backyard Sanctuary
Once you have decided where you are going to set up your decorative birdhouse, you will want to start attracting the birds to their new fancy digs. You may want to experiment by providing a few different size birdhouses along with different entrance sizes and shapes of the house. You will discover that depending on the dimensions of the holes you will get certain species that will take up residency.
Four things to attract birds to your yard:
Bird Food/Seeds: Birds require food to give them energy throughout the day and to survive at night especially in colder winter months around Christmas time.
Bird Water Supply: Along with your feeders you will attract a more richer variety of bird species to your yard if you just add a clean fresh water supply.(Keep water moving for healthy drinking) water supply in the winter months is very important, typically more important than during the summertime as there is less access during the winter because of freezing.
Bird Nesting Places: Provide a safe and comfortable place in your yard for the birds to nest. If they feel safe and have a supply of food and water they will call this home.
Provide a Variety of Plants: Birds like a variety of different plants depending on the species for both shelter and some food (berries off the branches).
---
Benefits of Having a Birdhouse in the Backyard
When you finally have your new feathered occupants that have taken up home in your decorative birdhouse you will be able to sit back and enjoy the show. Bird watching has been shown to reduce stress and anxiety by providing an overall feng shui type of an Aurora, but the biggest thing is the entertaining show that the birds put on.
Decorative Bird Feeders
Before you know it, you will be buying bird books and trying to identify all the new bird species that have started to show up around your fancy birdfeeders today. All of us here at Garden-Delights.com want to help you with your information and resources on birdhouses and feeders.
---
House Wren Bird Houses-Finding the Perfect Birdhouse Plan
If you are into wren bird houses but dont have the time or expertise to design it, theres a little known trick you can use to aid you. With a set of freely available design plans, you can rest assured your wren bird house will be the perfect accommodation for wrens.House wrens will usually accept birdhouses that are 5 to 10 feet above the ground or close to the ground with shrubbery for coverage.
Bluebird Bird Houses-The Proper Bird Box for a Bluebird
Bluebird Houses are probably the most common bird houses in the country. Helping and protecting the bluebirds should be everyone's priority.Bluebird houses can be mounted on fence posts, utility poles or trees (trees are less desirable as climbing predators have access). Another good area is to consider mounting them on poles that you can place in your yard.