Ceramic Wind Chimes-Decorative,Unique/Wind Charms
Ceramic wind chimes provide you a unique handmade and painted indoor/outdoor quality garden chime that is moisture and fade resistance. Decorative ceramic chimes are very recognizable from their bright and beautiful glazes to the wide variety of themes that are available. Ceramic, porcelain wind chimes have always been feared by gardeners that they would be too breakable because they look so delicate, but this is not the case.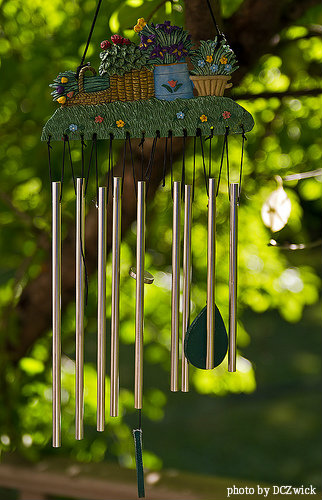 Ceramic wind chimes provide decorative wind music for your yard
Manufactured with durability in mind the decorative ceramic glass is put through a high level process of baking which provide you with oven hardened wind chimes. Incredibly durable, ceramic wind chimes will be able to stand up to gusts of winds of up to 30 mph and not break making the ceramic chimes safe for outdoors.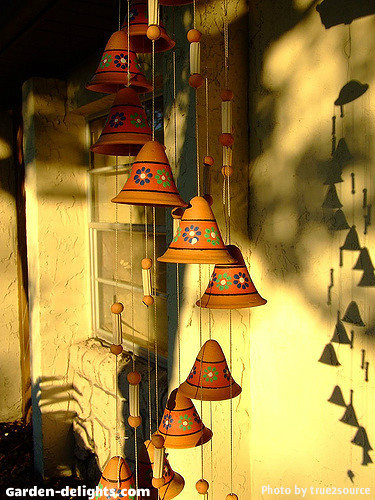 With a gentle breeze they will provide your garden with a melodic soothing tinkling sound that will add a peaceful (Chi) energy and a whimsical atmosphere to your yard.
Ceramic Wind Chimes
---
Indoor/Outdoor Ceramic Chimes Durability
Handcrafted chimes provide you with a more elegant and unique hanging chime because of the dazzling colors (dazzling blue, radiant orchard (purple-pink), emerald green) that can be chosen and the patterns and themes (Dolphins, hummingbirds, scallop shells, fish) that can be painted on these wind chimes.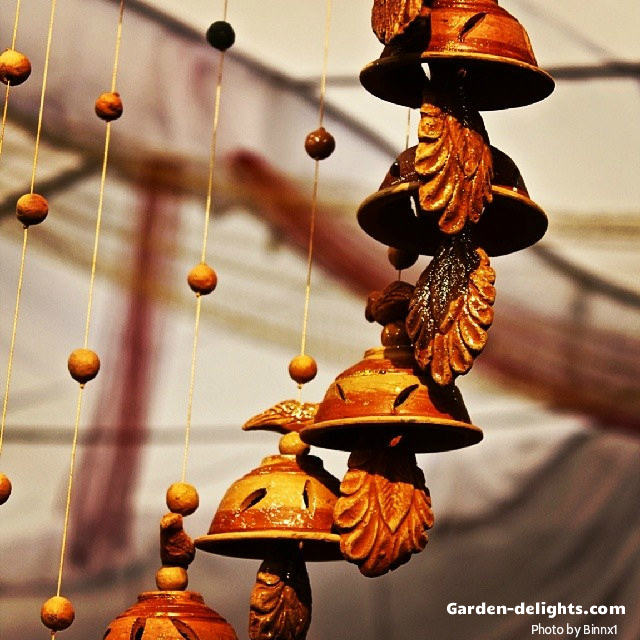 Clear lacquer or varnish is applied over top of the hand-painted ceramic wind chimes to keep it protected from the outside environment, it also protects the painted glass surface from wear and tear providing you with years of enjoyment.
Ceramic glass ( Antique, Japanese windbells, ceramic mobiles, country theme) provides you with an endless array of choices that you could use, but still be one of the easiest that you can hang in your indoor/outdoor space and make the biggest design impact.
---
Tips on Where You Can Place Your Ceramic Wind Chimes
To make sure your wind chime sounds beautiful in your backyard you want to make sure that you place it where you will benefit the most from its music. Understanding how the breeze flows through your yard is very important. Typically along walls of structures (gazebos, trellises, the house itself) will allow the wind to be channeled giving you a really good place to place your wind chimes.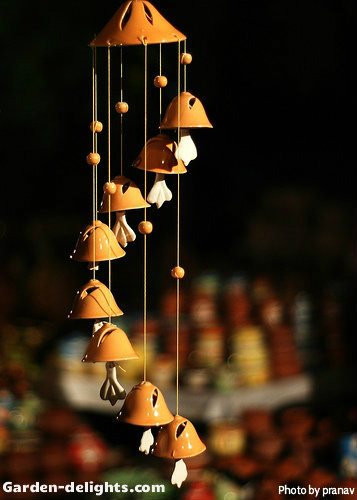 Open areas with decorative metal hooks will provide you with the access of the gentle breezes from anywhere in your yard. Because the material is ceramic you want to avoid placing them close to a wall or anything that they could hit when the wind blows them, as this could possibly break the chime.
Benefits of having garden ceramic wind chimes
Provides a colorful garden accent that is visually stunning.
Ceramic chimes provide a delicate soothing sound.
A simple decorative element that is indoor/outdoor portable.
Ceramic glass chimes blends well with (bamboo wood, aluminum tubes, glass beads).
Unique Wind chime themes (modern, antique, Japanese, animals) to choose from.
Provides an element of feng shui
Glass ceramic, porcelain wind ornaments provide you with an elegant decorative element for the yard. Choosing a theme and color is a very important decision. You want to make sure that you choose the colors that will work well and blend with other accents you have in your backyard.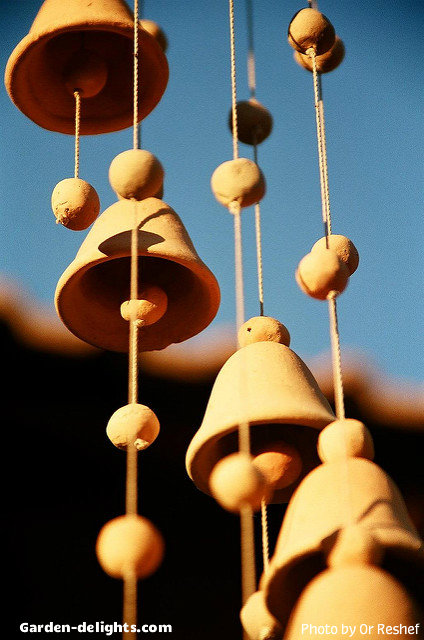 Choosing transitional colors will create harmony among your other garden accents. Using subtle hints of (greens, yellows and oranges) will provide you with depth and dimension whereas hand-painted neutral colors (light brown, tan, beige) will allow the wind chimes to subtly blend in to the decor.
---
Popular types of ceramic wind chimes
Japanese Ceramic Wind Chimes: Japanese ceramic, porcelain chimes typically can be found in a wide variety of different animal (owls, cats, dogs, frogs) figuring shapes. Ceramic windbells (Kamakura chimes) with decorative hand-painted images are another well-known addition, whether they are in a string of spiraling bells or one bell itself at the bottom of the overall design. Japanese wind chimes use a paper wind catcher hung below the bell with a string to make it ring.
Ceramic Holiday Wind Chimes: Seasonal chimes allow you to turn any time in the year into a fun and decorative time. Wind chimes can provide wind music all year (Christmas, Thanksgiving, Halloween, Valentines) and greet your visitors with a delightful chime musical melody. Wind chimes are manufactured to be durable for all four seasons making them a very desirable and affordable indoor/outdoor wind charm.
Ceramic Solar Light Wind Chimes: These powered wind chimes are designed for indoor or outdoor use. They are sealed which helps them to be moisture resistant. The LED solar light provides a decorative appeal of changing colors. (Flowerpot, frog, fish, and cuckoo clock) themes make this a unique choice for your hanging ornament. The Beautiful nighttime effect makes these wind chimes a fun conversational piece.
---
Ceramic Wind Chimes Are a Handcrafted Piece of Wind Art
Wind chimes have been around for centuries and providing people with calming, relaxing and soothing effects for their body, mind and soul. Providing you with feng shui for your garden the Chinese and Japanese have been taking advantage of this Oriental magic energy source for many years.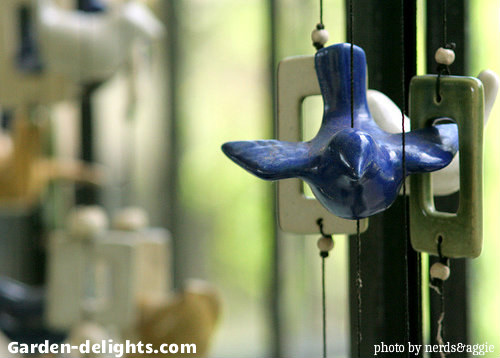 Hanging ceramic wind chimes not only encompass (Chi) energy but they have also become very decorative art pieces. Wind chimes are one of the easiest and simplest additions that you can use for your patio, porch or deck.
Buying ceramic wind chimes tips:
Choose the design that fits and functions best
Stay within an affordable budget
Check on wind chimes strength (will they hold up to high wind)
Choose the best sound for the yard (keep your neighbors in mind)
Color choice should fit well with other surroundings
Ceramic Wind Charms
Even the small wind chimes can create a lot of visual interest by positioning them by a patio door, next to a water feature or just on a decorative garden hook. Because these are considered a small ornament for your backyard you want to make sure that it is positioned where it will bring the most impact.
It is best to experiment in a variety of different spots of where you would like to hang your ceramic wind chimes. It's best if you can place it where it is viewable from multiple vantage points as you want to take full advantage of this beautifully handcrafted garden accent.
---
Capiz Wind Chimes-Elegant Handcrafted Shell Wind chimes
Capiz Wind Chimes are an elegant handmade wind charm that provide your backyard with the warm and relaxing tinkling Shell sounds of the islands. Harvested from the sea, cleaned, sliced and dried and made into a beautiful organic and colorful (natural white, aqua) wind chimes that will take your breath away.
Angel Wind Chimes-Personalized Wind Chimes Garden Blessing
Angel wind chimes will bring a personalized blessing to your garden. Listening to the beautiful soothing sounds with a gentle breeze will provide your backyard with a calming and peaceful atmosphere. Angel wind chimes encompass love, peace and the love of Mother Nature.