Angel Wind Chimes-Decorative Indoor/Outdoor Whimsical Chimes
Angel windchimes encompass the mystical/magical healing powers of feng shui. Creating a soothing and relaxing melody of music from a gentle breeze that only the Angels can provide for your garden. Every time you hear the beautiful tranquil sounds of your wind chimes you can be sure that an angel is getting their wings and providing a blessing for your home.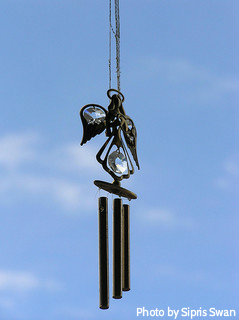 Angel Windchimes Bless Your Home with a Musical Tone
The exquisite designs of both wooden and glass wind chimes provide you a beautiful indoor/outdoor wind chime solution. Whether you have a perfect spot on your patio or inside your closed porch you can be rest assured that your home will be blessed by an Angel.
If you would like to add a little sparkle in your home then you should consider an interior wind chime which not only provides you with an artistic piece of wind art but also the beautiful sounds of the windchime itself. The sun sparkling off the edges of the angel's wings and glistening from the stained glass accents is what provides you with an enchanted feeling of spiritual(Chi).
Angel Windchimes
---
Tips for Best place your angel wind chimes
Placement of your angel windchime in your home is different than placing outside even though the same concept is used. Inside your home you want to try to place your wind chime by a window so that when it is open the breeze will touch the Angels bells and provide you with the beautiful sound.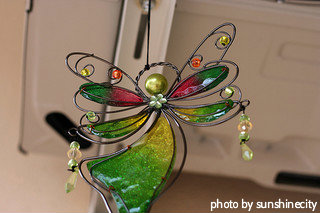 If you do not have this option you can incorporate a small fan in the room creating an artificial breeze to help circulate the air in the home but also to help operate the wind chime.
Placement of your wind chime outside your home gives you a few more options as Mother Nature helps you with the natural breeze that flows through your yard. You first want to take full advantage of this by learning how the breeze flows through your yard, around the trees, flowing through other wind ornaments, how it is channeled down the side of a wall of a structure in the yard.
Benefits of Having an Angel Wind chime
Provides a blessing of music for the home.
Adds a touch of creative color and calmness.
Encompasses elements of wind chime feng shui.
Can be used as an indoor/outdoor garden ornament.
Wind chime material choices (bamboo, glass, metal).
 To help you discover the best place for your Angel wind chimes you have the tool right in your hands and it is both lightweight and portable. This allows you to hang your wind chime in multiple areas of the yard testing a variety of different spots in the yard to help you find the best place that is not only an aesthetically pleasing spot but also makes those beautiful sounds that wind chimes are known for.
---
Popular types of Angel wind Chimes
Glass Angel Windchimes: Glass windchimes come in a variety of different styles (stained glass, crystal glass, and beautiful angel glass sun catchers). Glass is a delight to have in your wind chime it provides you with reflective light passing through crystal clear or colored glass providing you with extra sparkles and another decorative element that comes out of your chimes.
Sympathy/Memorial Windchimes: A small memorial of a beloved person that was once a very important part of your life. This is a wonderful way to provide whispers from heaven and remember the gift of having them in your life each time you hear the windchime playing. These can also be personalized with engraved names and Bible passages.
Wood Angel Windchimes: Bamboo wood is a beautiful choice for a natural element for your garden. With the combination of a handcarved figurine of an angel with bamboo tubes that are hand tuned and providing you with a wonderful warm relaxing tone. Bamboo windchimes sounds provide you with melodic resonant tones with the sounds and pictures of a breezy island Symphony that helps soothe the soul and provides you with (feng shui) stress relief.
Angel Suncatchers: If you love Angel ornaments around your home then you definitely want to have some stained glass sun catchers by your window. These little pieces of glass window art are manufactured to be hung by a string allowing them to free flow with the air or anchored to the window with a variety of different options. The sun has a beautiful way of displaying these figurines in a very unique and eye-catching way.
---
Angel wind chimes are a simple soul inspiring spiritual garden bell
You will provide a new dimension to your backyard with the introduction to some beautiful wooden, metal and glass windchimes that are handcrafted in the images of angels. With the help of a gentle soothing breeze the windchimes resonate a soft and calming effect that adds a background of peaceful musical tones that helps set the stage for your outdoor living area.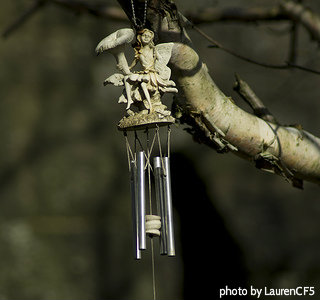 Music is the gateway to our soul and windchimes/bells is a natural way of you being able to use that element. There are many beneficial health reasons that you will receive from installing a wind chime.
Decorative Angel Chimes
By providing you a calming and relaxing atmosphere it can help relieve stress in your life which in turn can not only help lower high blood pressure but give you many psychological benefits that can help relieve other physical ailments.
Choosing your favorite Angel chimes is a personal choice. Depending on the sound and the colors that you enjoy will have a big influence on overall design. If you like the higher pitched tones of a musical scale then you will more than likely prefer to have the stained glass, crystal design for the yard. If you like a low tone melodic sound for your wind chimes then you may prefer the natural beauty of the wooden bamboo windchimes combination.
---
Colored Glass Windchimes-Rainbows of Colors with Stained Glass
Decorative stained glass windchimes provide you with a unique design element for your garden. Colors of the rainbow flowing in the breeze in your backyard with the sun shining through the sparkling glass providing you with an endless array of color changes for your windchimes.
Fairy Chimes-Fantasy Garden Ornaments with Imagination
Fairy windchimes can add a bit of magical fantasy to your backyard. Sparking your imagination of medieval times with dragons, knights in armor, fairies are the mystical little creatures that story times were made of. Inviting fairies into your garden whether by a wind chime, themed water fountain or a mini fairy garden will add an enchanting element to the yard.