Wind Spinners-Kinetic Wind Sculptures & Garden Art
Garden Wind Spinners are a wonderful way to add activity to your backyard decor. They can provide you with a beautiful eye-catching artistic presentation every time when a breeze flows through your yard.  The movement that is generated from these Kinetic Wind Sculptures is enough to attract positive energy (chi) and add a little bit of unique humor and fun to your backyard.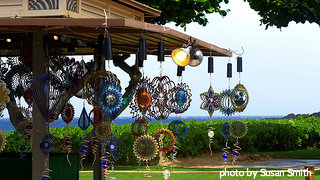 Wind Spinners Provide Motion and Color to The Yard
One of the best benefits that you will receive by using this type of garden accent is that you can place it anywhere in your yard. It also gives you the opportunity to create a unique focal point or the opportunity to tie into another garden feature that you may have in your yard.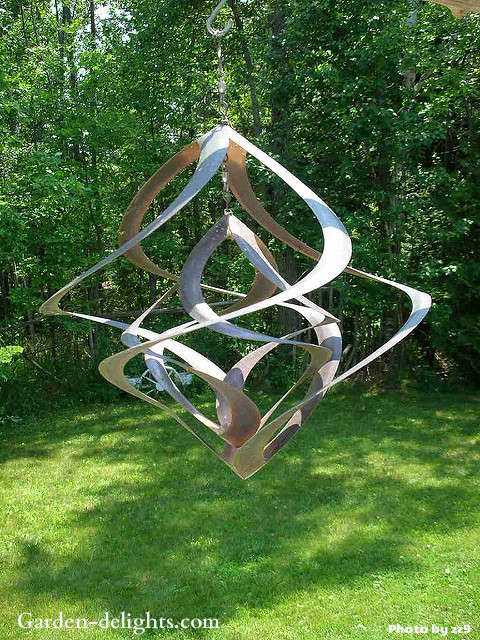 Being wind activated you may typically place them near your wind chimes. This is a great way to create and combined a theme such as magical/mystical fairies, bumblebees, gnomes. If you have a water feature in your backyard you may want to incorporate a solar light wind spinner that can be placed above or nearby the water. This can give you a beautiful reflective glow at night.
Wind Spinners
---
Garden spinners are a perfect decorative element that can easily be placed on your deck, porch or at the front or back door. Because they are weatherproof (powder coated metal, nylon, fiberglass) and designed to be the perfect size and lightweight they are an easy addition to hang as an ornamental decoration on a tree branch, or a wrought iron hook stand. Because they can be placed on the ground or hung in midair they will have the ability to be at eye level and use the suns light to reflect the beauty of the colors that they are made from.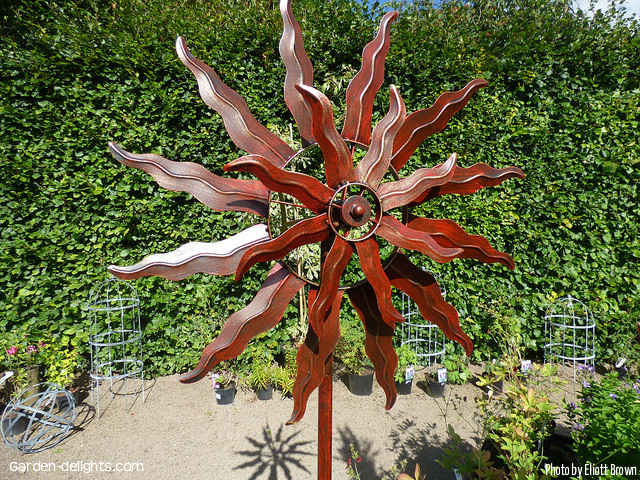 ---
Types of Wind Spinners for your garden decor
Bird Wind Spinners: If you are in avid bird watcher then you will want to definitely have your favorite bird in your yard. Bluebirds, purple Martin, Hawks and even the favorite pink flamingo. All are a favored combination choice for your animal wind spinners.
Flying Fairy Spinners: Add a splash of mystical/magical decor to your backyard. Flying fairy wind spinners can provide you with a 3-D effect with a fade/weather resistant nylon that will give you years of garden humor.
Bumble Bee Spinners: Bumblebees may naturally come into your backyard but by placing some big decorative bumblebees flying in the wind is a great way to add fun and a little bit of motion humor to your garden.
Dragonfly Wind Spinner: Dragonflies are fun to watch so why not have your own metal dragonfly spinner. By having your quirky little dragonfly hovering and zipping around your plants and flowers you will create a beautiful conversation piece for your backyard. By choosing the solar addition you will be able to have a glowing wind spinner that will give you a beautiful visual effect at night.
Bug Wind Spinners: You may not want certain bugs in your yard but you are definitely going to want some fun (ladybug, Peacock, butterfly) indoor/outdoor Garden spinners. Adding some bright colors to yard can help vary your color palette and give you a fun garden accent choice.
Triple Pinwheel Wind Spinners: These are very colorful wheels that are made with nylon fabric that look like the propellers of an airplane. They are great for positioning and yard as they can have it to face the direction they need for optimal spinning from the wind.
---
Tips on Where You Can Place Your Wind Spinner
Walk through your yard and discover how the breeze flows through and around trees, your water features and building structures that you have. You want to make sure you take advantage of the breeze that you have so that you get the most benefit from your yard wind ornaments and keep them as active as you can.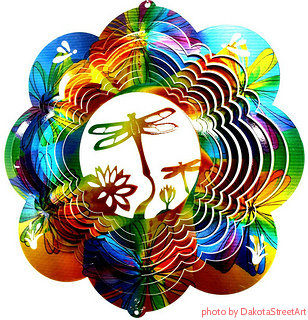 I find that once you have identified where your breeze typically comes through the most you will be able to use that to plan how you want place your wind spinner. The concept for this works the same way whether it is in your front yard or backyard.
Even though they are designed for movement you may find a very decorative piece that you want to place in a specific area that may not have a lot of breeze that comes through and that's okay because it is all about adding beauty and your own personal taste to your yard. By placing it in certain specific areas it will give you a very (feng shui) calming and relaxing effect.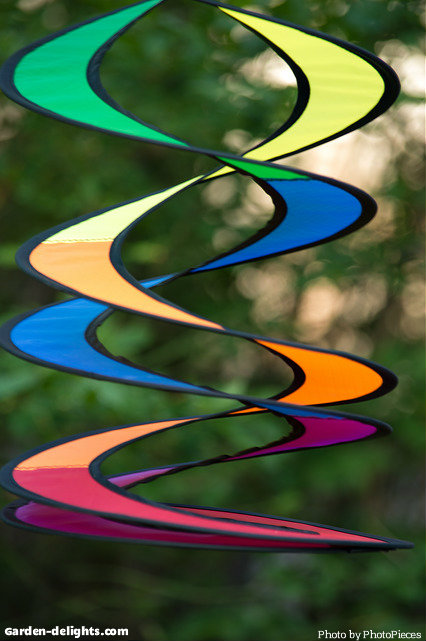 Best Wind spinner locations:
Corner of Buildings: This is usually a good idea as the wind has collected down the walls of the building and projects it straight out after the building. This is a perfect spot to get a controlled breeze to operate your spinner.
Hanging from Buildings Overhang: If you have a hanging wind spinner you could apply this technique and have it hang up in the air catching all the wind that is above the ground. This is a good technique as it gives you a greater percentage of air volume flowing through.
Shepherds Hooks: By using a garden plant hanger you will not only be able hang planters, wind chimes or flower baskets this is also a great choice for you to hang your wind spinner. If it is designed to be hung then this is a great choice for you to show off your garden breeze artwork.
Beside a Water Feature: Wind spinners have a beautiful ability to blend well with a water feature. By combining the movement of the decorative wind art and flow of your water feature you can create a beautiful focal point that can be first attracted by the spinner and then showing off the water feature it is beside.
Protecting Your Wind Spinner: After you first purchase your wind spinner and before you place it outside on the lawn it is recommended for the extra protection outdoors you should apply a UV/water protector spray on the surface of your spinner, this will help extend the life of your outdoor spinner.
---
Wind sculptures add a new level to your outdoor decor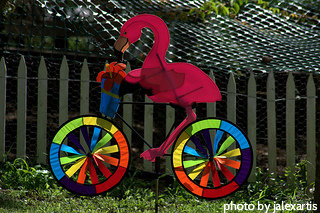 Even though you will find many complex and unique designs in wind spinners it still provides you with an overall affordable natural wind generated art piece that you can use for your backyard.
Wind Sculptures
 If you are looking for another dimension to your wind spinner you may consider looking at a 3D spinner version, this will give you depth and more character than the two dimensional style.
When you are looking for a wind spinner take into account your personal favorite animals, colors and what type of materials you want your garden spinner to be made out of.
---
Solar Wind chimes-Power Wind chimes by Using the Sun
Solar windchimes have the benefit of providing you relaxing, calming (chi). They are a great option for providing a wind chime solution for your indoor decor. If you enjoy windchimes blowing in the wind in your garden then you are going to want to provide the interior of your home with some beautiful sounding musical windchimes.
Unique Wind chimes-Unusual Musical Chime Art for Your Home
Wind is natures way to play music for your backyard. There are many different themes and styles of unique windchimes that you could use in your garden. The sounds of windchimes can help relax, relieve stress and provide an element of (feng shui) that no other garden accent will be able to do.
Copper Wind Chimes-Artistic Chimes for a Modern Art Garden
Copper wind chimes provide you a decorative garden element that is ageless. If you would like to use a contemporary garden accent than this metal is the most popular choice. Mellow tones are created from this soft metal that is not only equally pleasing in color but encompasses the whole decorative element as a unit.