Copper Wind Chimes-Decorative,Unique/Wind Tuned Music
Copper wind chimes provide you with one of the most beautiful brown surface colors and musical tones that you would want from an indoor/outdoor chime. Copper will provide your yard with a softer and subtle wind chimes sound with a smoother resonance tone compared to other metal wind chimes. Copper chimes blends together both an artistic visual effect and musical tone that has been known for centuries to provide a magical quality of healing capabilities for both your mind and body.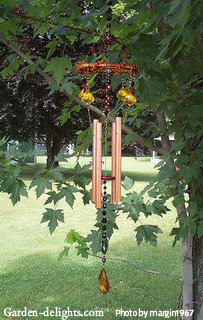 Copper Wind Chimes Will Age Beautifully with Time
Copper is one of those high-quality medals that although is weather resistant the finish will change because of (humidity, oxidizing) causing a color change on the metal surface. This natural aging process will provide your copper wind chimes with a rich natural patina (green surface), but not affect the hand tuned crafted musical tones they provide.
If you want to keep the bright shiny smooth surface and beautiful brown copper/bronze color on the tubes then consider buying wind chimes that have a polished finish. The polished surface will last a lot longer against the elements and not need to be cleaned as often.
Copper Wind Chimes
---
If you want to protect your copper finish you can etch the surface with a steel wool pad and apply a clear outdoor polyurethane coating (you can get from any hardware store) to the outside of the surface. This will typically have a minimal effect on the tone of your wind chimes.
---
Copper Wind Chimes Have Many Melodic Tone Choices
There are many different music scales that wind chimes can be tuned to (pentatonic, Aquarian, Mongolian, Chinese) with each one providing you with its own harmonizing qualities. Wind chimes Sizes (lengths) also come in a variety of popular choices (soprano, alto, tenor, bass).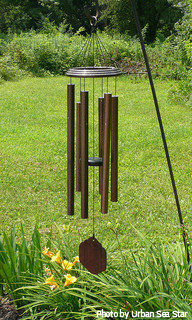 If you are not sure which one will best suit your yard then using an online wind chimes sampler will give you a better indication of the melody you would like. Visiting your local (Home Depot, Sears, Walmart, Lowe's) will allow you to physically try these wind chimes and hear them personally. Keep in mind that where you place your wind chimes does affect the sound of the chimes.
Large copper wind chimes that have the long tubes will typically provide you with a low tone smooth melodic resonance and the shorter thinner walled tubes will give you a higher pitched sound. The most popular and widely chosen scale for copper wind chimes is the pentatonic scale.
 The reason why the pentatonic scale is such a popular choice is that it is recognizable by the black keys that are on a piano. This scale will provide your wind chimes with a variety of random but very pleasing tones that will encourage a feng shui element that draws positive energy (from the wind) to your backyard.
---
Placement for Your Copper Wind Chimes for best results
Copper chimes start off with their own unique beautiful coloring and can easily complement all areas of your backyard with some warm and soft tones wherever they are hung. One of the fantastic natural abilities of copper is that it can provide you with a naturally aged antique wind chimes look when it is exposed to the outdoors.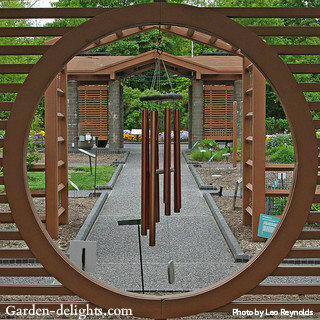 Depending on the size of wind chimes that you have chosen will have a direct impact on where you can place it. You want to make sure that it is hung properly at a good height for the length of the pipe. Large copper tubes should be hung with wind chime holders from an eaves trough off the edge of your house, this will not only provide the height you want but it also gives a good structured support that will hold the weight of the wind chimes.
Unique styles of copper wind chimes become a very decorative element for your garden as they have many options of where you can place them. Small chimes are lighter than the larger chimes and do not need the heavier support that they do or the height. This is a great way to add a little bit of decorative charm to your patio, porch.
Benefits of having copper wind chimes:
Copper plays a soft, deep and rich musical tone (resonance).
Beautiful copper rich natural patina color through weathering. 
Copper creates feng shui energy to bring positive elements to your garden.
Copper chimes provides a naturally beautiful coloring into your garden.
Material combinations with copper accents (bamboo, stained-glass, mosaic glass, ceramic)
It does not take much wind to operate your wind chimes so you want to make sure that you find a good spot that is both aesthetically pleasing and provides the chime with wind power. You first have to take note on how the wind flows through your yard and use this to your advantage. Look at garden structures, trees and fences and how they affect the wind itself.
This gives you a great indication of placement for your wind chimes. The best way to accomplish this is to move your wind chimes to a variety of spots and see which works the best. Remember where the wind chimes is placed also affects how it is going to reflect the sound in your yard.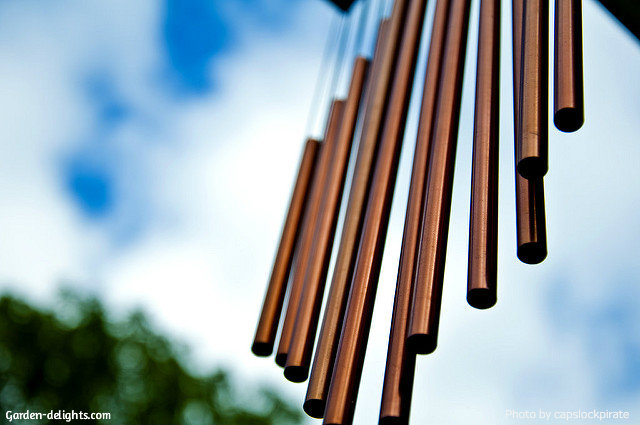 If you are limited to places to hang you can opt in for using wall mount decorative (wrought iron, steel, wood) shepherds hooks. If you would like to place it more in the open area for more exposure you may want to consider a wrought iron shepherds hook.
---
Popular Types of Favorite Copper Wind Chimes
Animal Copper Wind Chimes: Complement your garden with your favorite animal. The small wind chimes have your favorite animal silhouette (cat, Mosaic butterfly, Mosaic dragonfly, hummingbirds) on top connected to small copper tubes varying in length from below with a small wind catcher. These wind chimes provide tranquility with a decorative element and soothing musical notes. Great choice for an indoor/outdoor wind chimes.
Stained-Glass Copper Wind Chimes: Stained-glass complements copper with an array of colors that are sure to add a splash of decorative element to any garden, porch or on the patio. Lightweight and decorative these wind chimes provide some fun choices for themes (ladybugs, dolphins, dragonflies, colorful frogs). Provides sparkling color with the sun's rays and brings your wind chimes to life with light.
Bamboo Copper Wind Chimes: Combine beautiful bamboo with the complement colors of copper tubes. A fantastic combination of wood and metal. Bamboo highlights the first natural element of this chime with the cap and plays the perfectly tuned copper pipes with the bamboo striker. This has a fun way of providing your imagination with tropical island living or the warm country feel.
Illuminated Copper Wind Chimes: Solar power will add a beautiful evening glow to your copper chimes. Using the power and energy from the sun you can have the beautiful crackled glass textured ball (sphere) light up automatically when the sun goes down. This is a wonderful way to complement your deck or even the interior of a porch. The color-changing of the solar wind chime creates a very decorative lighting show.
---
Copper Wind Chimes Provide an Amazing Wind Accent Option
Take advantage of what copper has to offer for your garden decor. Consider structures like arbors, arch gates and pergolas as hanging points for your chimes. This not only adds a decorative entrance point to your yard but also welcomes good feng shui also.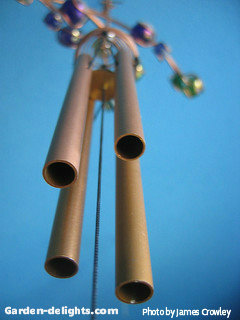 Combining the copper wind chime with vegetation or a variety of colorful flowers helps complement the beautiful and colorful growing vines, wave petunias with the Brown/copper coloring that has become a favorite to many gardeners.
Buying copper wind chimes tips:
Choose appropriate size (extra-large, large, small) copper tubes for your yard.
What musical tone are you looking for (deep tone, lighter higher pitched tones)?
Have a budget in mind check (wholesale, discount) wind chime sale offers.
Check customer reviews for copper wind chime (likes and dislikes).
---
Decorating Elements You Can Use for Copper Wind Chimes
There are five basic elements (form, line, mass, texture and color) that the copper chimes encompass that can provide you with options of how to use them in your backyard. Form is the overall look of your chimes it takes into consideration the length of your wind tubes and the shape of the dome and wind catcher.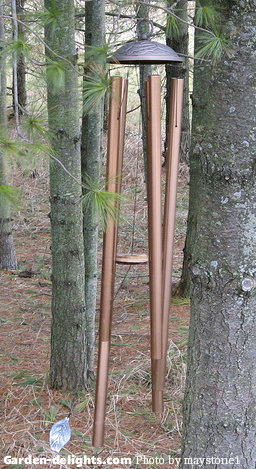 Lines are the straight lines that are created from the long copper tubes that hang below your wind chimes, this has the ability of drawing your eye towards the object and providing a more formal style.
Decorative Copper Chimes
Color and texture work hand-in-hand as they are the blended threads of the different materials and colors (bamboo, stained-glass) that run through the wind chimes design and can provide a contemporary,country rustic or a classic look for your chimes.
It all comes down to you finding the best chime for your space and a place to hang your new copper wind chimes. It is easy to accomplish this by just moving it around the yard and finding a fantastic place that it looks visually appealing and complements the spot where you have decided to hang them.
---
Musical Wind Chimes-Stress Relief Energies with Tuned Chimes
Musical wind chimes add the beautiful touch of elegant tones to your garden. They provide both decorative and wind music accent these chimes are one of the most popular choices for adding a simple garden decoration to your yard. This is the best way to personalize your garden decor.
Japanese Wind Chimes-Positive (Chi) and Harmonious Musical Tones
Japanese wind chimes are created with many different material elements (copper, bamboo, iron). The melodious sounds that are gathered from traditional Japanese chimes provides an uplifting energy for the spirits and allows to soothe the soul. Creating feng shui for your garden design is as easy as starting with a set of wind chimes and proper placement.