Garden Bridges-Decorative,Unique Garden Landscape Accents
Garden Bridges provide you a variety of different benefits for your backyard decor. It provides you a very unique sense of design whether you incorporated into a small stream or spanning across a drainage swale or a small dip in your landscaping.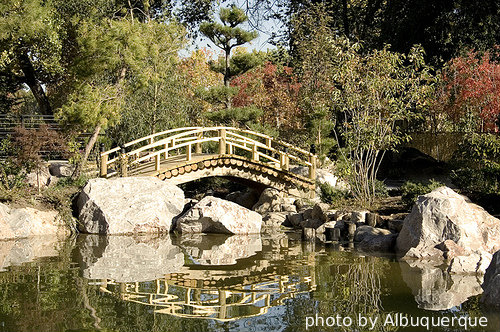 Bridges can be a very pleasant decorative garden accent
In addition to being very pleasant to the eye it can also help to designate a passage from one part of your backyard garden to the other. Your overall design and theme of your bridge plan should be both satisfying and a delightful addition to your landscape along with providing you a unique picturesque focal point.
Deciding on the scale, size for the overall length of your bridge (common length is 8ft x 4ft) will depend on the span that you need to go over. You could have a small/mini wooden bridge that can reach over a small stream that you've added to your landscape or even a small doll scale that will fit in your miniature fairy garden.
Garden Bridges
---
It is recommended that if you are going to build your bridge over a koi pond that you select the materials that will be safe for the fish. Some of the recommended bridges you would choose would be (Redwood bridges, Cedar bridges) that will give you a few choices for aesthetic appeal for your yard. Painting should be done with a water-based latex if you are going for solid colors and a proper water-based stain if you are going to keep the natural beauty of the wood.
---
Match the Landscape with Your Bridge Style
The style and design of the bridge will rely heavily on the setting of your garden and the overall theme/style of the landscape that it will be placed in. If you are looking to span over a small narrow swale or a river bed of rocks in a dry garden you may choose a more simple approach by using large planks that are fitted into either side of the bank allowing you to join each side. This type of bridge is known as a flat wooden plank bridge.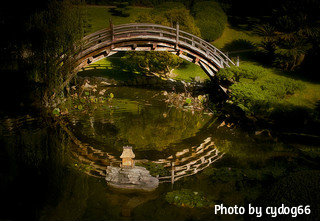 You may have added a small stream and want to place a bridge over it. By using a small cedar or redwood arch type of bridge you can give it a decorative touch but still be functional for it to use. If you're looking for more of a Woodland style setting you can incorporate a rustic looking bridge with your side railings built with the use of unmilled logs.
Moon bridges are a very distinctive type of design. They will have a very high arching moon looking bridge top and are typically used in the design of Japanese gardens. This can provide a very enchanting look for your backyard pond. Zen gardens can be created by using this type of bridge plan. The semicircular bridge allows for the reflection in the water from below that will give the impression of a symbolic moon.
---
Add Color and Individual Style with Painted Wooden Bridges
Adding color to your garden bridge can provide you a great opportunity to add a very bold and unexpected color splash to your landscape design. Wooden bridges especially in a Japanese-style theme gardens are often painted in a bright red or orange color. One option of design that has become very popular is the use of the natural wood.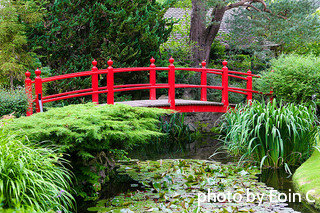 Painting the railings of your bridge but leaving the floor of the bridge unpainted but stained is not only a practical choice because of (constant foot traffic along the bridge will show wear and tear). With this design the wood base part of the bridge will help complement your painted parts of the bridge.
Whatever overall design and theme style of bridge you will be using your first consideration should be safety and that the construction of the bridge should be structurally sound. Even if it is a small decorative bridge that you are using just for aesthetic looks it should be strong enough for someone to walk over.
In fact isn't that why you have a bridge, everyone wants to walk over to see what's on the other side it's like creating an adventure to a distant place as you cross over your bridge. If you are going to build a larger bridge that needs heavier construction make sure that you research the local building codes for the construction of your bridge?
---
Popular Garden Bridges You Can Choose from
Japanese-Style Garden Bridges
The Japanese design allows you to add Zen to your backyard design. They are a very gracefully arched wooden style of bridge. The moon style bridge provides you a high arch that is a very distinctive pattern in Japanese bridges.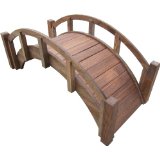 Emphasis is drawn heavily on nature when you are looking at the Oriental theme. You will find that in the design that there are no two lines that are the same. The balance is provided from making a variety of uneven surfaces allowing you to concentrate more on the smaller details of the bridge itself and its surrounding landscape.
There are three elements that encompass your Japanese garden (trees, water and stones). Water is recognized as a symbol for the source of life, if you do not have a water source to put your bridge over you can have rivers of stone or fine raked gravel that look like river current patterns. Japanese bridges whether they are the high arch or lower curve are designed to help control the sound of the water or wind and providing a musical effect for your backyard.
---
Small Wooden Arched Garden Bridges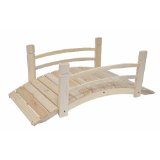 The small bridges are an easy solution to adding a decorative accent to your backyard. They can come in a variety of different arch styles and railings. Because they are made of wood you will typically have them as a raw starting point for the finish that will give you the opportunity of what you would like to apply to the outside. Staining your bridge and keeping the natural wood look is very popular with many backyard gardeners.
This provides you with a more natural looking bridge that is going over your waterway or pond or even a dry garden design. Painting your bridge can provide you with a variety of different artistic applications. By just painting certain areas such as your railings but not the walking area can provide you a natural wood look with a splash of unexpected color for your landscape.
---
Decorative Garden Foot Bridges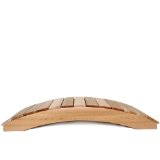 These bridges are not as big as your other choices but large enough to have an artistic impact on your landscape (typically a 4 foot span). They are a small design that can be used within your garden but still not big enough to go over a pathway or water feature.
You may find a small metal garden bridge but you're most popular and most affordable solution is the small wooden bridge kits that you can put together and paint for yourself.
---
Miniature Fairytale Garden Bridges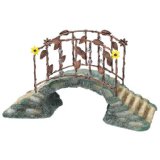 These miniature bridges are a very decorative touch to your gardens. Becoming very popular with today's gardeners fairy gardens are a mystical and magical addition that can be fun for all ages. Providing an area for small whimsical items will create an area for tiny creatures to live and to reside in.
 Fairy ornaments and the mini fairy bridges provide a unique three-dimensional look to your garden area. By providing small charming benches, arbors and fairy wind chimes you will create the start of attracting all the little fairies that live throughout your backyard garden.
Garden Bridges
---
Bridges Come in a Variety of Different Styles
Wooden Plank Bridge with Railings: Providing you with a low walkway to keep the overall height down on the bridge giving you a long stretch look to go across your pond, river water feature. Railings can be a decorative post structure with handrails built in between, typically come in wooden kits.
Garden Bridges with Rope Railings: Typically instead of having wooden railings between the posts designs that are on the bridge ropes will be hung from each post one to the other. The size and length of the ropes will depend on the design of the bridge itself. This can give you a nautical and rustic look to your landscape.
Bridge Railings with Pickets and Spindles: This is a more decorative appeal and style for your garden bridge. Still with the used of the Post/Pole design the spans that are in between are joined together with a top decorative railing and spindles with various pattern styles built in between.
Landscape Bridge with Lattice Railings: The railings are a mystical fun artistic touch to your bridge. More of a fairytale the decorative lattice railings give you a more tight interlocking type of a look for your bridge. It has a heavier construction style compared to the open look of the other bridges with just a railing and post.
Cedar Wood Foot Bridges: Typically these are designed with a flat look with no railings to be placed over small rivers or a dry garden design. Railings can be attached but typically they are designed to span from one edge to the other or to become a beautiful garden accent. Can be bought in handcrafted garden bridge kits and easily built and installed in your backyard.
---
Garden Bridge kits make it easy to construct your new garden ornament
Bridge kits are available to make it an easy solution for constructing a small bridge in your backyard. These kits are provided to you with all the wood and hardware and the instructions on how to build the bridge that you will need to put together your own bridge.
Whether you are buying a bridge kit or making the bridge yourself it is recommended that you span over the narrowest part of your landscape stream or pond. If you do not have this in your design it may be necessary for you to provide a small inlet that extends just beyond the bridge itself. This will give it the illusion that your river or pond water feature extends beyond the bridge.
Backyard Bridges
Make sure you decide on the overall theme and style that you are looking for before you purchase a kit. If you are a do it yourself type of person you may be able to create your own bridge design and construct it from plan drawings of bridges that are already in existence.
---
Wishing Wells-Decorative, Unique/Lawn Ornaments
Garden wishing wells are an easy way to create an interesting focal point in your yard. They also work well if you are trying to blend in to an overall theme of your garden design. Outdoor Wells provide you with a variety of functional choices such as making a water feature, wishing well planter or used to cover over top of pipes or other unwanted things in your yard.
Garden Water Fountains-Water Can Provide Natural Music to Your Backyard
Adding a water feature into your backyard has the ability to convert your landscape into a beautiful piece of artwork. Starting with a clean palette you can create the theme and overall feel that you would like to have. Water can help you create the ultimate outdoor oasis in another dimension for your backyard living.
Water Fountains Directory| Reviews,Tips,Features
Tabletop water fountains, lighted water fountains, wall water fountains, bamboo water fountains garden fountains, solar water fountains, tips, benefits, reviews