Outdoor Wind Chimes-Relax to the Sounds of Garden Wind Chimes
If you happen to have a garden outside and you want to make it a haven where you can relax and let the stress of the day just wash away, you may want to consider adding some Outdoor Wind Chimes to your garden area.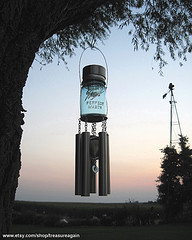 Outdoor Wind Chimes Encompass Both Soothing and Relaxing Mystical Music
The sounds of these lovely chimes can be extremely soothing, especially after you have had a long day that has been stressful. Whether you have large outdoor gardens or just a small potted garden on your back porch, adding some outdoor wind chimes will be a great way to complete and compliment your garden.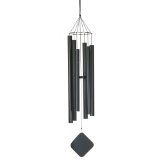 No doubt your garden already looks great and it may be vibrant with various flowers and plants that look beautiful; however, garden wind chimes can add a lot to any garden. Not only will you have the ability to sit and enjoy the beauty of your garden, but while you are looking you'll be able to enjoy listening to the chimes playing in the breeze as well. So, between the beauty of the garden as well as the sound of the chimes, you are sure to have a relaxing outdoor experience.
Picking out the Best Wind Chimes for Your Beautiful Garden Decor
Outdoor Wind Chimes
---
When you are picking out the outdoor wind chimes for your garden, you will want to carefully pick out the chimes. Yes, you'll want to pick out chimes that look beautiful in your garden, but you'll also want to be able to sound great as well. One thing you'll need to consider when picking out garden wind chimes is the size of the area you are going to put the chimes in.
 If you have a large back yard with a large garden, then you can go with chimes that are a bit bigger. However, if you are putting the chimes in a small area, such as on a back porch, then you'll want to go with smaller chimes that produce a more mellow and soft sound.
Tips on What to Look for When Purchasing Your Wind Chimes
 Once you are ready to purchase your garden wind chimes there are a variety of things to keep in mind, including length, material, and type. So, the following are a few tips to help you pick out the best wind chimes for your outdoor garden.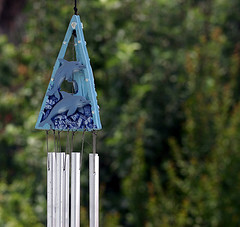 Tip #1 Consider the Length: One of the things to consider when purchasing wind chimes for your garden is their length. If they have long tubes, then the sounds they produce will be lower. However, chimes that have tubes that are shorter will have a higher tone when they ring.
Tip #2 Materials: Another thing to keep in mind when picking out wind chimes for outside is the materials that they are made of. While bamboo looks and sounds great they don't hold up too well outside. So, often the best choice for outdoor wind chimes is metal.
Tip #3 Type: There are a variety of different types of chimes to choose from as well. You'll want to consider whether you want chimes that have bells or chimes that have tubes.
Outdoor Wind Chimes Give You a Special Appeal of Both Beauty and Sound
Outdoor Garden Wind Chimes
So, as you can see, there are a variety of things to keep in mind when you are picking out chimes for your garden. Remember, "Outdoor wind chimes" definitely have a special appeal and will provide both beauty to the eyes and ears when you place them outside in your garden. We want to help you with information and resources so that you can find the best wind chimes for your backyard.
---
Wooden Wind Chimes-The Natural Ingredient for Your Wind Chime Choice
Wooden Wind Chimes can help to create a relaxing atmosphere wherever you hang them. If your yard has a more natural decor, you may find that wooden wind chimes work well.While metallic chimes will sound crisp and bell-like, wooden wind chimes have a mellower, lower tone.
Solar Wind Chimes-Green Powered Windless Wind Chime Operation
Solar wind chimes (also known as sun chimes as windless chimes) are a very special type of chimes. For starters, they dont require any wind.This is precisely what solar wind chimes excel at: you can have them indoors and enjoy the traditional wind chime melodies.