Modern Outdoor Furniture-Creating a contemporary outdoor patio living area
Modern Outdoor Furniture can completely change the way your house looks. Just think of all those amazing patios and backyards you can find on patio furniture decor magazines. Who wouldn't want to have their house and garden look like that? Well, if you take your time and choose the right modern outdoor furniture, you can achieve the same amazing effect without going over your budget.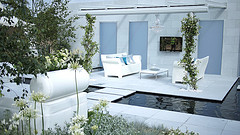 Modern Outdoor Furniture Will Give You a Unique Contemporary Outdoor Living Area
Though traditional and classic outdoor furniture always looks better no matter what house style you have, the truth is that is has become a bit tiresome. By choosing an original, more modern outdoor furniture style you'll be turning your outdoor space into a unique place unlike any other.
What would be the point of using classic patio furniture on a contemporary modern house? Most of the time, it won't even cost you more than any other regular outdoor furniture – unless you choose designer furniture.
Modern Outdoor Furniture
---
Tips on How You Can Choose Your Modern Outdoor Furniture
Modern outdoor furniture is one of the best ways that you can use to turn your unused outdoor patio, backyard and garden space into a beautiful extended living room. This is a great way to enjoy the outdoors and give you space for relaxing, parties or just hanging out with friends and family at home. A modern/contemporary design means that your outdoor furniture should have sleek straight line designs that are both clean and crisp.
---
Modern outdoor furniture should be made of strong material: One of the most important factors that come when you are choosing your outdoor furniture is that your pieces are made to withstand exposure to the elements such as the rain, sun, wind. There are several materials that are popular for this purpose and that is your metal and wood and some strong plastics. With the wood materials your best choice would be to get an all-weather wicker furniture set or a weatherproof treated teak patio set. This is a great way protect your outdoor furniture investment.
Choose your furniture based on your outdoor living area: Decide on what your area is going to encompass. By planning this way you will be better set to choose the right furniture. Are you going to just relax and read books on your patio/deck, would you like to be a sun worshiper and get a beautiful lounge chair and side table for your drink. If you are planning on having large gatherings with several guests then you may consider buying a larger outdoor furniture set with several chairs and a large coffee table where you can place refreshments on.
Modern furniture should complement your outdoor living area: Make sure you choose outdoor furniture that will complement and match your outdoor backyard and garden area. You want to make sure that your furniture will not look completely out of place and not look like it's not in its natural environment. Take a look at what natural elements will be surrounding the furniture; this will help you decide on what types of chairs and design of upholstery you will choose. You may want to add a floral or leaf prints that give you a natural look or stripes for a more modern/contemporary appeal.
---
There Are Many Choices and Great Deals on High Quality Outdoor Furniture Sets
Finding the best deals for your soon to be new outdoor furniture set is actually quite easy. Just as you can easily find traditional furniture, you can just as easily search or narrow down your furniture selection to show just "modern outdoor furniture" styles. Isn't it amazing that, using the internet, we have this immense power without even thinking about it?
Contemporary Outdoor Furniture
Just imagine if you had to search for it personally, browsing paper catalogs and actually visiting stores and manufacturers. Using your computer you can do more than you ever be able to do the old-fashioned way, and all it takes is a fraction of a second.
---
Contemporary Outdoor Furniture-Purchasing Tips For Outdoor Patio Furniture
Purchasing contemporary outdoor furniture is an exciting endeavor. If you enjoy spending time with relatives and friends in an area that is designated as outdoor living space, choosing the right type of patio furniture for your needs and your desire for decorative appeal is important.In this guide, I will share with you some of the essentials that should be considered when purchasing contemporary outdoor furniture.
Brown Jordan Outdoor Furniture-Outdoor Furniture Quality and Craftsmanship
Brown Jordan outdoor furniture offers some of the very best in outdoor furniture. Some people utilize their outdoor furniture for many different reasons.There are many different types of Brown Jordan outdoor furniture that is available on the market today. There are styles created from wood to metal and the cushions are made from quality fabric.