Garden Lanterns-Decorative, Unique/Outdoor Lighting
Garden Lanterns are one of the simplest and easiest decorative lighting element solution that you could use in your backyard design. Typically derived from the Japanese garden design you will be able to use a lot of the features that are associated with this style of garden accent. Votive lanterns, low-voltage, solar powered lanterns are well-equipped to offer you the proper tools that you need, if you are looking for an easy solution in decorative outdoor lighting.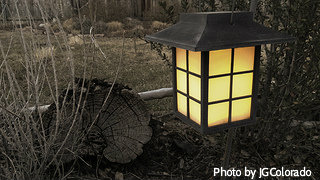 Traditional, Modern Outdoor Lighting Provides a Decorative Element
Exterior Lanterns are used extensively through the Western world garden designs. The great significance of using this type of lighting is that it can be moved easily indoor providing you a decorative element for the home.
Traditional Japanese gardens use significant rule elements to help them be placed and positioned strategically in the garden area. If you are just looking for a decorative outdoor ornament then this will not concern you and you will want to place them where ever the best decorative and pleasing look will be.
Garden Lanterns
---
Even if you enjoy the peaceful feeling that darkness can bring in your backyard you will find that if you diffuse your perimeter lighting you will help evolve your garden area and allow for character lighting and shadows to bring out the features that are in your garden.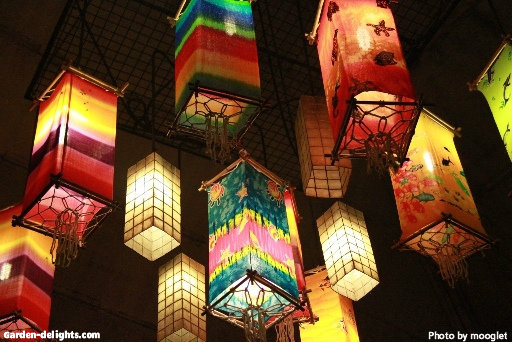 Garden lanterns that are traditional in style (Japanese lanterns, Chinese lanterns) and are typically made from top quality stone, but are expensive and heavy to move around. Garden lanterns with candles are a natural way to add the flickering ambience of a burning candle.
---
Garden Lanterns Are Made with a Variety of Materials
Typically made from a wrought iron style of construction with glass surrounds they are lightweight and easily placed on patio tables or in and around the deck. You also have the option of hanging these lanterns on decorative stands.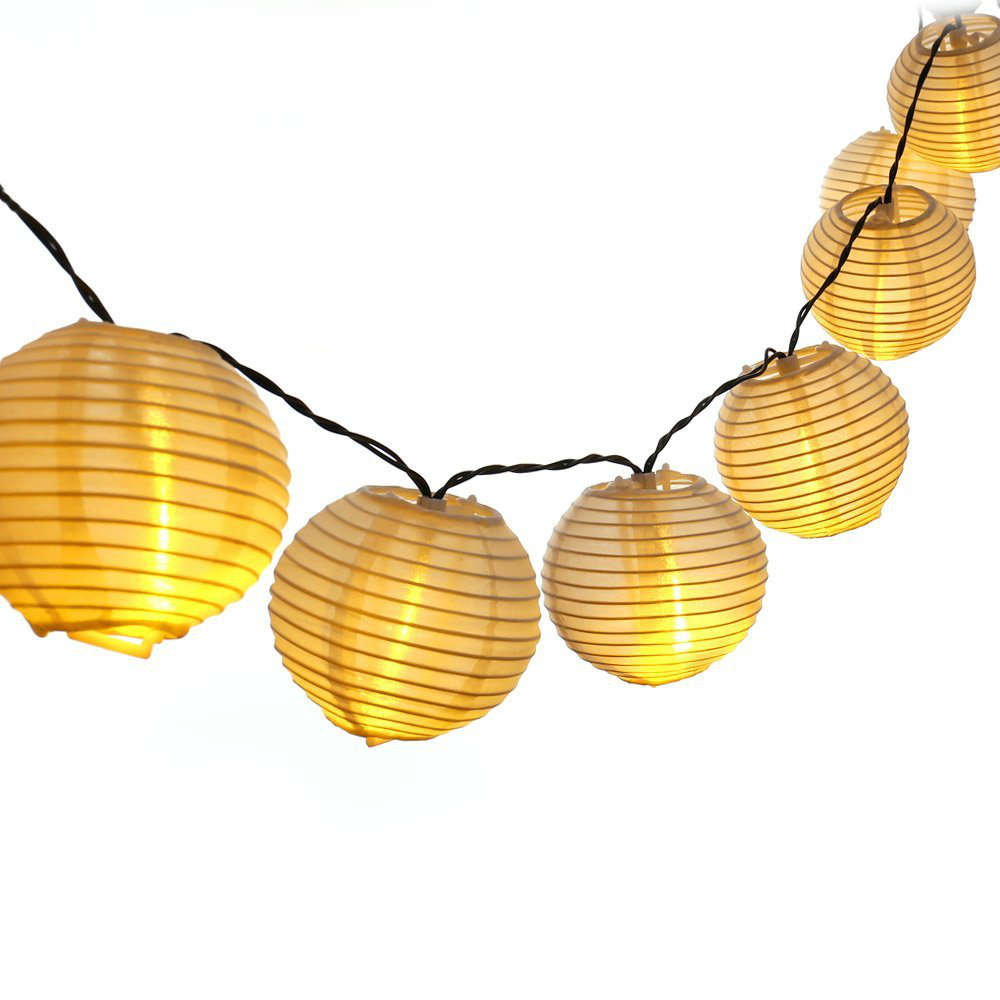 Benefit of using outdoor garden lanterns:
Can be used for indoor and outdoor decorative lighting
Come in a variety of different materials and colors
An easy and fast way to create a garden theme for different occasions
Affordable solution for outdoor decorative lighting
Can be placed on table mounted to the wall or hung on a stand
---
Design tips for placing your outdoor garden lanterns
Lighting is very important during the dusk and evening hours when you are enjoying your outdoor living area. You want to make sure that you can not only have the proper lighting but show off your lantern at the same time.
When you are looking for a position for the lantern you want to make sure that it is in a place where is not only pleasing when it is up close, but so it can form a focal point if you're standing at a distance on the other side of the patio or your open garden walkway. If you try a few various positions for the best location you will be able to achieve both of these positioning elements.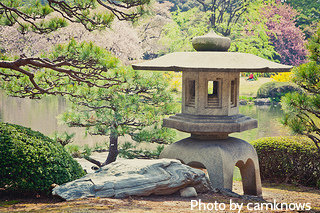 If you are incorporating a Japanese style of a garden then lanterns, water rocks, bridges are all strong (feng shui) elements that you will want to consider for your design. If you are working with a small area but would like to naturally illuminate your other features in your garden you may try to combine them in a close proximity if you are able to.
You want to make sure that you do not cram too many elements into one area otherwise it looks too busy and cluttered. You want to be able to breathe in your backyard and having a sense of space is an important aspect when you are planning your garden lantern placement.
If you are using low-voltage or solar powered pathway lanterns you want to make sure that you position the lanterns that show the way through your garden. As they were in the ancient times lanterns pave the way for evening tea ceremonies. You can use this lighting runway to guide the eye and draw the attention to a particular focal point (to a sundial, garden bridge or garden water fountain) in your yard.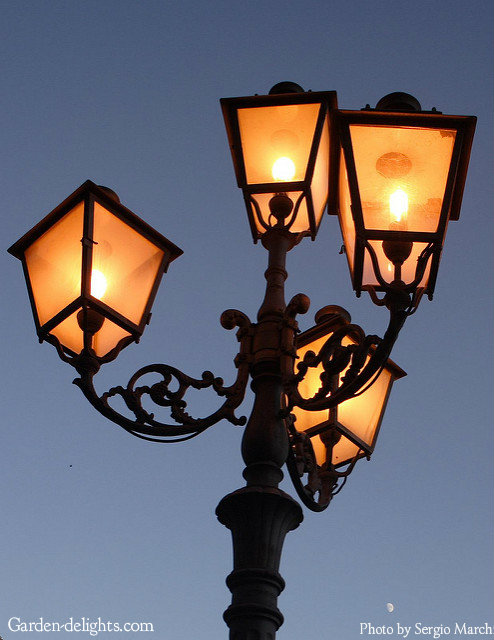 ---
Popular outdoor garden lanterns you can choose from
Paper Lanterns, Round/Square: String lanterns are a fantastic and easy way to create a multicolor splashed of excitement to a party or a theme get together. They also enlighten the area and make it fun. Typically these are operated with the 120 V AC and use mini lights and are safe to be used for indoor or outdoor uses. Check on the length that you will want to use as you may want to combine a couple of lighting sets together.
Solar Powered Lanterns: These allow you to take your lighting anywhere you want in your backyard. Designed for hanging lantern lighting or to push in the ground solar pathway lighting solution. These will save you the bother of installing electrical circuits to run your lighting. It can be a simpler and more affordable solution for your backyard lighting. These solar powered lanterns are also designed for camping because of the way it can be charged by the sun.
Tabletop Lanterns Indoor/Outdoor: Adding a decorative and charming touch to your outdoor living area is easy with the placement of a small decorative lantern. Whether you choose the votive candle lantern or opt in for the solar powered lantern that you can take anywhere and use the power of the sun to light up your table. A variety of these light fixtures will give you different power levels allowing you to choose the ambience that you want to create.Tabletop Laturns
Stone Japanese Garden Lanterns: Japanese-style lanterns are a beautiful way to bring in the natural element of marble stone. The most recognized is the Pagoda (Kasuga-style) shaped lanterns. Named after the shrine in Nara, Japan they allow you to make a focal point that is both bold and dominating in area that it is placed .( Tip: Place lantern along edge of pond if possible so that you can benefit from the reflection it casts in Still water). The Japanese lanterns can come in small sizes to the large garden lanterns that are tall or on top of a pedestal. An affordable solution for this type of lantern is with a resin lantern construction that provides you with a rough stone finish. Typically they are powered by a 120 V wall outlet and use LED lighting.
---
Choosing a Power Source for Your Outdoor Lanterns
There are three choices that you can use when you are providing light to your backyard area. Low-voltage, solar power and votive candles give you a choice of what kind of application you want to use in your design. Low-voltage lighting provides you undisturbed lighting any time you want it, also takes little time and is easy for installation.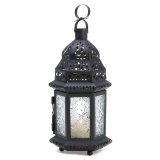 Decorative Outdoor Lanterns
You can easily set up a complete 20 foot pathway in about an hour. Solar lights provide you with a environmentally smart and friendly light source. After being fully charged through the daylight hours they can provide you with four or more hours of light in the evening.
They are operated by a light sensor that comes on after dusk. It is recommended that if you have areas such as main pathways that you use low-voltage lighting for your outdoor lanterns and all other areas can easily use solar powered lighting. The votive candle lanterns can be hung around the patio on decorative hooks or placed on a tabletop.
---
Musical Wind Chimes-Bamboo, Aluminum/Decorative Windchimes
Wind chimes are designed to bring beautiful music into your backyard. You can choose from a variety of different materials that will provide you with the right music tone and musical sounding retreat you would like for your backyard. If you are into shapes you may find a custom wind chime in the shape of violins or other musical instruments.
Wicker Outdoor Furniture-Wooden Furniture with Natural Weatherproofing
Wicker patio furniture is a great way to celebrate a natural style and theme for your backyard. Wicker will blend well with a variety of different styles of outdoor furniture. Placement can be in the garden or on the deck, resin wicker will provide you with a weather resistant long-lasting wooden furniture choice for your patio.