Digging Your Pond-Backyard Pond Step-By-Step Design
Digging the pond area is one of the largest parts of the project that you are going to do. Creating a large or small garden pond starts with some good basic planning. When you start this project take into consideration the area that you are digging in and the type of soil that you will be excavating. If you are working with the rocky soil you may consider installing an above ground pond feature.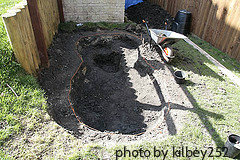 If you are working with a sandy base type of material you have to realize that you may not have a lot of structural support around your Pond. A rigid pond liner may be a better choice as you will get a little bit of support from the liner itself.
Decide Whether You Are Digging or Hiring a Contractor
When you start your digging project take a look at the overall size of the water garden that you want to create and decide on how much digging you will be able to accomplish. If it is going to be a large area you have to realize that you may be digging as much as 2 1/2 feet below the surface.
So incorporating the help of a contractor with a backhoe or a landscaping company that has laborers that can do the heavy work for you. Typically if you are working with a surface area of less than roughly 250 square feet then it is more affordable and make more sense if it is built by hand.
Backyard Pond Accessories
---
Calculate The Liner Size To Fit Properly
You can calculate just about how long it will take you to dig a particular size of hole depending on the type of soil that you will be working with. Make sure that you allow for plenty of time for your digging as this is the base structure of your Pond. Typically if you are looking at a 3 x 5 foot size of pool it may only take you roughly an hour to get it done if you're in some easier sandy soil. For the same size of hole that consists of a heavier clay material may take you up to four hours to dig.
Tools for Digging a Pond:
A Good Sharp Spade: Make sure your shovel/Spade is in good condition as this can be your main digging tool.
Wheelbarrow Transportation: Make sure you have a good sturdy wheelbarrow to help remove the dirt that you are getting rid of. Until you get started you will not realize how much dirt you are actually removing.
2 x 4 and Level: The 2 x 4 and a good level will help you make sure that your Pond is level on all the sides so that your water will stay flat. This is very important as you want to keep the level of the water flat. If you do not follow this process properly you will be able to tell right away that the pool is uneven because the water will build up on one side.
Disposal of Dirt: If you have a truck to haul away the dirt that is great if not you can rent a trailer or a truck for removal or have a company come and grab your dirt and get rid of it for you. Another solution is to use the dirt itself in your yard whether it's for filling in areas of your yard or creating a decorative waterfall extension from the pool.
---
Digging a Pond Step-By-Step Instructions
Mark the Outline for the Pond: The best suggestion that I could provide you is to take either a heavy rope or a garden hose and put it around the area where you want your Pond. This is your first design step in discovering the shape of the pond that you want to create. It is recommended that you try several different shapes and sizes that you want to maybe try and let it sink in for a week or so until you feel very comfortable with the shape and size that you have come up with. You can then mark your grass area with either some flour or a spray marking paint.
Removing the Top Grass Turf: This is the first step of digging your actual pond. By taking off the top layer of grass you are initially creating yourself your own personal sod. Once this is removed you will be able to get a really good idea of exactly what the pond will be visually like. The top grass that you did remove can be used for replacing other parts of your lawn that have bare spots and need grass added to it or you may be able to use it to create a raised flower bed or berm.
Pond Edge Leveling: This is one of the most important parts and that is to keep your pond edge level the same all the way around the pond otherwise your pond liner will not fit properly and you will be able to see it when the pond is filled with water. This is quite easily done by taking the 2 x 4 and laying it from one and two the other and placing a level on the top of the wood you can rotate 360° to make sure that it is level on all the sides. This is the best time to check the 10 to 12 inch shelves that are on the inside edge of the pool for your water flowers.
Create a Freeze Free Zone: Once you have dug down to the level that you are going to you have to create an overwinter plants and fish area so they can survive through the freezing temperatures. They call this a freeze free zone and should typically be 3 feet wide by 3 feet deep. Where you choose to put this hole is very important as you do not want it close to where you are installing your fountain pump.
Provide a Pond Plant Shelf: This is the area that is right along the inside edge of the original parameter of your pool and should extend around 10 inches to the inside of the pond. The depth of this shell should be anywhere from 9 to 11 inches to allow for your marginal plant life. Along the edge of the original diameter of the pool you want to dig back the turf 10 to 12 inches allowing for the liner to lay down outside of the pond and provide you a solution for finishing off with flat stones or decorative boulders depending on your overall design.
Excess Soil from Excavation: After you have removed the dirt from your project and it is good quality dirt you can use it in your garden or other bare spot areas that you want to fill in in your yard. This is also a great resource if you want to build a waterfall and need some dirt to build up a slope beside your pool.
---
Building your backyard pond process:
Backyard Pond Equipment
Once you have everything dug out and all your edges level this includes your 12 inch shelf that sits on the inside for your marginal flowers. You have made sure that you have dug the 3 foot extra depth hole for a free zone from the freezing water that allows your plant and fishes to survive especially if you're building a kio pond. With this all double checked you will have finished off your first building step for your backyard pond.
---
Outdoor Patio Furniture Sets will help complement your garden pond
Nothing says getting ready for spring and summer like your outdoor patio furniture sets. You want to be sure that you have got a great way to relax outside during the warmer months, and there is no better way to do that then to find the outdoor patio furniture sets that look great.
Japanese Water Fountains add a touch of the Orient to your pond
Japanese Water Fountains can be quite amazing. If youre buying your first water fountain, its hard not to be impressed with Japanese water fountain models.Traditional Japanese designs have the ability of letting you blend any container with the combination of a bamboo spout (plus the addition of plants).