Cotton Hammocks-Natural Hammock Comfort for Your Body
Cotton Hammocks are considered to be the most comfortable hammocks available. Having spent a lot of time laying on nylon hammocks, I'm the first to tell you how much of a difference it makes. Whether you're shopping for your first hammock, or need a new one to replace your existing net hammock, you won't regret choosing cotton hammock this time around.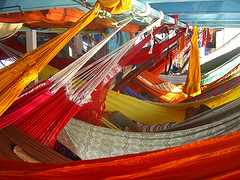 Cotton Hammocks Are The Ultimate Hammock Comfort
Unlike other net hammocks that can leave your body imprinted with its rope pattern,cotton hammocks has a much tighter weave and adjusts to your body, making it the ultimate experience in hammock comfort. You'll feel like you're floating in mid-air. Of course, cotton requires a bit more careful treatment: you shouldn't just "jump" into it, as you might damage its fabric.
Cotton Hammocks
 If you're looking for a year-round, all-weather hammock, you might want to consider different alternatives, as cotton is not suited for unsupervised outdoor use (moisture will damage it if left unattended for long periods of time.)
Benefits of Cotton Hammocks:
One of the most comfortable hammocks available
Provides a more natural and breathable hammock fabric
Cotton hammocks stretch and shape to your body naturally
Best hammock choice for those hot days
---
Popular Types of cotton hammocks
Double Rope Hammock with Spreader Bars: A beautiful cotton hammock with interwoven cotton with a wooden spreader bar and suspension rings. This beautiful hammock can hold up to 450 pounds, whether you're trying to mount it between some trees or working with a hammock stand this will be a beautiful comfortable choice that can utilize the space for two people.
Single Cotton Rope Hammock Swing: A beautiful choice for just relaxing and swinging in your backyard. Designed with a knotless design and providing a high level of lounging comfort. The unit keeps the hammock chair spread apart using a crossbar that is treated with multiple coats of marine varnish for weather protection. The zinc eyebolt and hook assembly is one of the strongest designs that is available for hanging your hammock chair.
Mayan Style Decorative Cotton Hammock: This hammock has its own style and taste and is full of handmade details. A beautiful fringe provides an elegant taste for a comfortable hammock. A great choice for just hanging out in the afternoon or reading in the backyard. Recommended applications will include patio, balconies, pool areas and terraces. It is designed so that it will fit any space that is 13 feet or more. Combination of both cotton and nylon makes this a great outdoor choice that is resistant to the outdoor conditions.
---
 Cotton Hammocks Are Your Natural Choice for Outdoor Relaxation
My first and only recommendation is that you should try it. Once you do, you will never want to lie down in any other hammock. Be sure to search for the best discount prices online, and select the style and size according to your needs. Also, be ready to get an extra one – as you might end up finding out how hard it is to convince someone to get off of your cotton hammock after they've tried it.
---
Double Hammocks-Double the Fun with the King-Sized Hammock
Double hammocks, as you can probably guess by its name, allow you to share the unique resting sensation provided by a hammock with another person.Available in both outdoor and indoor double hammock versions, it's the perfect choice for large families (and couples).
Rope Hammocks- Cotton Rope Hammocks/Nylon,Polyester
The most popular styles are rope hammocks. Rope hammocks are certainly that little bit of luxury that we all deserve and love.The most popular kind of rope hammocks are made of either cotton or synthetic ropes. There are then of course, those that are made of fabric. A polyester rope hammock in actual fact lasts a great deal longer than a cotton hammock.