Contemporary Outdoor Furniture-Purchasing the Best Outdoor Patio Furniture
Purchasing Contemporary Outdoor Furniture is an exciting endeavor. If you enjoy spending time with relatives and friends in an area that is designated as outdoor living space, choosing the right type of patio furniture for your needs and your desire for decorative appeal is important. Contemporary pieces for the great outdoors are those that display the modern art when it comes to furniture.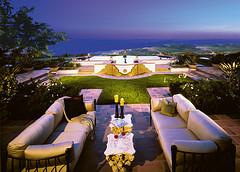 Contemporary Outdoor Furniture Will Allow You to Show Your Creative Artistic Side
This type of furniture will allow you to create your own artistic masterpiece while providing comfort and convenience. In this guide, I will share with you some of the essentials that should be considered when purchasing contemporary outdoor furniture.
The first that you will want to consider is what type of space requirement that the patio furniture has. You should measure the amount of space that you have where you want to place the furniture. Then, you should work to ensure that you have enough room to move in between all the pieces of furniture when they are in place.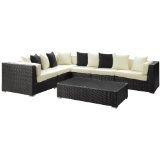 Your Outdoor Furniture Pieces Come in  Many Different Sizes/Styles and Designs
Once you go to purchase the furniture, you will find that there are different sizes. Based on the measurements that you initially took, you will be able to decide which pieces will fit comfortably in the space that you have available.
Contemporary outdoor furniture should have the durability to give you great looking outdoor furniture for many years to come. There are a few qualities that you should look for such as pure elegance and style but also give you very durable weather resistant furniture.
Contemporary Outdoor Furniture
---
A few qualities you should look for:
Stain resistant and can wipe clean easily (is resistant to be damage from wine or other spills).
Made from color fast materials so they will be better resistant from fading from the Sun and hold up against the rain, snow and other elements.
Made with nonporous material, so that it will not absorb or hold mold or any other substances such as tanning oil products.
Commercial grade durability, with framing that is reinforced for extra durability.
Be able to stand high traffic areas with minimal wear.
Can hold heavyweight(up to 300 pounds)
---
The next thing that you must take into consideration when purchasing contemporary outdoor furniture is the décor that you have and want to integrate in your outdoor living environment. It is important to ensure that you choose pieces that will complement the overall theme that you want to project in your modern outdoor space.
What Is Available for Your Contemporary/Modern Outdoor Furniture Pieces
There are several pieces apart from the standard patio tables and chairs that you can purchase to make this living area more appealing. Examples include fountains with circular seats, outdoor ceramic futon pieces, and more. Naturally, the modern pieces of furniture for the patio have a more artistic design than that of standard pieces.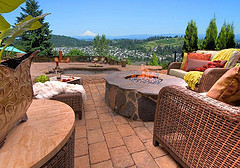 There are a few contemporary/modern outdoor furniture must haves that you should consider having in your patio plan. If you love eating and drinking outdoors with your friends and families than there are some furniture pieces that you should consider.
Contemporary/Modern Outdoor Furniture Must Haves
The modern outdoor furniture dining set (three, four, 5 to 7 piece)
The modern furniture couch (whether it's a sectional or curve or a one-piece loveseat)
A modern outdoor lounge chair (great for around the pools and sunbathing)
Modern outdoor furniture umbrella, great way to check to form the Sun rays by providing you protection them burning and direct heat.
Modern outdoor storage box is a great way to store your patio furniture cushions and protect them from the rain also a good storage for kid's toys.
Modern outdoor fireplace, great way to keep warm or have an ambience of fire around your deck/patio
---
Modern Outdoor Furniture
 There are more curves, more color, and artistic blends. The materials used to create this type of furniture are typically quite durable and can withstand environmental conditions. As a result of this, contemporary outdoor furniture can be a bit more expensive than that of typical wood and PVC piece.
 Always Consider Your Budget When You Are Choosing Contemporary Outdoor Furniture
You must consider how much money that you have to budget for the expense. Once you consider all of the above items of interest, you will quickly discover that purchasing contemporary outdoor furniture is very easy to do! Once you get home, you will enjoy the look and feel, making the steps to purchase worthwhile.
---
Modern Outdoor Furniture-Contemporary Patio Furniture Creates a New Living Experience
Modern outdoor furniture can completely change the way your house looks.Though traditional and classic outdoor furniture always looks better no matter what house style you have, the truth is that is has become a bit tiresome. By choosing an original, more modern outdoor furniture style you'll be turning your outdoor space into a unique place .
Outdoor Wicker Furniture-Wooden Patio Furniture,Decks,Patios,Gardens
Outdoor wicker furniture is something that you can use for years and years because it is timeless and durable, and will always look great. With outdoor wicker furniture, you can be pleased with the looks, the comfort, and the durability, for seasons to come. When you have finally decided to buy some outdoor wicker patio furniture there are a few tips that you should look at.