Water Gardens Pumps-Selecting Right Size/Features for the Pond
If you are planning to design a beautiful water feature in your backyard then you are going to have to have a submersible water pump. The pump will provide you with many ornamental options on how to create movement in your water. Water circulation underneath the water level can be accomplished with a water pump helping for aeration and overall health of your pond.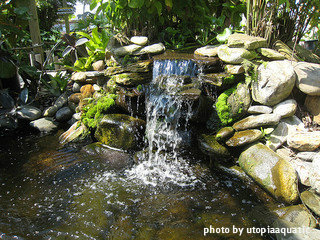 Water Pumps Provide You Ornamental Choices for Design
 If you would like to create a more decorative addition to your pond you could install a pump accessory that will provide you a very lively and dramatic function with the use of sprays and arcs of water jets over your pond area. This encompasses a rain like sound bringing your backyard area to life.
Waterfalls and streams provide trickling effect that can soothe the soul (feng shui) and remove the stress of the day. Typically this can be an added feature that works well with your pond. If you have an incline you will be able to easily incorporate a water feature extension that flows into your pond. If this option is not available you can bring in some extra dirt to build up a small water fountain and stream design.
Garden Water Pumps
---
Things to Consider for Water Pump Choice
Determine the size of your pond whether you already have one or your planning your garden pond, is it a small pond or large pond?
By calculating how much water is in your feature will determine what pump size you will need for your pond.
Make sure that you know how to calculate your pond volume so as to choose your proper volume flow that is recommended for the size of the pump.
Pump choice is important especially if you are designing a pond that will incorporate marginal plants, floating plants or you may be planning to have fish in your pool.
If you're going to house fish in your pond you have to know how many fish you are including and their sizes. If you have a large fish population then you are going to have to have a biological filter. When the filter has been chosen check to see how many gph will be needed to operate the biofilter.
What is the main feature that you are going to use your pump for is it going to be to power a fountain feature (waterfall, water fountain spray or to help a continuously flowing stream) or is it going to be used for the filtration of your pond.Check to see how many gph you will need to properly function your fountain. Check the packaging that came with your fountain feature it will typically show you the recommended gph that you need for the pump.
---
Proper Pump Filters Provide a No Hassle Water flow
Submersible pumps are one of the best options for your pond, water fountains as you do not have to have an external pump outside. The submersible pump works with a screen or a sponge pump filter over top of the inlet area.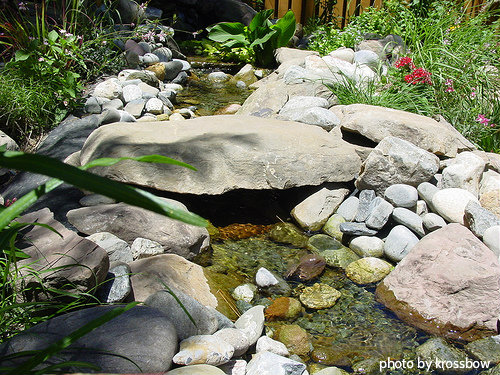 This will trap debris and prevent your pump from clogging up with a wide variety of garden-debris such as leaves, floating algae, fish waste (kio pond designs). Both the type and the number of filters that you want to use for your fountain will depend on what you are going to include in your pond, your tolerance level for dirtier water and the type of water feature you are planning to have.
The proper filter allows your pump to continuously flow the water through it without its stagnating. It is recommended that you set the pump on the bottom of the pond allowing for a few inches above, this can be accomplished by using a brick and can be adjusted by adding more height with other bricks if needed.
Types of water pumps:
Pumps That Are in Line: As it typically states the pump is installed between the water source and where it has to go so that it can draw water out of your pond and supply your waterfall, Fountain head or regular supply of water for your stream.
Utility Water Pumps: This is your basic submersible fountain pump that you can install in your pond. It draws water in through openings in order to pass through blades to supply your water feature. Make sure you use a sponge screen or a pump sock to filter out debris from entering the pump.
Solar Water Fountain Pumps: This feature allows you to put the pond where you want as you do not need a regular outdoor electrical outlet for a power supply. Solar pumps work well in an environment with plenty of sunlight. Typically because it is generated by the sun you will have a water flow rate that is lower compared to a regular pump that is plugged into a (GFI) outlet.
---
Features of Garden Water Pumps
Water garden pumps are typically chosen in two different designs depending on your application (submersible and external pump models). Both pumps work with the same type of design function. Inside the pump housing is a small motor that will turn blades that will both grab the water and pressurize it allowing for a force exit creating your pump action. Out of the two your submersible water pump is the overall easier to use and install, and your most affordable pump solution.
The submersible water pumps work well with a variety of sizes of outdoor ponds. They are also incorporated in the use of the fiberglass water features to the small tabletop fountains that you can use indoor or outdoor. This style pump is your best use for overall but for the largest water features the external pump would be your best choice.
Buying a Garden Submersible Pump:
Buy Good Quality/Well Constructed: A lot of and the most popular choice is the cheaper plastic housing type of fountain pump. These are less expensive and not as durable as other pump choices. For a little bit more money and longer durability you may choose a housing that are offered in a variety of different metals (stainless steel, brass, bronze).
Power Cord Length: Check on the length of cord that comes with the pump that you are looking to purchase. Your best choice is to use a pump with a long enough cord that can go all the way to an electrical source. Remember that the longer the cord that is offered, the better. Local codes for electricity may specify that electrical outlet has to be a minimum of 6 feet away from any water feature.
Right Pump for Ponds/Water Features: Make sure that the pump that you are going to install is specifically designed for water gardens, features. Unlike other water pumps that you may come across this type of submersible garden pump have to have the ability to continuously sustain a 24/7 operating cycle.
---
Figure out Pond Pump Size/Water flow
Choosing the proper pump size for the water feature that you are working with is one of the most important things that you will have to consider. The most important measurement that you're going to have to take in a mind is the pump power (how much water it can handle). This is known as how many gallons of water will it move per hour up to a specific height. This is the end of the run and is called the head.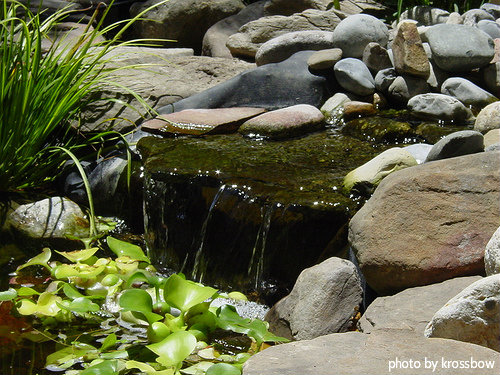 To make the proper measurement you must first calculate all the water that will be used in the water feature/pond. An easy way to calculate how much water you have is to calculate from your water meter how much water you have put in your garden pond from empty to filling it completely. Take the overall reading typically in (cubic feet). If you need to convert this into gallons of water you can do so by multiplying by 7.48.
Calculating Water Volume Depending on Shape of Pond
Square or Rectangular Pond: This is an easy measurement as you are dealing with 90° corners no matter what, so you just need to multiply the length by the width to get the overall area.
Oval-Shaped Garden Pond: Calculating the water volume is done by measuring from the center of the pond to the farthest distant edge you then want to measure from the center to the other nearest edge. You can calculate these numbers by multiplying the first with the second and then multiplying that result by 3.14 which will provide you with the overall area dimension.
Circle Shape Garden Pond: Start by taking the measurement of the full radius (this can be done by measuring from the center to the edge. And if you remember your math days of the pie calculation you want to multiply that by 3.14 which will give you the total area.
Unique/Abstract Pond Shapes: The easiest way to take the calculation for the area is to break down your irregular shapes into much simpler units, this may include (rectangles, squares, and circles). You then want to take the calculation of each small piece and add them all together this will give you your overall area.
It is recommended so that your pump is not working at maximum level and constant times it's best to choose the pump that only needs to move half of the volume of water that you have in your pond. Eg; If you're total water in your pond is 800 gallons then you should be looking for a pump that will deliver a minimum of 400 gallons water an hour, more the better. Accessories such as a fountain head will come with recommendations on the overall pond pump size that you should be using for that feature.
---
Safety and Your Submersible Garden Water Pump
Before you start the installation of your pond check to make sure that you have a proper electrical source/supply that you can use for your water feature. Check with your local community electrical codes or consult with an electrician to make sure that you have the proper receptacle for your installation.
Building your backyard pond process:
A ground fault circuit interrupter (GFCI) should be installed as is your first line of defense for any possible electrocution. The GFCI is designed to regulate the flow of electricity and if it is disrupted it will automatically turn off the breaker and shut the power off. This will help if there is any potentially dangerous malfunctions.
Garden Submersible Pumps
 If you are installing an underground wiring cable then you want to check with your local code requirements of what they would like to see to pass code. Typically you can install an underground feeder (UF) cable and add a strong plastic, metal rigid conduit for safety. Check with local codes on how deep the cable and conduit need to be.
---
Fairy Water Fountains-Mystical/Mysteriously Enchanting Garden Water Features
Provide your garden with mystical accents that can stir your imagination for fairytale dreams and stories. Having fairy fountains are known to attract other magical creatures to your yard. No matter what kind of style of garden that you have you can always complement it with fun figurines, statues to enhance the imagination.
Fiberglass Water Fountains-Realistic Stone Appearance Water Features
Fiberglass/Resin backyard water features can provide you with a variety of benefits for your water fountain choice. They provide you with an affordable solution that is both light weight and can be made into a variety of different shapes that can give you the appearance of beautiful artistic stone sculptured features and provide you with a portable fountain you can move around your yard.