Covered Hammocks-Lightweight,Portable Outdoor Hammock Protection
It was just a matter of time until someone came up with Covered Hammocks. Though most people think of hammocks as a leisurely product for relaxed swaying, hammocks have a wide range of uses, including survival gear. If you want to know how you can benefit from a lightweight, easy to carry, easy to set up shelter, just keep reading on about covered hammocks.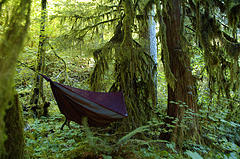 Covered Hammocks Takeover Were Tents Cannot Even Go
Unlike bulky tents, a covered hammock can provide refuge in places no tent could ever be deployed. It doesn't matter if you're in rocky or wet terrain; a hammock can keep you safe and dry well up in the air.
 Likewise, no need to worry with crawling critters and bugs, as you're much likely to face them in a close encounter. With the cover in place, you'll be safe from pouring rain or harsh sun, allowing you to save your energies for longer, in a comfortable resting place.
Covered Hammocks
---
Types of Popular Covered Hammocks
Covered Hammock with Mosquito Net: Not only are you protected from mosquitoes but these hammock covers are coated with a protective material that will help keep you dry. The hammock kit will include all the ropes and clews that you will need for any easy set up. The hammock is designed to allow you to sleep with just a regular army blanket up to a full sleeping bag for total warmth. Great choice for mild to hot weather.
Hammock Rain Tarp Accessory: Great addition they can be bought separately to be strung up over top of your hammock whether you are camping or hiking or even at the beach. The Pu-coated polyester tarp provides you six points for tying down and allowing for maximum flexibility in how you want to position the hammock cover. Innovative hexagon shape allows for the proper drainage from the rain especially during storms or wind conditions. The cover can be spread out to provide up to 120 ft.² of sunshade.
Benefits of covered hammocks:
Provides rain cover for you and a hammock
Provide sunshade and protection from UV rays
Hammock covers protect you from falling debris from trees
Hammock covers can provide personal privacy
---
Covered Hammocks Are Great for Hiking, Trekking, Camping Lightweight Sleeping Gear
It's easy to understand why these covered hammocks are so widely used. Occupying a fraction of the space required by a tent, and relieving you from carrying a sleeping bag around, they provide a safe cocoon for you to rest under extreme weather conditions in inhospitable terrain.
Hammock Covers
 If you're planning your survival gear, be sure to give these hammocks a careful look. You never know when your life might depend on it. Head to your favorite supplier and see what hammocks they have in store for you.
---
Hammocks With Stand Sets/Hammock Stands,Chairs,Swings
Starting with your basic standard hammock with stand set, you will start an adventure of well-being and stress relief with utmost relaxation for your overall body.Hammocks and stands work very well together if they are properly chosen, you have to make sure that you have the right stand.
Hammocks Directory-Reviews, Comparisons,Tips
What are you looking for? Directory-Hammocks with stands, rope hammocks, patio hammocks, Mayan hammocks, hanging hammocks, camping hammocks, reviews, buying tips