Backyard Pond Maintenance-Provide a Clean/Balanced Pond Ecosystem
Keeping your backyard pond healthy and clean in the summer can be easy with the proper maintenance. By using some simple garden management tips you will be able to provide your backyard garden decor with a low maintenance beautiful water feature. Whether you are working with small garden containers on your patio or have a medium to large pond your main goal is to keep a well-balanced ecosystem.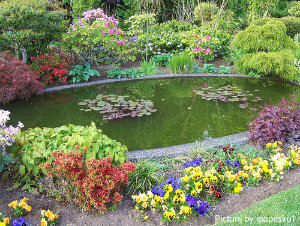 Beautiful Water Pond Accents Are Not Just Cosmetic
Everything works with each other in a backyard pond environment this includes your plants (floating lilies, submersible potting plants) and the fish that you will add to the pond if this is the feature that you would like to incorporate. You do not have to have fish in your water garden to make everything work.
The advantages of having fish is that they can become a natural mosquito repellent as they will eat mosquito larvae and provide you with another level of interest in your pond.
By having a variety of beautiful floating plants above and below the water surface you will discover that they do not only look good but they also help filter the water naturally which can help with your algae control, combined with the water they will keep the area that they are in cool compared to other areas on a hot day.
Pond Care Equipment
---
By providing submerged plants you are also creating a natural area for fish to have shelter and to feed. Typically you want pond plants to be placed roughly about every 2 feet sq. for the overall pond surface.
---
Know what is in your pond water by using test kits
It is highly recommended that you invest in a good pond water testing kit. This is very helpful to give you a good idea of what levels of chemicals are in your water, this is a very inexpensive water treatment solution. The main things that you want look for with your test results is the ammonia and nitrate levels, especially when you first fill the pool with freshwater.
You could make testing as part of a maintenance schedule thereafter (every couple weeks) to make sure that the chemical levels in your water are safe. The true sign of a problem is by watching your fish, if they look stressed then you may have a possible chemical problem.
A quick and easy solution is to slowly drain out some of the water in your pool and replenish with freshwater that should help in lowering any high levels of ammonia and nitrate.
---
Tips for Your Garden Pond Maintenance
Create Some Sort of Aeration: Moving water helps to oxygenate the water and keep it fresh, it also has the benefit of keeping the water from building up bacteria levels giving you a foul smell. This can be accomplished with a fountain feature or a waterfall inlet coming into the pond, the action from the splashing water not only makes a pleasant sound but also helps regenerate your water.
Provide a Filter for the Pond: If your pond is in an area that is more susceptible to high levels of light and debris, or in a kio pond the fish waste that builds up then you should consider installing a biological filter to help keep your pond water healthy.
Control the Balance of the Pond Ecosystem: You want to make sure that one particular element does not overdo any of the other elements you have the water. Do not let your plants overgrow as this can contaminate the water, typically stay within a maximum of 60% of plan coverage for the total volume of the pond. If you have fish in your pond try to keep tabs on the population, if they start to become too high they can cause a problem with waste so you may want to give some of your fish away.
Keep It Clean Remove Leaves/Debris: As a regular part of maintenance or when it is needed remove and skim leaves, fallen petals or other things you may find floating in your pond. By taking a pond skimming net you will be able to scrape the bottom of your pond and help bring up plant matter that may have settled on the bottom surface of the pond. If you find yellow or dying leaves on your plants remove them as this will help in keeping your water surface clean. During the fall when the leaves are starting to come off the trees place the net over top of the water to help with catching the falling leaves.
Protect the Ponds Surrounding Area: When you are applying fertilizer or other chemicals to your lawn or plants that are around your pond you want to make sure that you avoid getting too close to the pond. This is not also because of accidental contamination that could happen but it is very important that you take into account for rain runoff that can enter the pond from slow trickling water that is on the surrounding plants. The side effect of this is it will typically promote the growth of algae and can also make your pond water toxic to your fish.
Feeding the Fish in Your Pond: Make sure you control the levels of food that you give to your fish otherwise the leftover debris can start to make the water smell foul. When this happens you will have to use a larger filter on your pump. Feed your fish small amounts at a time something that they can usually eat up within 10 min. If the water temperature dips below 50°F then it is recommended that you stop feeding the fish.
---
Water Pond Problems / How You Can Fix Them
My pond has a bunch of muck built up in it, what can I do?
Falling debris such as leaves are typically your culprit for muck built-up in your pond. Leaves will fall on the surface and after a while sink to the bottom and start to decompose leaving you with a heavy buildup of muck and silt.
You're best to provide a cover netting in the fall when the leaves are falling off the trees. This will help with the buildup of decompose leaves at the bottom of your pond. Put rocks around the outside of the net to hold it so it will not pull in and sink into the pond area.
There is only one way to clean this up and that is to use a tool such as a pond sweep, or just get down into it with some gloves and start to scoop out the muck that is built up in the bottom of your pond. If you have access to a wet dry vacuum cleaner you could use this for sucking up the debris and silt on the bottom of your pond.
---
I got a hole in my flexible pond liner, how can I fix it?
First thing you want to do is to find the exact damage and where it is on your pond liner.
You can use the recommended flexible liner repair kit that you can find at your local store or purchase it online. With this simple pond repair kit you will be able to repair your pond liner leak very easily.
The kit will typically come with a small section of plastic liner and sealing tape that is sticky on both sides. You will want to press firmly when you apply this or use the roller if it comes with your repair kit.
The best application repair is if your liner is dry this will allow your glue to properly adhere and seal your repair. You want to rough up the plastic liner with a fine sandpaper, this allows the mechanical adhesion for the glue. Follow the directions for the final application and how long the repair has to cure for before you can add water to it.
---
What should I look for in a pond water testing kit?
You will find quite a variety of different water testing kits on the shelf. But there are a few things that you want to make sure that your kit has for the basic needs.
You want to be able to test the pH levels of your water and determine whether your water pH is within the more desirable level ranges of 6.5 to 7.5. This will help provide you a healthy ecosystem for both your plants and your fish.
Checking the amount of chlorine that is in your water. Usually chlorine levels will dissipate naturally when the water is in the open air but it's a good idea to know the amount of chlorine that you have in your pool naturally as your local water supply is usually treated with chlorine levels.
If you have fish in your pond you want to make sure that the levels of your nitrate and nitrite. Nitrite can be very harmful to your pond and you will want to know what levels you are dealing with.
Building your backyard pond process:
---
Keep Your Pond Water Levels Topped off
You have to watch the levels of your water especially in hotter times of the year for the evaporation that your garden feature will go through. Even measuring just an inch of water lower than your normal level of the pond starts to raise levels of salt concentrations and minerals that can be unhealthy to your pond's environment. Without the protection of that level of water your liner is susceptible to deteriorating because of the UV sunrays.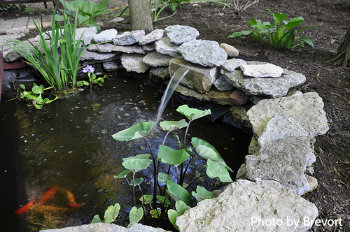 Pond Care Supplies
When you are adding water to the pond try to put the hose towards the bottom of the pond and only allow a small amount at a time as you do not want to attract fish to the garden hose but more importantly you want to watch that you do not change the temperature and pH level of the water too much. Make sure that you only add about 10 to 20% of water volume at a time otherwise your fish may go into shock.
If you have to freshen up the pond try to drain about 10% of the volume and try to draw the water from the bottom of the pond as this is where you will find a lot more concentrations of harmful chemical levels. Refilling is as mentioned above slow as you do not want to shock your ecosystem in the pond.
---
Backyard Water Fountains with Lights
Light can add another level of ambience to your backyard decor. Lights are another way to add shadows and reflecting sparkle from your water feature. Fountain lights have become ever more popular to add to your fountain, pond or any other water feature that you have in your backyard. It adds a sense of feng shui with the essence of the water sign and provides you with a calming relaxing atmosphere.
Wooden Wind Chimes-Provides a Warm Natural Sound to Your Garden
Wooden windchimes have a natural down to earth essence about them. Typically made from bamboo they provide your backyard atmosphere with soft mellow tones. Providing the music for your backyard wooden windchimes work well in combination with organ windchimes and long tube chimes as they will create music that will blend well together and bring your backyard to life.